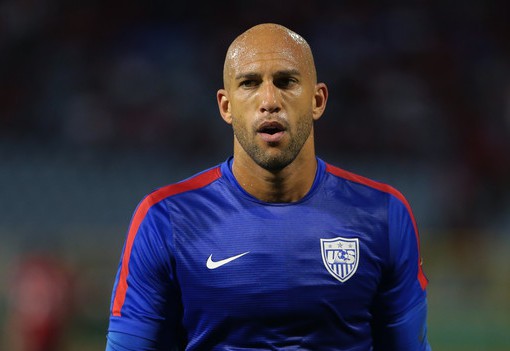 The rumors and links have finally been confirmed. Tim Howard is returning to MLS.
The U.S. Men's National Team goalkeeper was announced as the Colorado Rapids' latest Designated Player signing on Sunday. He will join the club's roster on July 4.
"Tim is exceptional, both as a player and a person," Paul Bravo, technical director and VP of soccer operations, said in a release. "He proved it at the last World Cup for the U.S National Team and he has been proving it for the last decade in the English Premier League. He has experience at the very pinnacle of the sport but we feel he has much still to offer on the pitch. We believe this is a pivotal signing for the Colorado Rapids."
In February, a report claimed the 37-year-old netminder would receive an annual salary of $2 million, which would make him the highest paid goalkeeper in MLS.
Howard, who has spent the past 10 seasons with Everton, started 23 times for the English Premier League club in the 2015-16 season, but his last appearance came on Jan. 24. At the international level, Howard has earned 106 caps for the U.S.
What do you think of Howard signing with the Rapids? How do you think he will do in MLS?
Share your thoughts below.