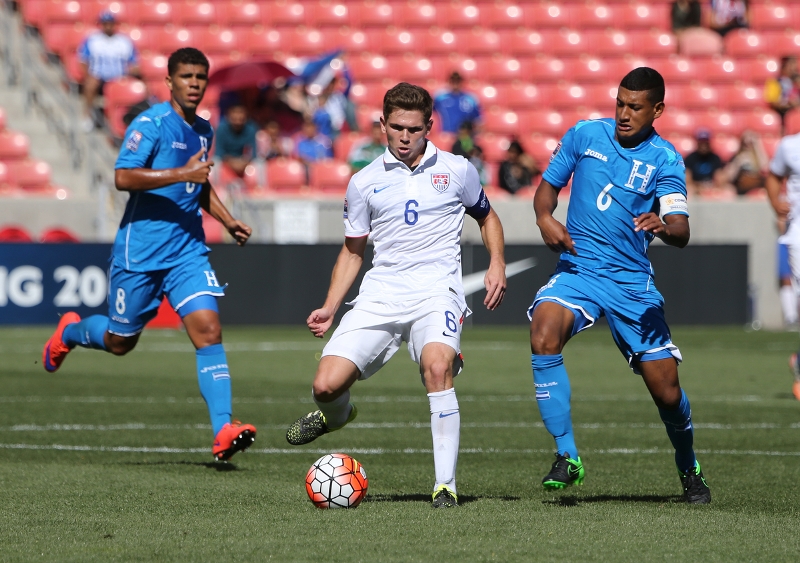 It's said that any team is only as strong as it's spine, and the U.S. Under-23 Men's National Team is hoping a talented group of young central midfielders can be a guiding force towards an Olympic berth.
The U.S. is set to kick off the team's long-awaited two-legged Olympic qualifying playoff against Colombia on Friday before returning for the second leg next week. Ahead of the two games, one of the U.S. team's biggest strengths appears to be its presence in the center of the field, an area in which Andi Herzog will have plenty of weapons at his disposal throughout the two legs.
On the 23-man roster named by Herzog, six selections have featured primarily as central midfielders at the club level. With so many options and several spots on the field, the process breeds competition that the U.S. believes will be a key factor in helping push the team towards the Olympics.
"It's vital to our success," midfielder Wil Trapp told SBI. "It's vital that our heart of the midfield is made of the strongest guys that have shown well through the lens of the coaching staff in the games that we played, because that's where a lot of our attacks have started and a lot of our defensive shape comes from.
"I think the competition has been great. You have guys that have been playing in MLS and contributing overseas as well. It's been very fun to play with those guys, as well as compete against them."
The center of the park will likely be held down by players like Trapp and Fatai Alashe. Alashe is a player who can serve as a true defensive midfielder, helping to shield a back line that will be without qualifying starter Cameron Carter-Vickers. Alongside him, Trapp can serve in his traditional deep-lying playmaker role, while also showing off some of his underrated defensive abilities.
Joining the duo as primary midfield options are Fulham playmaker Emerson Hyndman and Queretaro attacker Luis Gil. Alashe and Trapp will help free up either Hyndman or Gil to serve as primary playmakers if that's a route Herzog opts to take. Otherwise, wing options like Julian Green, Paul Arriola, Khiry Shelton, Dillon Serna and Jerome Kiesewetter could be given room to flourish as part of a 4-4-2.
Trapp, who has recently captained the U-23 side, was just one of several midfielders to earn looks in the U.S. Men's National Team's January camp. The Columbus Crew midfielder was joined by fellow MLS starters Matt Polster and Kellyn Acosta, while Alashe was forced to withdraw from camp due to surgery.
Acosta, in particular, stood out among the U-23 introductions, although in a new position. The 20-year-old FC Dallas prospect featured primarily at fullback, earning rave reviews from Jurgen Klinsmann for his performances against Iceland and Canada.
Like in January camp, Acosta figures to feature at fullback once again, despite featuring as a deep-lying midfielder in all three appearances for FC Dallas this season. Joining him at the fullback position will likely be Polster, who has emerged as a key piece of the Chicago Fire's rebuild to start the 2016 season.
"It's really up to Coach Herzog," Polster told SBI. "For me, I think my best position is as a center midfielder. At the end of the day, I'm willing to do whatever it takes to help us qualify. If that means playing right back, maybe centerback, if I can play any position to help the team qualify, that's what I'm going to do."
Acosta and Polster can certainly be plugged in to the midfield puzzle. Having called in several other fullback options like Desevio Payne, Eric Miller and Brandon Vincent, the U.S. has the option to plug either in the midfield, even if both have shown well in recent outings on the back line.
With so many potential variations, Herzog has options, and with options come increased competitions for spots. The competition is a friendly one, even if it has turned fierce on the field. At the end of the day, players are fighting for their spots with the end-goal of fulfilling an Olympic dream just two games away.
"The competition is high. You can list off  some of the best midfielders in our age group," Polster said. "That just pushes everybody a little bit harder. We want to play, so that makes us play sharper, play more consistent. Having that competition is going to make us better individually, so it's good."
"Whenever you have a team that has a lot of competition, it's good," Alashe told SBI. "It pushes players to play at their highest level possible. I think, as far as the competitive nature, it's good, but obviously off the field, all of us are still friends. We all get along. It's not something that ends up turning into a negative, which is really good. It's nice to have that competitive spirit in the team."