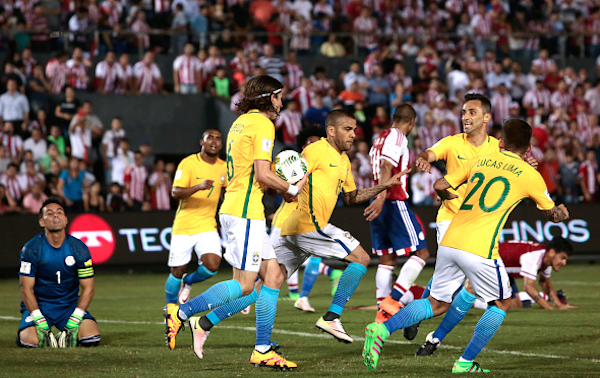 Big-time players come up in big-time moments. Brazil just demonstrated that.
It was not the player that might first come to mind that delivered in the clutch, however.
Dani Alves scored a last-second equalizer and Brazil avoided a disastrous defeat to Paraguay in a 2-2 draw on Tuesday. Alves struck in the 92nd minute to punctuate his nation's late comeback and give it a point on the road, but that result still left Brazil in a tough spot. The South American powerhouse is currently in sixth place in CONMEBOL World Cup Qualifying a third of the way through the campaign, and the pressure is piling up on head coach Dunga and the rest of the squad.
The rest of Matchday 6 did not have anywhere near as much drama as Brazil-Paraguay, but there were a good amount of goals. Colombia put up three on Ecuador to hand La Tricolor its first loss in qualifying, Chile smashed lowly Venezuela to the tune of 4-1, Leo Messi and Argentina grabbed a 2-0 win over Bolivia, and Uruguay edged Peru in a hard-fought match.
Here is a look back at Round 6 in CONMEBOL World Cup Qualifying and the updated standings:
ALVES GIVES BRAZIL LATE DRAW WITH PARAGUAY
Some shoddy defending had Brazil trailing by two goals, but a pair of late strikes in the last 11 minutes helped them avoid a disappointing defeat.
Brazil found itself down to Paraguay at Estadio Defensores del Chaco in Asuncion, but rallied behind goals from Ricardo Oliveira and Dani Alves to pull out a 2-2 draw. Oliveira netted in the 79th minute on a rebound to spark O Canarinho's comeback, and Alves found the tying goal at the death with a well-placed effort from about 16 yards out.
For Paraguay, the feeling of giving up a late leader was all too familiar. Los Guaranies had surrendered a last-gasp equalizer to Ecuador last Thursday, and once again had to settle for just a point after showing an inability to close out a game. Dario Lezcano and Edgar Benitez had scored on each side of halftime for Paraguay.
DOMINANT COLOMBIA HANDS ECUADOR FIRST LOSS
Undefeated teams are no more in South America.
Colombia convincingly defeated Ecuador, 3-1, at Estadio Metropolitano Roberto Melendez in Barranquilla behind a pair of Carlos Bacca finishes. Bacca found the back of the net for Los Cafeteros in the 15th and 67th minutes, and his first strike was a doozy as he turned spectacularly in the penalty area before rifling a shot home. Sebastian Perez had Colombia's other tally three minutes after halftime.
Ecuador spoiled Colombia's shutout with a late consolation goal, and it was a beauty. Michael Arroyo stood over a free kick in the 90th minute, and bent it into the top near corner past a flying David Ospina. La Tricolor knew by then, however, that its fate was sealed.
MESSI POWERS ARGENTINA PAST BOLIVIA
Leo Messi reminded everyone how important he is to Argentina on Matchday 5, and he did so again against Bolivia on Tuesday.
Messi scored one goal and helped set up another to push Argentina to a 2-0 win over Bolivia at Estadio Mario Alberto Kempes in Cordoba. Messi quickly took a free kick after being fouled in the 21st minute and his floated pass led to Gabriel Mercado's winner. La Albiceleste catalyst then scored his first qualifying goal of the campaign by adding an insurance tally via a penalty kick eight minutes later.
Bolivia's struggles on both sides of the ball saw it finish these two rounds of qualifying matches with zero points. La Verde is now winless in three consecutive games, and has given up 13 goals, which is the second worst total right now in South America.
CHILE ADDS TO VENEZUELA'S WOES
Arturo Vidal returned to bag a brace, Mauricio Pinilla had a two-goal performance of his own, and Chile got back in the win column in emphatic fashion.
Chile erased an early deficit and got back on track by clobbering last-placed Venezuela, 4-1, at Estadio Agustin Tovar in Barinas. Venezuela had initially taken the lead nine minutes into the home game through a shot from Romulo Otero, but Chile proved too much to handle. Pinilla pulled La Roja level in the first half before giving it a lead early in the second stanza, and then Vidal scored two more to crush any idea of a Venezuela comeback.
The result pushed Chile back into a spot in the top five, and left Venezuela winless at 0-5-1. Chile is tied for most goals scored thus far with 12 while La Vinotinto has given up more tallies than any other team by conceding 17 times.
CAVANI STRIKE ENOUGH FOR URUGUAY VS. PERU
It might not have been the prettiest of games, but Uruguay prevailed at home to move into the top spot in the standings.
Edinson Cavani scored on a sizzling strike six minutes into the second half and Uruguay blanked struggling Peru, 1-0, at Estadio Centenario in Montevideo. Cavani got on the end of a great one-touch pass from Luis Suarez to slip in behind Peru's defense, and smashed a shot over goalkeeper Pedro Gallese to put Los Charruas ahead.
Peru, which was weakened by the loss of several regulars because of injury and suspension, had a good chance in the first half to take the lead. Paolo Guerrero was played in through on the left side of the penalty area, but could not beat goalkeeper Fernando Muslera. La Blanquirroja now has just one victory in six matches, and is winless in three straight.
STANDINGS (Round 6)
1. Uruguay (13 points | 4-1-1, 12 Goals For | 4 Goals Against)
2. Ecuador (13 points | 4-1-1 | 12 Goals For | 7 Goals Against)
3. Argentina (11 points | 3-1-2 | 6 Goals For | 4 Goals Against)
4. Chile (10 points | 3-2-1 | 12 Goals For | 10 Goals Against)
5. Colombia (10 points | 3-2-1 | 9 Goals For | 8 Goals Against)
6. Brazil (9 points | 2-1-3 | 11 Goals For | 8 Goals Against)
7. Paraguay (9 points | 2-1-3 | 7 Goals For | 6 Goals Against)
8. Peru (4 points | 1-4-1 | 6 Goals For | 12 Goals Against)
9. Bolivia (3 points | 1-5-0 | 7 Goals For | 13 Goals Against)
10. Venezuela (1 point | 0-5-1 | 7 Goals For | 17 Goal Against)
—
How worried are you over Brazil's mixed results a third of the way through? Has Colombia found its rhythm? What will it take for Ecuador to bounce back?
Share your thoughts below.