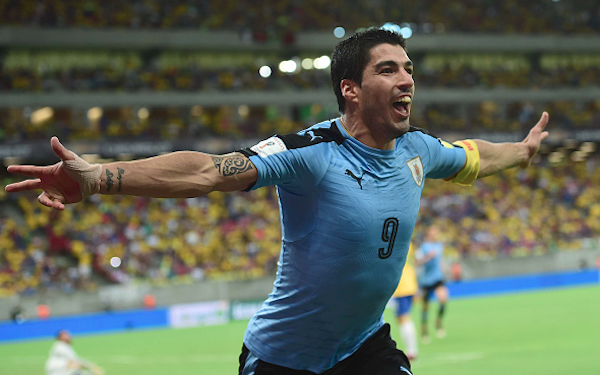 Last-second goals and draws sure were in style during CONMEBOL's fifth round of World Cup qualifying.
The latest batch of South American qualifiers wrapped up on Friday, but not before some intense and exciting affairs were put on display. Twenty goals were scored across the five matches, and three of them ended in dramatic fashion courtesy of some late tallies, while three of them finished with teams splitting the points.
Luis Suarez was one of the major talking points during Matchday 5's games, as he not only returned to action for Uruguay after a near two-year suspension but also scored an equalizer in a tie on the road with Brazil. Leo Messi also made his way back onto the international scene, helping Argentina's offense find a better rhythm en route to beating Chile.
The other three showdowns saw Ecuador salvage a result vs. Paraguay to remain unbeaten, Colombia prevailed in Bolivia in a five-goal thriller and Peru played Venezuela to a stalemate thanks to a goal at the death.
Here is a closer look back at the most recent results in CONMEBOL's World Cup qualifying campaign:
SUAREZ SCORES IN RETURN TO FORCE DRAW WITH BRAZIL
A lot of eyes were on Suarez, and he did not disappoint.
Suarez helped Uruguay grab a 2-2 road draw with Brazil on Friday, capping Los Charruas' comeback at Itaipava Arena Pernambuco in Recife with a splendid strike. Suarez scored three minutes after halftime in the game that marked his international return after nearly two years away because of suspension, and he almost found a winner later on but was denied by Brazil goalkeeper Alisson Becker.
O Canarinho started the match at home brightly. Douglas Costa pushed home a Willian cross in the first minute, and Renato Augusto undressed Uruguay netminder Fernando Muslera with some magic before scoring Brazil's second in the 25th. Edinson Cavani mustered up a response almost immediately, however, and Suarez ensured Uruguay would not fall.
MESSI, ARGENTINA TOP UNDERMANNED CHILE
While Chile was missing several of its best players, Argentina was boosted by the return of its top dog. The end result underlined that.
Argentina went on the road and defeated, Chile, 2-1, despite initially trailing at the Estadio Nacional in Santiago. Felipe Gutierrez opened the scoring for La Roja in the 11th minute, but Angel Di Maria equalized on a sensational strike before Gabriel Mercado netted his first-half winner.
The hard-fought game saw Messi play in his first qualifier of this cycle after missing last fall's matches because of an injury. Messi's impact was apparent, as his presence helped open things up for an Albiceleste attack that had scored just twice in his absence.
Chile, meanwhile, was depleted by a string of suspensions and injuries. Already missing talented players like Arturo Vidal and Eduardo Vargas because of bans, Chile had to make two substitutions in the first half after Marcelo Diaz and Matias Fernandez picked up knocks.
COLOMBIA FINDS LATE WINNER ON ROAD VS. BOLIVIA
Wasting a two-goal lead is never a good thing, but Colombia made amends by finding a winner near the death.
Colombia claimed a 3-2 victory in the high altitude of Bolivia via a finish from Edwin Cardona. Colombia had allowed a two-goal lead at La Paz's Estadio Hernando Siles to slip away, but Cardona made sure Los Cafeteros would take the three points by slotting home the winner at the end of a counterattack in the 90th minute.
Bolivia had mounted a ferocious rally in the game, with Juan Carlos Arce and the impressive Alejandro Chumacero scoring in the second half to negate James Rodriguez's early opener and Carlos Bacca's insurance tally. It all went for naught for La Verde, though, due to a late case of ball-watching in transition.
ECUADOR SALVAGES RESULT AGAINST PARAGUAY TO REMAIN UNBEATEN
Perfection may be over. The unbeaten streak is not.
Table leader Ecuador suffered its first blemish in qualifying but remained undefeated in a 2-2 draw with Paraguay. Ecuador was trailing in the waning moments of its home game, but Angel Mena found the tying goal two minutes into stoppage time to move La Tricolor to 4-0-1.
Missing top scorer Felip Caicedo, Ecuador managed to jump out in front at Estadio Olimpico Atahualpa in Quito during the 20th minute when Enner Valencia struck. Paraguay then took the lead through two goals from Dario Lezcano, but Los Guaranies could not hold on for the upset victory.
LAST-GASP HEADER SAVES PERU FROM BEING UPSET BY VENEZUELA
Venezuela was on the verge of a historic first win in Lima. The last-placed nation entered the final few seconds of regulation holding a 2-1 lead, and knew the opposition was lacking quality in the final third.
Unfortunately for Venezuela, Raul Ruidiaz spoiled the party.
Ruidiaz scored a last-gasp header at Estadio Nacional, and Peru clawed its way back from two goals down to pick up a point in a 2-2 draw. La Vinotinto had jumped out to a stunning 2-0 lead through goals from Romulo Otero and Mikel Villanueva, but Peru mounted a comeback in the second half thanks to its substitutes.
La Blanquirroja, which wasted a number of good looks in the first half when the game was scoreless, first netted through Paolo Guerrero in the 61st minute. Peru then tried frantically to find an equalizer, and found it when reserves Edison Flores and Ruidiaz connected on a cross on the game's final play.
STANDINGS (Round 5)
1. Ecuador (13 points | 4-0-1 | 11 Goals For | 4 Goals Against)
2. Uruguay (10 points | 3-1-1, 11 Goals For | 4 Goals Against)
3. Brazil (8 points | 2-1-2 | 9 Goals For | 6 Goals Against)
4. Paraguay (8 points | 2-1-2 | 5 Goals For | 4 Goals Against)
5. Argentina (8 points | 2-1-2 | 4 Goals For | 4 Goals Against)
6. Chile (7 points | 2-2-1 | 8 Goals For | 9 Goals Against)
7. Colombia (7 points | 2-2-1 | 6 Goals For | 7 Goals Against)
8. Peru (4 points | 1-3-1 | 6 Goals For | 11 Goals Against)
8. Bolivia (3 points | 1-4-0 | 7 Goals For | 11 Goals Against)
10. Venezuela (1 point | 0-4-1 | 6 Goals For | 13 Goal Against)
—
How much more dangerous is Uruguay now that Suarez is back? Are Messi and Argentina ready to make a jump up the standings? Did Paraguay reveal some chinks in Ecuador's armor?
Share your thoughts below.