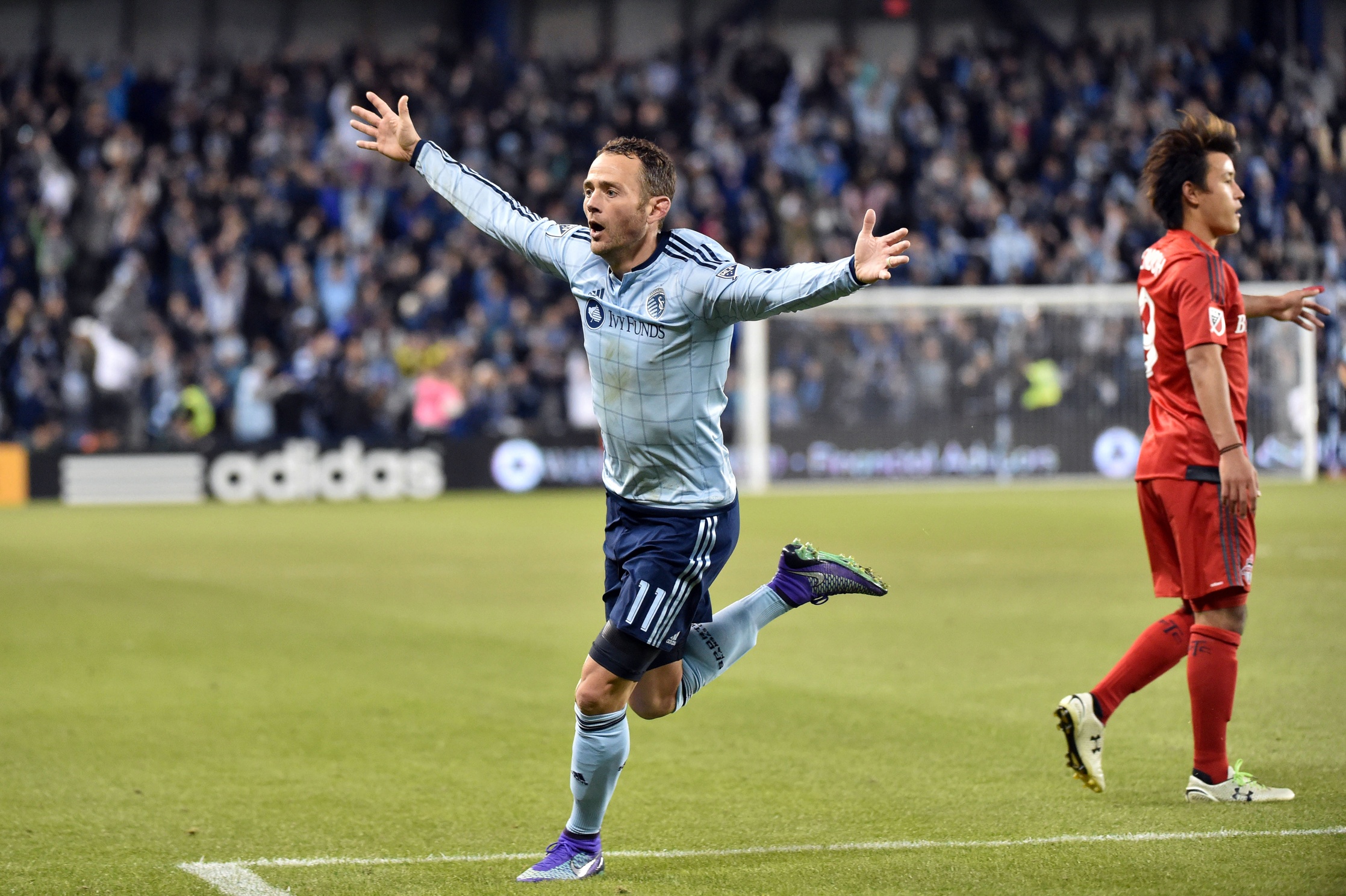 After years of being a public enemy of Sporting KC, Brad Davis scored his first goal for the club in Sunday's victory over Toronto FC. However, it did not come without controversy.
In the 70th minute of Sporting KC's 1-0 win over Toronto FC on Sunday night, Davis scored the only goal of the game to lead his new club to victory. Davis muscled Toronto FC defender Justin Morrow off the ball to dribble in and finish to the far post. However, referee Baldomero Toledo was faced with a pivotal decision as Davis battled Morrow for the ball. It appeared that Davis steps on Morrow's foot in order to win the ball, but Toledo made no call as the Sporting KC winger provided the lone goal of the game.
"He fouled me," Morrow said. "I was between him and the ball and he stuck his legs in between mine and he fouled me.
"I think their goal was a missed call. We had chances to get ahead in the game."
Toronto FC captain and midfielder Michael Bradley said he believed the call should have been made and that Morrow and Davis's battle for the ball was not even. Bradley went on to say that referee Baldomero Toledo unnecessarily affected the game.
"The hard part to understand sometimes is that you feel like in certain moments, these guys – the referees – could manage games and make decisions in a way where at the end of it, they're not the main talking point," Bradley said. "And a play like that, if it's 50-50 in his mind, you call a foul so at the end of the game nobody's even talking about you."
In the post-game press conference, Brad Davis was quiet on Morrow's plight for the call, but said he thought the battle for the ball was fair.
"To be honest, I don't think it was a foul," Davis said. "I think we were just battling there and I got my body in front of him and I was able to take a touch. I was able to come back on my left foot and place the ball in the corner."
While Morrow said he thought an instant replay review could be helpful, Toronto FC coach Greg Vanney said he was in favor of a system as long as it didn't interrupt the match.
"Regardless of this play, I'm in favor of anything that is a decisive moment in the game that can't kill the pace of the game or the momentum of the game, but I think that the technology has come far enough now that in some of these decisive moments they can get a very quick reading and get something correct so that the right call is made at the right time," Vanney said.
"It has nothing to do with this game or the last game, I just think there's a lot riding on games now a days, people's jobs and a various number of things, and championships. It's easily correctable and used in almost every other sport so why not find a way to make it useful for our sport?"
Bradley added that his team could have capitalized on chances earlier in the game that would have made this decision less important. These included a shot from Tsubasa Endoh in the 60th minute that Sporting KC goalkeeper Tim Melia narrowed knocked onto the crossbar. TFC recorded four shots on goal in the match, while Sporting only took three.
"It's a good lesson for us, just in terms of, again, having to take advantage of chances when we get them, making sure that our concentration and commitment and our hardness stays at the highest level from minute 1 to 90," Bradley said. "We'll continue to move ourselves forward. It doesn't in any way take away from the positive start, and I think everybody in this locker room feels that."