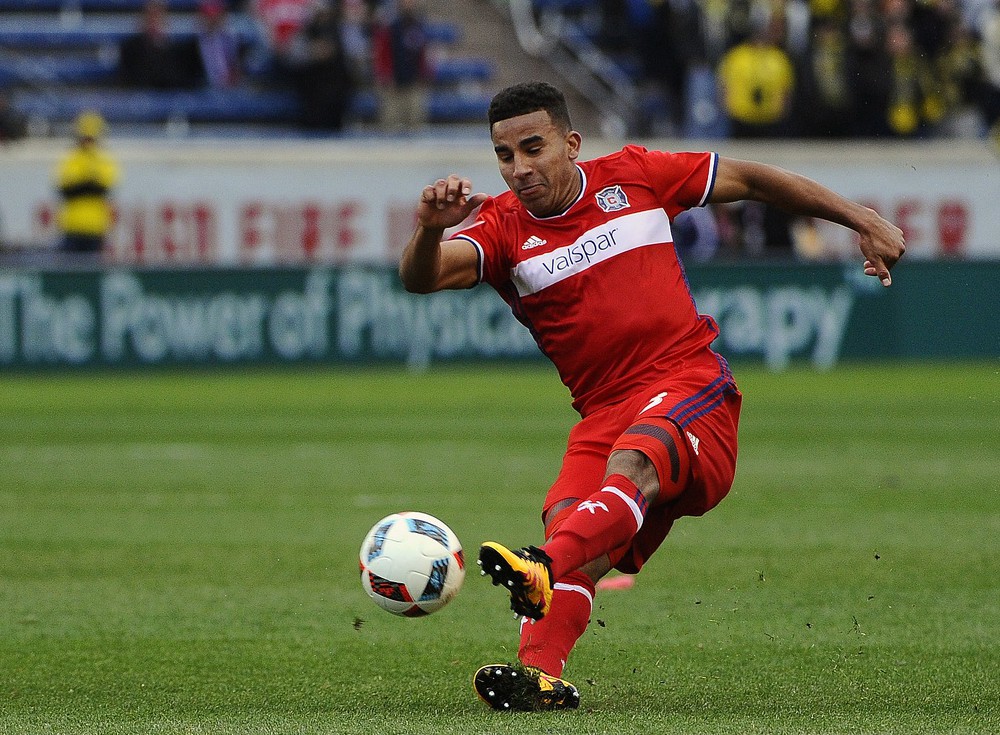 Before Saturday's match, two of the Chicago Fire's young starters were announced as part of the U.S. Under-23 Men's National Team's 23-man roster for its upcoming Olympic qualifying playoff.
Second-year midfielder Matt Polster and rookie defender Brandon Vincent will leave on Sunday to join the U.S. U-23s for their two-legged playoff with Colombia. The winner of the home-and-away series will claim the final spot at this summer's Olympics in Brazil.
Polster was part of the U-23 roster for the CONCACAF Men's Olympic Qualifying tournament where the U.S. finished third to end up in the playoff. He started all five matches in that tournament and registered an assist.
"It's going to be exciting. It's definitely something we need to qualify for," Polster said. "I know the pressure's on now, but I think the group we've put together, that just came out, with the coaching staff, it looks pretty solid."
The U.S. will play away in Barranquilla, Colombia, on March 25 before returning for the second leg on March 29 at Toyota Stadium in Frisco, Texas.
"I'm really excited. It's a huge honor and I'm really thankful for the opportunity," Vincent said. "Focus (was) on the game today first and now I get to look towards that, so I'll be looking forward to representing the country and representing Chicago."
Both players were called into the senior national team's January camp, with Vincent making his senior international debut in a substitute appearance against Canada.
"I'm just trying to keep my head down and work hard my whole career," Vincent said. "I get the opportunity now, so I take it and just go forward with it."
Accam rests but is expected back
Midfielder David Accam was the most notable omission when lineups were released on Saturday afternoon, and it was announced shortly thereafter that he was resting a knee strain.
After the match, Paunovic confirmed the Fire hope to have him back following the international break, but the Ghanaian will not participate in the upcoming Africa Cup of Nations qualifying matches for which he had been called up for.
"We believe that he will be ready for the next game against Philly, and he will miss his international call with Ghana, which for everyone is something very important, but I think the most important thing is his health," Paunovic said. "And we believe that now that he has to stay, our medical staff will work on him and recover him for the next game."
The Fire host the Philadelphia Union on April 2.
Polster fine after slip, Goossens will be evaluated
During Saturday's match, the Fire had two more injury scares.
Midfielder John Goossens was substituted at halftime, replaced by Michael Stephens, after sustaining a hamstring injury on a yellow-card challenge from Justin Meram in the 38th minute.
Paunovic said afterwards Goossens did his best to continue, but complained at halftime about the hamstring knock, causing the change. Paunovic said they didn't know yet how severe it was and would evaluate Goossens during the week.
Later in the game, Polster had to receive treatment. While making a clearance at the top of his own box, Polster slipped, taking a big divot of grass, and stayed down holding his right leg. He left the field briefly but came back on.
"I got checked out, everything looks good," Polster said afterwards. "I played the last 15 or so of the game, felt fine."