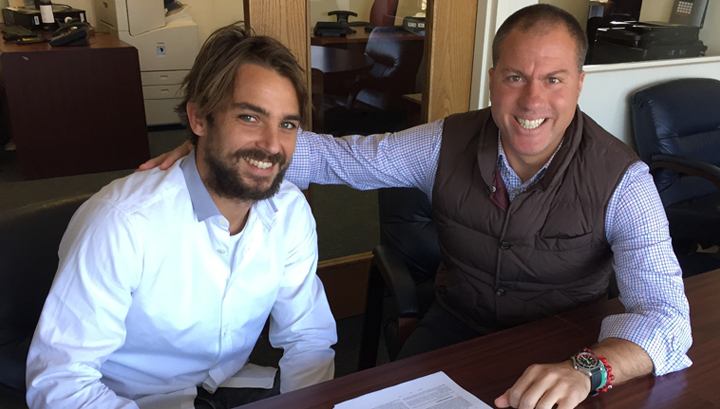 Even after years of playing the game at the highest level, Niko Kranjcar still loves to simply compete with a soccer ball glued to his foot. For months, that love was taken from him as he struggled to find the field, but the Croatian star has been given a chance to return to action once again with the New York Cosmos.
Kranjcar was unhappy. Having played just twice in nearly eight months with Dynamo Kiev, the Croatian midfielder struggled for both smiles and fitness as his club situation became murkier and murkier. After spending several seasons abroad with Queens Park Rangers, it was apparent that Kranjcar wasn't in his club's plans heading into 2016. Granted his release in January, Kranjcar was on the hunt for a new club and a new experience that would allow him to get back into competitive action.
Kranjcar's first call was family friend Jerome de Bontin, who Kranjcar has known since his days as a youth player in Vienna. The former New York Red Bulls general manager steered the Croatian star towards the Cosmos, and an ideal match was found for both the player and the club.
"I made the decision that the season in Europe was only another two or three months," Kranjcar told SBI. "For me, coming off of a month-and-a-half break, I thought that was not enough time for me to get fit and feature in enough games to do myself justice on the pitch. I decided to have a very good preseason with my connections and this came up. I was excited to go through a preseason and then see my options either straight away or in the summer. This came along, and I'm really happy it did.
"It's been great. From the first day, I felt at home with the guys," Kranjcar continued. "They really accepted me. We had great chemistry and a great relationship from the get-go. Same with the coaching staff. Obviously, now that I'm here officially, the motivation is that much higher because we have our first official game in a couple of days time and you're preparing yourself to start winning games."
Kranjcar admitted he had several other offers following his January release, but the midfielder said those offers were immediately tabled the moment he became acquainted with the Cosmos. After more than a month away from the game, Kranjcar was looking to join a team that would allow him a chance to regain fitness lost during his time in Ukraine.
That time, as a whole, was difficult for the 31-year-old midfielder. Initially signed from Tottenham in 2012, Kranjcar spent 2013-15 with QPR. A relegation battle soon followed, as the English club was relegated to the Championship following the 2014-15 season. Upon his return to Kiev, Kranjcar saw the writing on the wall. The club was riding two straight league championships and was actively looking to trim the wage budget.
"You try to be as professional as you can, and I believe I was," Kranjcar said. "I gave my all in every training session that we had and tried to do well. You start missing preparing for games. You start missing being a part of good or bad results, either way, with a team. In January, I needed to take a step back to get myself back in shape to compete at the highest level."
For Kranjcar, the Cosmos have proven to be an ideal fit. Given a full preseason to adjust to the team, Kranjcar is starting to feel his play move toward his standards, even if he admittedly still has a ways to go.
The midfielder said his relationship with head coach Giovanni Savarese is a fantastic one, and one that helped make the move all the easier. Now, Kranjcar said it's up to Savarese to figure out how to deploy him.
Alongside fellow new signing Juan Arango, Kranjcar can be played in a variety of ways. The midfielder says he is comfortable playing in a deeper role, as well as out on the left or in more of a No. 10 position. Regardless of where he is played, Kranjcar is merely looking to fit in while taking things day-by-day in his new home.
"This team has great potential," Kranjcar said, "fantastic technical ability to play in a way that I do believe suits me, which is a lot of possession soccer to keep dominating the ball and score as many goals as we can.
"I think I have to be tolerant in that respect. OK, it's not the Premier League, but it's definitely a good league, a new league. There is always time for adjustment needed, but, hopefully, it won't take long."
For now, Kranjcar isn't focused too much on the future. Although he only signed for the Spring Season, Kranjcar admits he is taking things one day at a time.
Kranjcar doesn't see himself returning to Croatia on the club level. Still, although he has not earned a call-up to the national team since 2013, Kranjcar is very much looking forward to following the team from afar as it continues its current youth movement with prospects like Mateo Kovacic and Alen Hallilovic alongside established stars like Ivan Rakitic and Luka Modric.
"I think we have fantastic players in the team that play in the best teams in the world," Kranjcar said. "It's not that they're only part of those teams, they play on each and every one of those teams. I expect a really high level, especially in the next European Championships. I except the target has to be to go all the way and get to the semifinals, at least.
"I will always be a part of that team, as a fan, as a friend. As a coach one day, I still haven't decided what I will do after. I still want to pursue my playing career and see where it takes me."
Kranjcar sometimes used to sit back and envision playing in the U.S. He was captivated by David Beckham's move to the country, and Kranjcar said he is one of several Europeans who has enjoyed watching from afar.
Now in the thick of it with the Cosmos, Kranjcar has his own goals for both himself and his team as he returns to playing the game he loves.
"I want to win every single game," Kranjcar said. "I think you have to strive to do that. It's really important for us to concentrate on the games as they come, and hopefully, we can win as much as possible or, better yet, every single one."