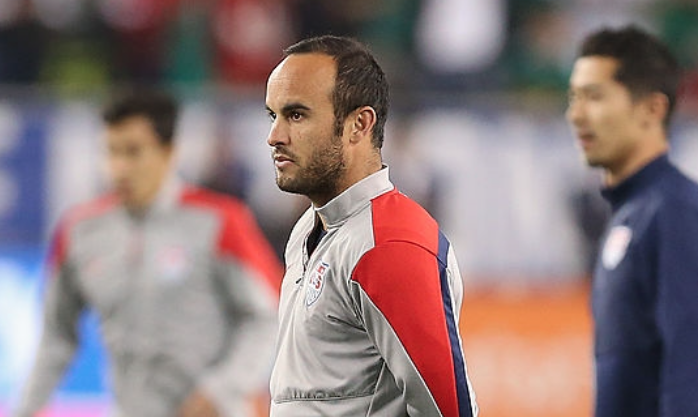 Landon Donovan had his chance to represent the U.S. in the Olympics, and the former U.S. Men's National Team star says it is of the utmost importance that the current group of U-23 talent gets that experience as well.
Speaking to the Salt Lake Tribune, Donovan said that failure to qualify for the upcoming tournament would prove to be a major blow to the U.S. program. The U.S. U-23s are set to take on Colombia in a home-and-home series on March 25 and 29 to determine a spot in this summer's competition.
"At this point in our history, any tournament we don't qualify for is a failure," Donovan said. "We should be, in this region, we should either be the best or very close to the best team in the region, so it's important for us. It's important for us to continue qualifying for these events. We have to."
Donovan says that his earliest childhood dream was to represent his country at the Olympics. The former USMNT forward says fulfilling that dream was "the ultimate", as he helped the U.S. to the bronze medal match at the 2000 Olympic games in Sydney, Australia. Four years after that, however, Donovan and his age group failed to qualify for the 2004 Olympics, falling to Mexico in dramatic fashion.
Now 12 years later, the current crop of young talent faces a difficult task given the hurdles that come with playing for a non-senior team.
"The difficult part with an Olympic team is you don't get a lot of time together," Donovan said. "There could be a few guys who don't get released playing for their club teams. It's very tricky. We're at a point now in our development, though, where guys should understand how to gel quickly. They've had qualifying together.
"I hope they get to Rio," Donovan added. "Aside from just being successful in qualifying, the Olympic experience is unlike anything you'll ever go through in your life. I hope for those guys, they get that opportunity."
Donovan went on to say that the current concerns permeating throughout U.S. soccer circles are just part of a phase. The Olympic team has played itself into a bit of a hole, while the senior team's 2015 struggles have been analyzed and critiqued plenty ahead of a busy 2016.
Still, Donovan, who worked with several members of the U-23 roster ahead of the U-20 World Cup, has belief that there is plenty of success to be had this World Cup cycle, starting with the upcoming Olympic qualifiers against Colombia.
"We have the players that are capable," Donovan said. "I get upset when people say, 'We just don't have the quality or we don't have the right players.' We don't have Brazil's quality, we don't have Spain's quality, we don't have Germany's quality, but we're good enough to do well in a World Cup. Now it's just doing it. Again, this is the same conversation.
"Long-term, it's not about winning a World Cup, it's about really competing every time we go into a tournament. Brazil doesn't win every time, but they go in every time saying, 'We've got a chance.' Germany does the same. That's what we've got to get to, but that's a different conversation that goes back to development and doing things the right way. I think we'll get there."
What do you think of Donovan's comments? Agree with his assessments?
Share your thoughts below.