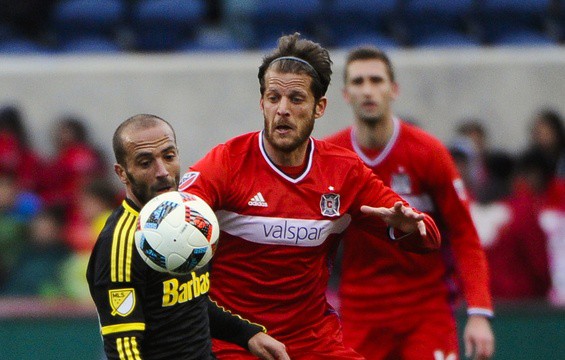 BRIDGEVIEW, Ill. – For as much as the Chicago Fire struggled to get traction going forward in a scoreless home draw against the Columbus Crew on Saturday, head coach Veljko Paunović was pleased with what he saw from his defense.
Near the end of his post-match press conference, talking about his team's growth through three games, his voice intensified.
"This is very important, this is very serious, you have to build your team with a good defense and then improve from that point," Paunović said. "We started maybe otherwise but still our team in the last two games improved defensively and now we know that we're – if you remember my answers were the first game, 'We need to improve defensively.' Well, now we are improving defensively. We improved defensively. Now the next step, possession and realization, the scoring."
After starting the season with a 4-3 loss to New York City FC, followed by a 1-1 draw with Orlando City SC last week, the Fire produced their first shutout in Week 3.
"I think defensively today was fantastic," Fire goalkeeper Matt Lampson said. "Team effort and every single guy in front of me was playing their heart out … It's exciting to be a part of it and it's exciting to see."
In front of Lampson, the Fire (0-1-2) lined up in what was listed as a 3-5-2 formation, with Brandon Vincent and Rodrigo Ramos as the fullbacks in the five. Rookie Jonathan Campbell got his second start in the center of the three-man back line, flanked by Joao Meira and Johan Kappelhof.
"I think it was very important," Campbell said of the clean sheet. "Coming from the first game then to the next game one goal and so for this one zero, I think it's a big improvement for us and something we can build off of."
Campbell, who said the group has had good chemistry since preseason, praised the two-way work of Ramos, who had three tackles and a shot, and Vincent, who had two tackles, on the outside.
"It's a tough position for them, they've got to get all the way up to their outside back at times and then also drop in and be the outside back when it's the weak side," Campbell said. "So it's very tough for them, and I think they did a great job with it."
All five of the Fire's starting defenders on Saturday are new to the league this season, and new to the professional game in Vincent's and Campbell's case.
"Five guys that have never played in the league to start with and then they had three games so far this season, I thought as we progressed so far we've done better and better each game, so I think we're doing all right," captain Matt Polster said.
The unit's biggest accomplishment against the Crew was holding forward Kei Kamara to no shots.
"That's what they want to look for, they've got a big target in the box and we did a good job marking him as well with the centerbacks and then getting out wide when we could then and denying the crosses," Vincent said. "So it was a big focus in the game, and I think we were successful with keeping the shutout."
Kamara's two best chances were a first-half overhead kick attempt on which he was whistled for a foul, and a cross in the 72nd minute which went over his head.
"One of the biggest things that we harped today was 'no cross, no goal' and they barely got any service to Kamara today," Lampson said. "That was a huge coaching point that we had and we locked him down. He hardly had any opportunities. Against a team like that, if you deny their top scorer, it's going to be a good result and we got a zero from it. Once again, credit to those guys because as soon as the ball went wide we were on top of them, and it makes my job a lot easier if we're organized and we're working hard."
At times they did show signs of inexperience and vulnerability with the system. In the first half, Columbus playmaker Federico Higuain was able to stretch them out, get into dangerous spots at the top of the box and slide passes between Fire defenders.
"That one, we just were too far spread out," Campbell said. "We were worried about them getting the ball out wide at first and we need to pinch in tight and that's what we changed up and allowed them to play out wide at first and then we can go out and press from there. So at first, we have to start in tight and then move out."
With David Accam out, the Fire's offense managed just one shot on target and the hosts were outshot 12-4 overall by the Crew, who kept 58.3 percent of the possession. The Crew forced four saves from Lampson but only truly tested him once or twice with long-range efforts.
"First off I think as long as we can prevent teams from scoring I think we'll create chances," Polster said. "We have great forwards like Gilberto, Kennedy (Igboananike), David Accam is definitely going to get some chances every game. So I think as long as we can stay solid defensively we're going to create a chance, we're going to get a goal here or there. Unfortunately, we didn't do it today, but we had our opportunities."
"Defensively we have it," Paunović added. "This is the defensive performance that we need. The season is long so we are building, improving, for me it was a good game in terms of defensive setup.
"We have to keep our clean sheet, that's what we wanted. We saw in the first two games that we have to be more solid defensively, so I think we did a good job in our defense. We tried hard to score and push a little bit higher in the second half, we did have some opportunities, but still, I believe the team performed very, very well. I'm happy with what the team did today defensively."