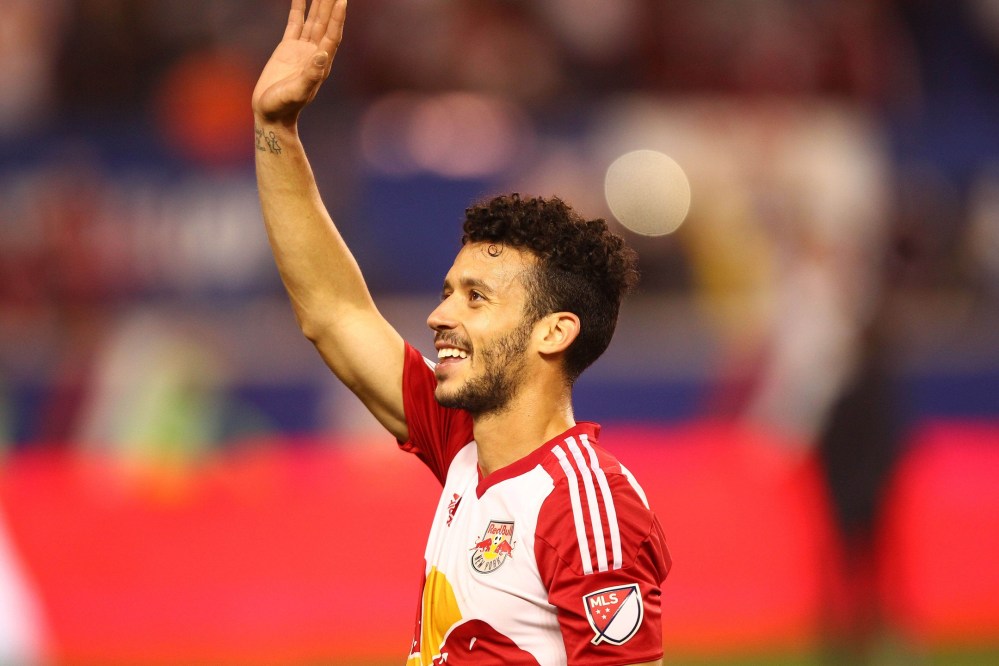 HARRISON, NJ — While injuries plagued the New York Red Bulls over the first hour of Saturday night's match, Felipe's stunning second-half performance guided the home side to a 4-3 victory over the Houston Dynamo.
Following a curling effort that beat goalkeeper Joe Willis with 12 minutes to play, the Red Bulls midfielder erupted the 15,000-plus in attendance at Red Bull Arena with a brilliant free kick in the 83rd minute.
After an even start to the match, Sacha Kljestan gave the Red Bulls the lead in the 22nd minute. The Red Bulls midfielder found the ball at his feet just yards from goal following a failed Dynamo clearance.
The Dynamo found their equalizer in the 35th minute, when striker Will Bruin found open space after Kemar Lawrence's missed clearance. The 26-year-old knocked his effort over goalkeeper Luis Robles, leveling the game at 1-1.
Bruin then doubled his account for the Dynamo six minutes later, after another failed Red Bulls clearance gifted the attacker his shot on goal.
In the 63rd minute, Mike Grella scored the second goal of the night for the Red Bulls after a scrum in front of the Dynamo net deflected off of the attacker. The visitors answered two minutes later, though, when Alex smashed a left-footed shot past Robles at the top of the box.
The Red Bulls began the match with an excellent opportunity to open the scoring in the 15th minute, after Kemar Lawrence's back-post cross was guided on target by Bradley Wright-Phillips. Willis denied the striker his chance though with a lunging save to his left.
Despite the positive result for Jesse Marsch's side, Gonzalo Veron, Gideon Baah and Ronald Zubar all left the game with apparent leg injuries.
Here are the highlights from Saturday's match:
https://www.youtube.com/watch?v=aJtJEToUrts
PLAYER OF THE MATCH
Felipe's tremendous second half capped off an all-around resilient effort by the home side, despite the adversity the club faced.
MOMENT OF THE MATCH
With the spotlight on him in the 83rd minute, Felipe beat the Dynamo keeper with a sublime free kick from roughly 20 yards out.
MATCH TO FORGET
While Ronald Zubar did not perform at his best for the Red Bulls, Dynamo defender David Horst was the one who committed the important foul that led to the game-winning goal.