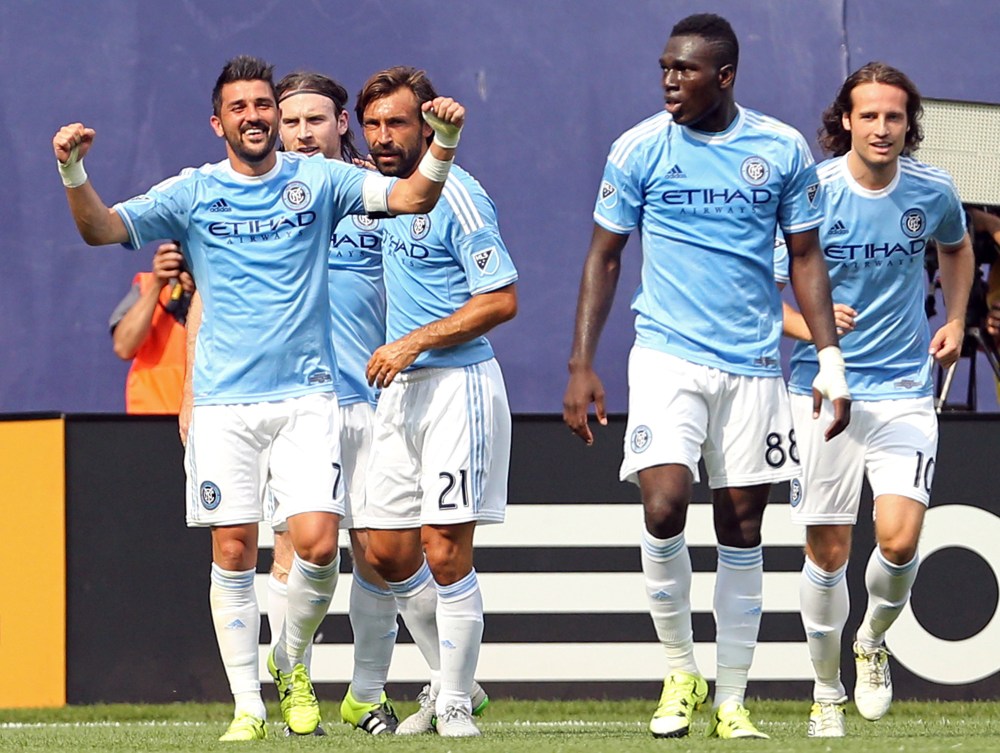 New York City FC's inaugural season in Major League Soccer was considered a roaring success off the pitch. On it, the club came up short of its ambitious goal of reaching the playoffs.
What NYCFC tried to accomplish was a difficult task, as only two expansion clubs — 1998 Chicago Fire and 2009 Seattle Sounders — have reached the postseason in their first year in MLS, but upper management was unable to accept the failure and let go of head coach Jason Kreis in favor of French legend Patrick Vieira, who was brought over from Manchester City's Elite Development Squad.
With Vieira's entrance also came with a plethora of player acquisitions, especially on the back line, as sporting director Claudio Reyna tried to patch up a shaky defense that tied with Toronto FC and Chicago Fire last season for most goals allowed with 58.
In addition, NYCFC had a full offseason with all of its key players together while making a big move at the 2016 MLS SuperDraft by trading for the No. 1 overall pick, Jack Harrison, out of Wake Forest from Chicago Fire for general allocation money and the club's No. 4 overall selection.
These are encouraging signs that this franchise is trying to progress as fast as it could, but until these investments actually pay off on the pitch, NYCFC will remain just another expansion club trying to gain its footing in the league.
Here's a closer look at the 2016 New York City FC:
NEW YORK CITY FC SEASON PREVIEW
2015 FINISH: 10-17-7, 37 points (eighth in Eastern Conference)
KEY ACQUISITIONS: Ronald Matarrita, Frederic Brillant, Ethan White, Jack Harrison, Federico Bravo
KEY LOSSES: Chris Wingert, Shay Facey, Ned Grabavoy, Angelino, Javier Calle, Ryan Meara
NEWCOMER TO WATCH: Ronald Matarrita — The 21-year-old Costa Rican international brings some dynamic skills to NYCFC at the left back position. Matarrita can cover plenty of real estate and his attacking abilities can bring some creativity to that side of pitch, which was lacking at times last season. Expect Matarrita to thrive in Vieira's 4-3-3 and establish himself as both a reliable defender and a resourceful catalyst on offense.
PRESSURE IS ON: Mix Diskerud — The U.S. Men's National Team midfielder is coming off a subpar year where he registered only three goals and one assist in 27 appearances. Part of that could be attributed to Diskerud being forced to play near the right wing and out of his natural position last season, but with him likely to play more central this season, he should be expected to provide more goals for NYCFC.
OUTLOOK
The biggest concern for NYCFC last season was its defense. The team frequently absorbed heavy pressure from the opposition and forced goalkeeper Josh Saunders face a league-high 188 shots and make a league-high 123 saves. To solve that problem, Patrick Vieira will look for his team to defend more aggressively and for Saunders to assume more of a sweeper-keeper role this year.
"I think what is important for us is I want the players to defend going forward," Vieira said. "We have to be proactive in our minds, we have to anticipate what can happen. We always have to be positive and we have to work for that."
The revamped defense, in addition to Matarrita, will likely rely on the likes of Ethan White, who was acquired from Philadelphia for a 2017 fourth-round SuperDraft pick, and Frederic Brillant — acquired via transfer from Belgian side K.V. Oostende — to provide some veteran experience in front of Saunders. Andoni Iraola, meanwhile, should be a reliable option on the right side now that he has had a full preseason with the club and if he manages stays healthy.
On top of that, players like R.J. Allen, Jefferson Mena, Jason Hernandez and Diego Martinez provide plenty of depth for the back line, which has fared well in the preseason by posting a shutout in each of the club's first three matches.
In the midfield, where it is loaded with big names and talent, Patrick Vieira will have to learn how navigate all the jigsaw puzzle pieces that Jason Kreis couldn't quite fit together last season.
The centerpiece will be Andrea Pirlo, but Vieira has to figure out how to maximize his abilities by surrounding the right pieces around him while creating backup plans on the defensive end should Pirlo ever get exposed tracking back.
Andrew Jacobson did a fine job serving as the defensive midfielder last year, but the 4-3-3 seems to have no place for him in it and the protection he brought last season must now be generated via the team's recovery speed and spacing. It's a risky tactic to deploy, but it's a trade-off that is almost necessary for Pirlo's mastery in the midfield.
As for who will surround Pirlo, it could become a guessing game week in and week out. Frank Lampard has not participated in a single preseason match due to a calf injury so how Vieira would plan to fit him into the 4-3-3 remains a mystery. However, Lampard is a name who cannot be left out of the starting lineup and he should be counted for one of the two spots as long as he's healthy.
For players like Tommy McNamara, Kwadwo Poku and Mix Diskerud, they are likely the leading candidates to get the remaining spot in the midfield. McNamara thrived last season playing near the left flank and Diskerud has shown he is capable of handling the right side. Poku, meanwhile, won over the hearts of the NYCFC fanbase last season with his physical prowess and ability to deliver almost every time he was called upon as a substitute. How these three will get their playing time could depend on matchups and their respective forms. Throw in the names of Mehdi Ballouchy, Federico Bravo, Mikey Lopez and Jack Harrison, who sat out of preseason with a pelvic injury, and NYCFC has more than enough to cover its ground in the midfield.
"Andrea will be really important, but so is every single player on the team," Vieira said. "Every single player has an important part to play and they need to understand that. We will achieve something good but we will not achieve that with just Andrea or just with Frank or just with David (Villa), other players have to take responsibilities and perform as well and that's how we will do well."
Up top, Villa may very well put up even better numbers than the 18 goals and eight assists he tallied last season with some help around him in the likes of Khiry Shelton, Tony Taylor and Patrick Mullins this season.
Mullins provided six goals and four assists in 24 appearances last season and Shelton is coming off a training camp experience with USMNT in January. Taylor, meanwhile, has recovered from an ACL/LCL injury and should be able to provide pace on the wings to generate offense.
Villa was upset at times last season when he could not receive any help from his teammates on the offensive front but Vieira's 4-3-3 should provide the 34-year-old striker plenty of opportunities to tally and set up goals.
The ceiling for NYCFC is sky-high, and for a franchise that has been embraced in the Big Apple, so are the expectations. And for Vieira in order to reach them, a solid foundation needs to be built first.
"In the game of football or in sports in general, you can play really well and not win any trophies at the end of the season," Vieira said. "What I really want is to give the team an identity and a style of play. And then if we play well enough, we will win games and we will trophies.
"What I really want the players to get focused on is for them to go on the field, to have a positive mind, working hard, working well, playing well together and then we give ourselves more chances of winning games."
PROJECTED LINEUP