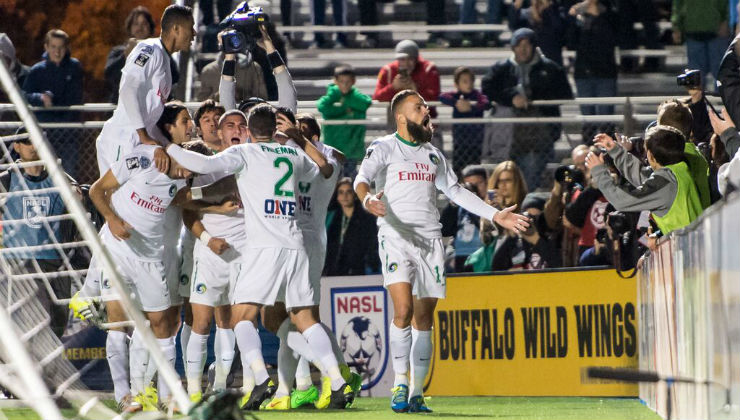 In November, the New York Cosmos claimed the NASL's ultimate prize. Superstars Raul and Marcos Senna have since ridden into the sunset, but the Cosmos are more than ready to make another run this season.
International stars Juan Arango and Niko Kranjcar headline a busy offseason for the Cosmos, who will look to capture the club's third NASL crown in four years. Standing in their way is a rapidly evolving NASL field, but head coach Giovanni Savarese has brought in several pieces to bolster the Cosmos' already talented roster.
Familiar faces like Michael Lahoud, Gabriel Farfan and Jairo Arrieta give the Cosmos depth and North American experience at a a variety of positions, while South American internationals Yasmani Duk and Yohandry Orozco bring a bit of attacking flair to the club.
Entering 2016, the Cosmos have retooled and reloaded, and the club is ready to continue its pursuit of being one of the top club's in the United States.
"I think we have a deeper group," Savarese told SBI. "I think we have a group that is going to push each other to take positions and that will allow us to be able to grow to be a better team. Hopefully, things will click. So far, it has been very good and we hope that continues the same way. We have a little bit more depth than what we had in the past.
"Everybody is stepping up to do very well. There are no surprises. I expect big things from everyone. We have an interesting group, a talented group. I'm excited about this year. So far, it's been great. The guys have added something special to the club this year."
Here's a closer look at the 2016 New York Cosmos:
2016 NEW YORK COSMOS SEASON PREVIEW
2015 FINISH: Overall — 15-4-11, 56 points (1st in Combined Standings); Spring Season — 5-0-5, 20 points (1st in Spring Season); Fall Season — 10-4-6, 36 points (3rd in Fall Season)
HEAD COACH: Giovanni Savarese, Fourth Season
KEY ACQUISITIONS: Niko Kranjcar, Juan Arango, David Ochieng, Michael Lahoud, Yohandry Orozco, Gabriel Farfan, Yasmani Duk, Jairo Arrieta
KEY DEPARTURES: Raul, Marcos Senna, Walter Restrepo, Gaston Cellerino, Samuel Caceres Haji Wright
NEWCOMER TO WATCH: Yasmani Duk. The Bolivian international has been phenomenal for the Cosmos in preseason while further establishing himself as a regular within his national side. With three goals for the club in the preseason, the 26-year-old appears to be the forward the club has long coveted. Last season, the club was way too reliant on Raul to create, and it appears that Duk could be the player that holds the key to pushing the Cosmos up the goalscoring charts.
PRESSURE IS ON: Juan Arango. A veteran that has plied his trade all over the world, Arango will not be unfamiliar with the pressure that comes with his move to the Cosmos. Being pegged as a Marcos Senna replacement, Arango will be relied upon to show off his pinpoint passing and spectacular piece delivery throughout while attempting to  serve as an upgrade over Senna. That will be no easy task, and the Venezuelan star will have to familiarize himself with the difficulties of American soccer rapidly to stake his claim as one of the league's top playmakers.
OUTLOOK
Riding a dominant campaign that yielded an NASL title, it would seem like the only way the Cosmos could go is down. However, after a busy offseason that brought in depth and even a bit more star-power, the Cosmos have set their sights on out-achieving everything they have done since their 2013 revival.
While Raul and Senna have moved into retired life, the Cosmos have replaced the two Spanish stars with a crew of familiar faces. International stars like Niko Kranjcar and Juan Arango may not match the pure star-power of their Spanish counterparts, but the duo both join the Cosmos with plenty of name recognition and plenty of gas left in the tank.
Kranjcar can lead the way as either a No. 10 or a left-sided midfielder, giving the Cosmos versatility in their attack. Arango, in particular, is seen as a player that can make the Cosmos tick from a bit deeper. The Venezuelan international will be the Cosmos primary playmaker, helping to ease the transition from Senna.
"(Arango) is a fantastic player. He has extraordinary skills," Savarese told SBI. "He's somebody that can see the game early and play first touch balls that put you in a very good situation. He's incredible in many ways in our team, and the other good thing is that he's a leader. He's stepping everyday into a role to be more influential, to be able to push the team into a better situation and he's done a fantastic job.
"I'm very proud of what he has done in his career. I had him as a teammate when he was very young, and now he is with us and I see how much he has grown as a player. We are lucky to have him."
Joining Arango and Kranjcar in the Cosmos crowded midfielder will be some combination of Danny Szetela and Philadelphia Union loanee Michael Lahoud. Meanwhile, the wing positions have been filled by Yohandry Orozco and Gabriel Farfan, who fill the spots vacated by Leo Fernandes and Walter Restrepo.
Up top, the Cosmos have a pair of new faces to compete with Lucky Mkosana. The 28-year-old forward provided five goals last season, but the introductions of former D.C. United forward Jairo Arrieta and Bolivian international Yasmani Duk leave the Cosmos with options up top.
"Good competition. It's very interesting," Savarese said. "Lucky is different than Arrieta and Arrieta is completely different than Yasmani. We have a unique group that can work together and work separately, and I think that's the good thing about this year: the resources that we have to be able to play in so many different ways and they are all very committed to do well and compete with each other."
In the back, the Cosmos have relied on continuity. Goalkeeper Jimmy Maurer will play behind familiar faces in Ayoze, Carlos Mendes and Hunter Freeman. Where questions lie is the second centerback position following an injury to incumbent starter Roversio. Helping to ease that issue is the introduction of Kenyan international David Ochieng, as well as the return of former Cosmo Jimmy Ockford.
"Having depth is important," Savarese said, "because you can see that, first of all, we take (the Open Cup) very seriously and, this past year, when we played the Red Bulls, we had some injuries. Having depth allows you to have more resources to be able to be more competitive in those matches.
"They come in between other games, so for this year, we are excited about the group that we have and we're going to take the U.S. Open Cup the same way that we have taken it every year, with the same interest, the same serious attitude. We will try to do well."
With both the Open Cup and another NASL crown in the team's sights, Savarese is not one to make predictions or brash statements. Rather, the Cosmos boss is looking to take things one step at a time with a talented roster and ambitions to match
"I never think that the team will achieve those goals," Savarese said. "I always think, at the beginning, that I have to evaluate for what we have, and if we're ready to play the first match. Right now, what I can assure you, is that this team has the depth that we need and the hunger that we need to do very well in the first match."
PROJECTED LINEUP
—————Arrieta—————
Orozco—–Kranjcar—–Farfan
——–Szetela—–Arango——-
Ayoze–Mendes–Ochieng–Freeman
————–Maurer————–