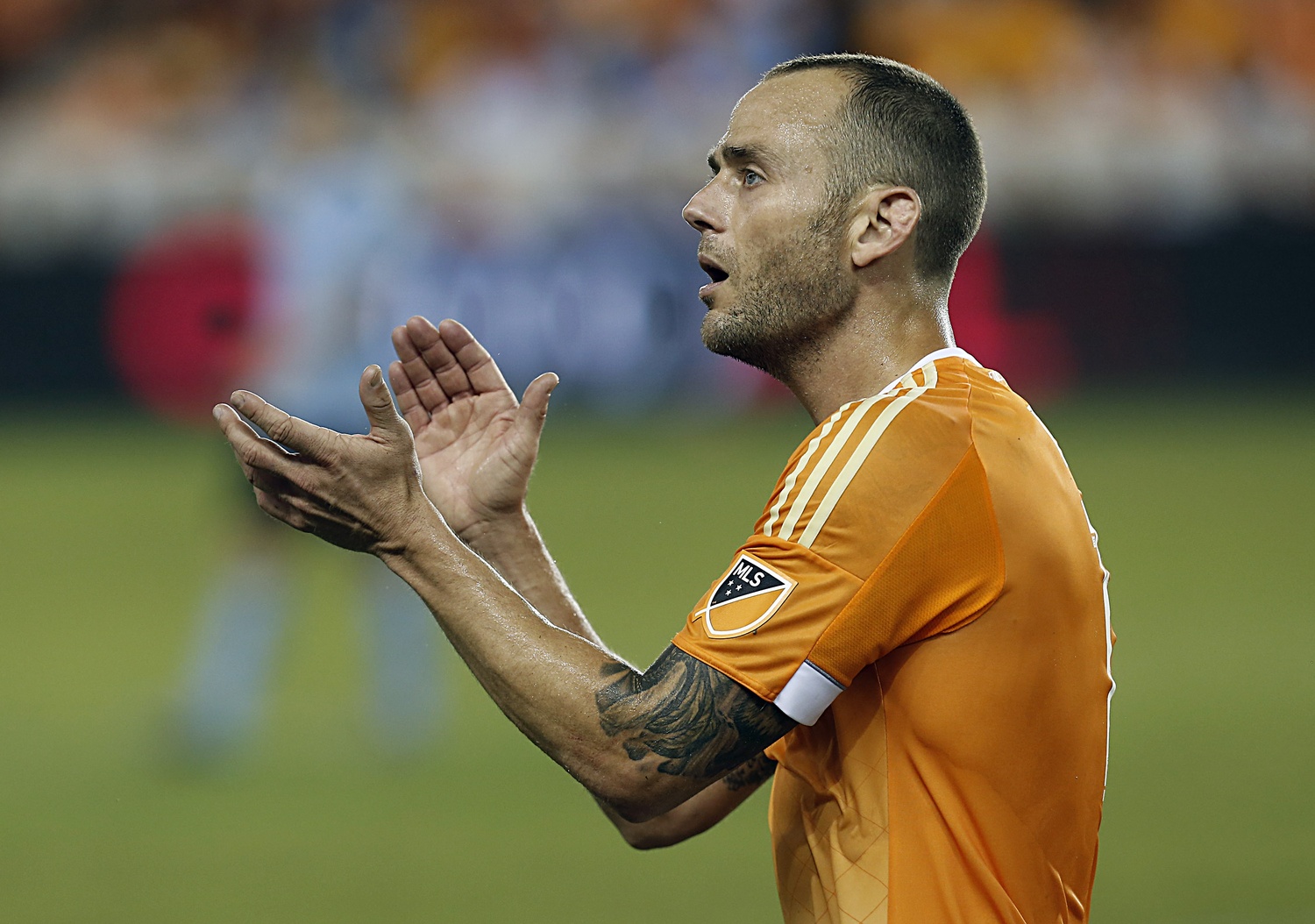 Brad Davis is comfortable in Kansas City.
You may not have guessed that a player moving from a club where he's played for nine seasons would feel so comfortable in different colors, but to Davis, the move from the Houston Dynamo to Sporting KC hasn't been difficult. Instead, Davis said, all it has been is a simple change.
"To be honest, it hasn't been hard," Davis said. "It's been a change, yes, but for me personally it's been good. I've kind of been a the same spot for a long time. I wanted to have a new challenge a different challenge. It hasn't been too difficult as of yet, it's been a good change so far."
The Dynamo, for whom Davis made 30 appearances last season, missed the playoffs for the second straight season in 2015. This offseason, Davis learned of Sporting KC's interest and decided to make the move. On Jan. 7, he was traded to the club for a second round pick in the 2017 MLS Draft and a third round pick in the 2018 Draft.
With the move, Davis will move closer to his home in St. Louis, where he attended high school at Chaminade and college at St. Louis University, but the move closer to home for Davis is secondary to his desire to succeed in the late years of his career.
"The team I'm coming to is a very good team," Davis said. "Being from this area was a big part of this. But it's also an organization that has been successful. It's an organization that's known for being top class. So there was an excitement to come see what it was about and so far it has stood up to its reputation."
Sporting KC coach Peter Vermes said that from the team's perspective, Davis brings a lot of hunger to win to a team stacked with veterans players. Players like Benny Feilhaber, Graham Zusi and Matt Besler are seasoned veterans who share Davis's desire to win.
This season, the club will get the chance at winning three different competitions: the MLS Cup, U.S. Open Cup and the CONCACAF Champions League. Sporting KC qualified for the CONCACAF Champions League after winning the 2015 US Open Cup.
"The biggest thing is he appreciates the fact that we're a competitive team," Vermes said. "The guys fight hard [and] put a lot of effort into the way that they play. That kind of plays right into who [Davis] is as a player as well. And so he fits in pretty easily. That's a big plus for any player."
"I think we have the capacity here to be competitive in all competitions," Davis addd. "So without a doubt, looking at this whole situation and weighing options and things like that, I definitely had to take that into account.Being able to come to a place that is closer to home that compete in everything, that has had success. It was putting all of those pieces of the puzzle together. It finally came together and all made sense. I feel like we have an unbelievably competitive group that is going to strive to win everything that we get involved in this year."
Davis added that on the field, him and Vermes had discussed deploying him in "a few different" positions. Davis is a left winger by trade, but might be capable of playing all around the midfield. The addition of Davis may also open Sporting KC midfielder Graham Zusi to a move back to the central midfield, where he became a breakout player in MLS.
Vermes, a former U.S. national team defender and Wizards player, appreciated Davis's desire to compete.Being able to call Davis one of his own, Vermes said his respect for Davis has skyrocketed this preseason.
"When you see players play from afar and [you play] against them, you see the qualities that they have," Vermes said. "But the thing you don't know [until they're on your team] is Brad is a fantastic pro. He's very serious about his game, how he takes care of himself, all of that stuff is very very high quality.
"He is very competitive and has a winning mentality, he wants to win all the time. I like that because that's why we do what we do. I respected him a ton before he got here, I respect him a ton more just because I've had a chance to work with him very intimately now."