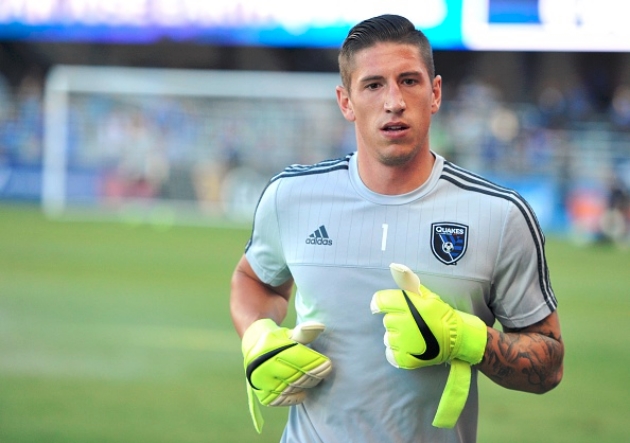 The goalkeeping position for the U.S. Men's National Team has long been a battle between Tim Howard and Brad Guzan. Yet, both veterans have struggled for playing time with their respective clubs in recent weeks, raising the question: who starts in goal for the U.S. against Guatemala on March 25 and 29?
Enter, David Bingham.
While U.S. head coach Jurgen Klinsmann will likely lean towards starting a trusted, veteran presence in goal, Guatemala is no world-beater. Even if Klinsmann chooses to go with the 37-year-old Everton goalkeeper or the 31-year-old Aston Villa shot-stopper, calling in Bingham as the third option seemingly makes more sense than not after his remarkable start to 2016.
"Yes, I do," San Jose Earthquakes coach Dominic Kinnear answered when asked if Bingham should be considered for more call-ups. "I look around the league, and we're all biased towards our own goalkeepers, but when I look at other goalies around the league, I put him up there with the best. I think he performed well in camp, and I do think he should be involved.
"It's not my call, it's obviously up to Jurgen Klinsmann, but speaking from a biased point of view, the answer would be, yes."
The 26-year-old Earthquakes netminder earned his first call-up to the USMNT for the annual January camp, and did well in his time there. He was even given the nod by head coach Klinsmann to start the team's second friendly against Canada on Feb. 5. The Canucks never put a shot on frame to test Bingham, but he nevertheless helped the Americans secure a 1-0 shutout win.
Fast forward to Sunday, Bingham turned in a Man of the Match performance in the Earthquakes' home opener vs. the Colorado Rapids. He made five saves, including a spectacular full-stretch diving save on a right-footed blast by Luis Solignac (3:16 below), to secure the 1-0 win at Avaya Stadium.
https://youtu.be/W9G_IdLAjAM?t=3m16s
"I've always thought David was a confident kid since he stepped on the field last year," Kinnear said. "I think getting a taste of being around the national team gives anybody confidence, and I think Dave's come into camp looking good and feeling good."
"It's definitely nice to have the camp under my belt," Bingham told SBI. "It was nice because it got me in a month earlier than everyone else, so I just felt maybe a little extra sharper than I usually would at this time of the year just because of those extra weeks of training that we had down in LA."
Bingham said he has not been in contact with Klinsmann or the U.S. coaching staff since he left and joined the Earthquakes for preseason training, but he is not focusing on the what-ifs. For now, he wants to focus on the next task at hand, a home showdown with reigning MLS Cup champions Portland Timbers this upcoming Sunday.
"I think it's important to stay focused on San Jose and have your main focus here instead of there, because if you are focused on the national team, you kind of lose sight of what got you there in the first place," Bingham said. "So it's important for me to stay focused with San Jose, and keep playing well and getting results each week and trying to get a win."
That determination is what Bingham hopes helps his chance at receiving another call-up in the coming weeks. As long as he continues to turn in performances like the one against the Rapids in Week 1 of MLS action, Klinsmann will have no choice but to heavily consider him as one of the three options for the camp — and potentially as one of the starters.
"It would be huge (if I received a call-up this month)," Bingham said. "It means that I continued the path I set down in camp — that I continue to play well, and hopefully earn a call-up for the two games, and hopefully put my name, try to solidify my spot with the national team.
"If you're there, you have a shot at playing," Bingham added. "I took that to heart (during the January camp), and I was able to get in the game, and we played well."