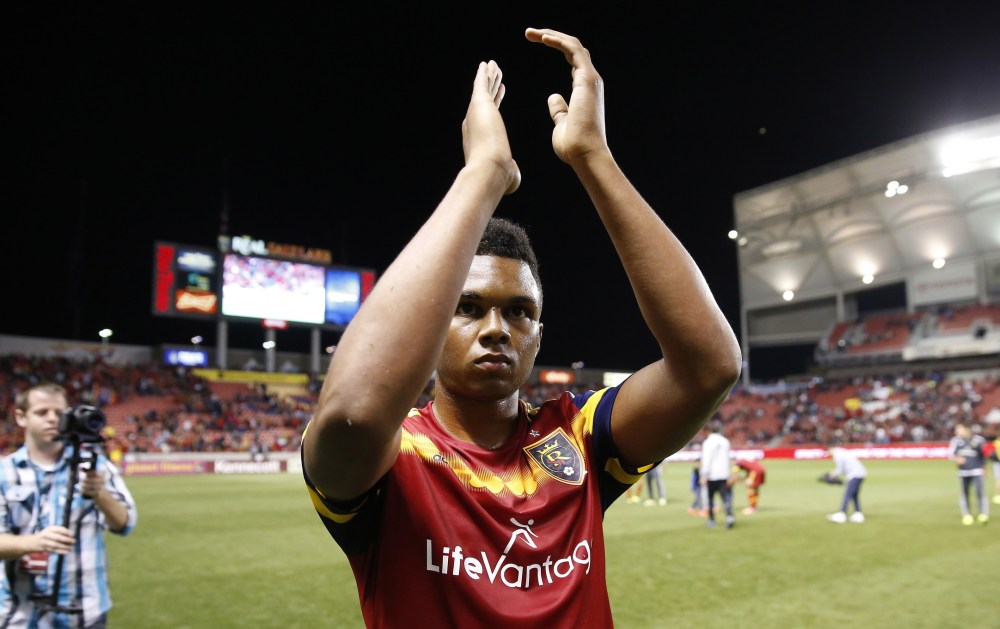 Since joining Real Salt Lake in December 2013, Jordan Allen has played as a right back, central midfielder and wide forward.
Proving to be a jack-of-all-trades, the 20-year-old will be playing as the No. 10 in 2016.
"I'm confident in myself that I can really excel in this position," Allen told SBI. "I think it's going to take time. It's not going to be an overnight thing. It's definitely an adjustment, but I think my first start this year felt 10 times better than my first start did last year. I'm feeling really good about it.
"I have a lot of support around me, and I've got Javi (Morales), who's one of the best No. 10s to learn from in MLS, so I'm confident that moving forward, I can play a role not only here (at RSL) but also for the (U.S.) national team."
Morales missed out on Sunday's Week 2 contest against the the Seattle Sounders, giving Allen the opportunity to play as the central attacking midfielder for the first time this season. He completed 31 of 37 passes (successful passes below are green), making two key passes (yellow) — the second most on the team behind Joao Plata.
"I thought he had a really solid performance," head coach Jeff Cassar told SBI. "Stepping in and trying to fill Javier's shoes is a tall task, but I thought he did a very good job.
"He was able to get into channels in wide positions from that central position as well. He created a few attacks for us with his play, especially on Joao's chance, so I thought he did a really good job in very difficult circumstances."
While his name did not appear on the scoresheet after 81 minutes played, he had a near-assist (:34 here) in the 23rd minute after slipping a ball to Plata at the top of the penalty area.
"He can probably play five positions out on the field," Cassar said of Allen. "We looked at him at right back, where he's also played for the national team. He can play winger, he can play the No. 10 and, at times last year, the No. 8 for us. He's got a very creative mind on the ball, and from that No. 10 position, he can do things with the ball and do things without the ball as well. His movement off the ball is very good."
Allen started playing more of an attacking role last season for Real Salt Lake, and over the offseason, it was coach Cassar who sat him down and told him that he would have a chance to develop and play as the attacking midfielder in 2016. Cassar stressed the importance of learning from Morales, who is considered to be one of the best playmakers in the league, and the 20-year-old has been doing just that.
"You look at Javier, and he's able to recognize certain things during the game and what needs to happen – whether the game needs to be sped up or slowed down or where he can find gaps to be effective," Cassar said. "I think if Jordan really uses this time to watch Javi play that position, and also gain that experience when he can play in that position, he's going to do very well."
"One of the things that I think (Morales) does really well is he finds the right balance of finding the game and letting the game find him," Allen echoed. "He doesn't put himself in situations where he doesn't want to be, so that's why when you do see him on the ball, he's in good spots and he's making good decisions that are impactful.
"Just his movement, knowledge and awareness of the game is something that I've just been watching as much as possible, whether it's in training or watching a video on my phone. I'm just trying to pick up on the little things that separate him and allow him to be as efficient as he is on the field."
In preparation for his 2016 debut, Allen did just that — watch video of Morales play. While he said Morales is open to answering questions and giving advice, he has learned a lot from just watching and analyzing the 36-year-old Argentine.
"I'll go to a game, watch his touches and involvement in the game, or I'll just watch a full game and try to pick up where he is on the field," Allen said. "I did that going into the Seattle game, and I think it actually helped me a lot. I felt comfortable from the beginning of the game just because I had a little bit better of an idea of where I should be and where the successful spots on the field were. I think that helped me out, especially in the first half."
The attacking midfield role is one that excites Allen, but it also is a challenge for him. He admitted that moving around the field has been difficult, but if anything, it shows how versatile he is. He does not feel as though one position on the field suits him the best, but he is willing to learn and adapt in whatever role to help the team in order to become the best player he can possibly be.
"In the last two years, I've played so many different positions, where it almost feels like I'll start playing one position and I'll start thinking that's my best position. Then, I'll go somewhere else and think that's my best position," he said.
"I can tell you that I prefer playing more of an attacking role, so whether as a No. 10 or a wide forward, those are the two positions I prefer to play."
Morales is feeling better, according to Cassar, after missing Week 2's win at home. If the veteran is to return to the lineup come Saturday against reigning MLS Cup champions Portland Timbers, Allen may likely be starting from the bench.
Yet, the coach has not ruled out the possibility of having both Allen and Morales on the field at the same time. Many factors have to be considered in order for that to happen, and that might mean bringing Allen on to play a different position than as the No. 10. No matter where he plays for RSL this season, the Homegrown signing is hoping to represent his country again as soon as possible.
"I was a little disappointed not to move up to the U-23s for Olympic qualifying," Allen said. "Hoping that they can pull through against Colombia in the coming weeks, and hoping I can start this season really well and give myself an opportunity to be looked at for that in the summer if we qualify."