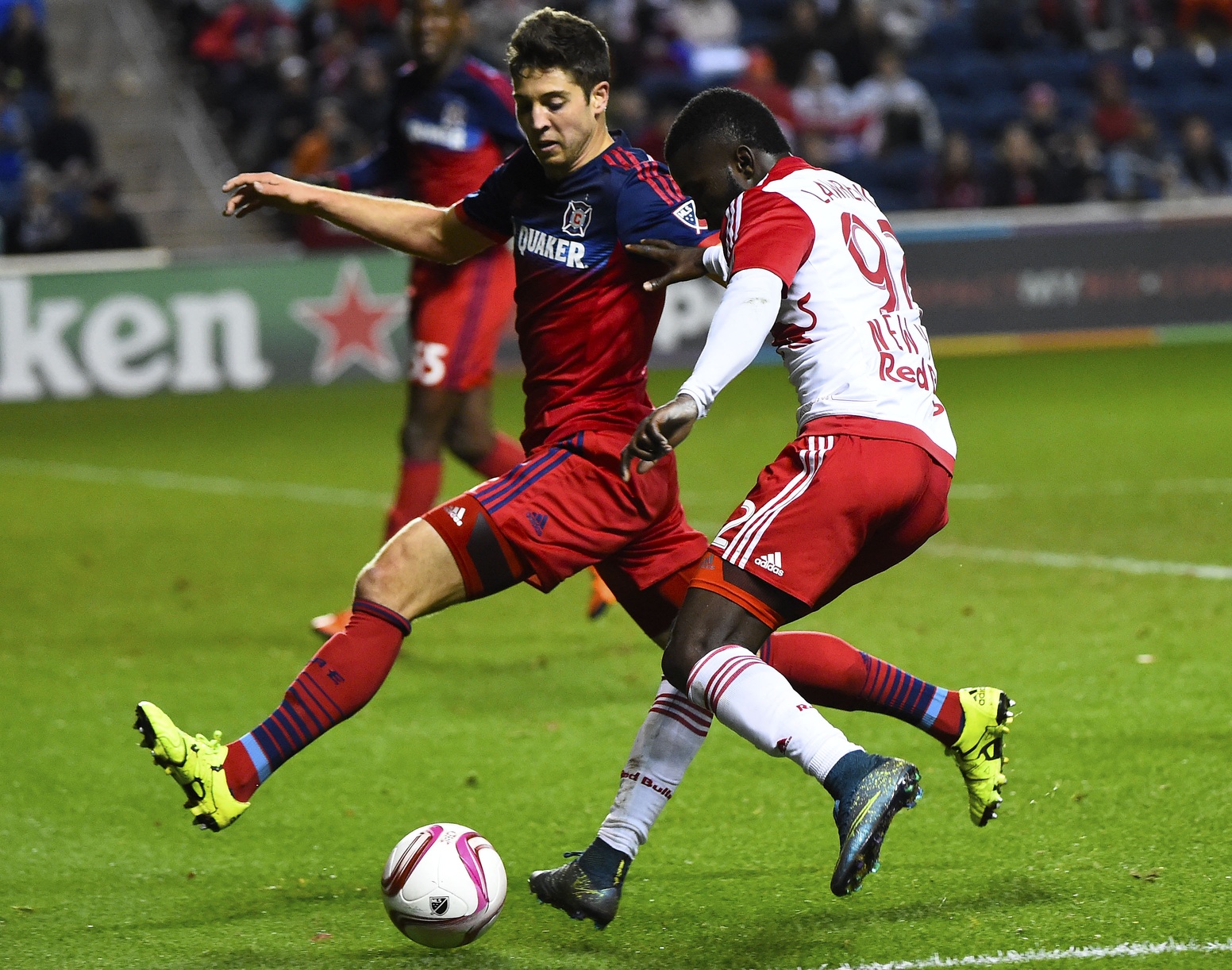 As an MLS rookie, Matt Polster was asked to make significant contributions for a Chicago Fire team that saw many bumps in the road.
Despite his team's failures last season, Polster gained a tremendous amount of experience both on the club and international stages. On top of a full slate of league games, Polster made six appearances for the U.S. Under-23 National Team, including starts during the side's Olympic qualifying run, which will resume against Colombia in March's playoff.
Polster, now in his second season with the Fire, is eager to build off his experiences from 2015 and help guide his team back on the right path.
"Last year was a big learning experience for myself, getting a lot of playing time under Frank Yallop, who was really open to letting young guys like myself play a lot," Polster told SBI. "The experience was massive. Playing 30 games and starting the majority of them allowed me to kind of get a rhythm and helped me develop by just playing.
"Going in with the U-23s gave me confidence and experience, and MLS made it easy for me kind of make the jump and not be as nervous on the international stage. From there, I just did what I was doing in MLS, which was constantly working hard and doing what I knew I could do. I didn't play scared and I think people respected that."
The 22-year old, who primarily played as the team's holding midfielder in 2015, is expected to be even more critical this season given the club's significant turnaround on defense, according to first-year head coach Veljko Paunovic.
"I can't really talk about what Matt did last year, but he has been great so far through preseason," Paunovic told SBI. "He's doing great. He's really committing himself to the system we are putting in place.
"He is emerging as one of leaders in locker room, and you saw that recently when we named him a captain in preseason. We have pushed him to be the best and develop into the well-rounded player we think he can be. A very important player that Matt is learning from is Razvan (Cocis). They get along well, and Razvan is very open to helping him."
After making over 30 appearances for the Fire in 2015, Polster will surely be called upon just as much to hold things down in the midfield. Joined by veteran midfielder Razvan Cocis, Polster will continue to develop in a Fire team that requires both players to perform at the highest of levels.
This season, Polster believes that the defense will prove to be the most critical aspect of the squad if the side is to have any success after undergoing significant changes over the offseason.
"I think the back line will be a big spot for us because most of our turnover this offseason was there," Polster said. "Getting a core group of guys and figuring out who the leaders are going to be will be something we'll establish along the way, but our progress so far has been great. As long as we do that, and we don't play scared against our opposition, I think everything will work itself out."
Known for his tough challenges in the center of the park and quality distributions to his attackers, Polster looks to continue to grow as a midfielder, and it's something that he sees as critical ahead of the new season.
As someone who is always looking for a challenge, Polster will be looking to improve in any way he can to make not only himself but his team better as well.
"I thought that I did a lot of good things last season," Polster said. "At the same time, though, I know that I need to work on different areas, particularly my tackling. With a lot of new guys in the back this year, I want to be able to help out as much as possible defensively, even though I obviously have to continue to contribute offensively as well."
Although the odds will be stacked against the Fire for numerous reasons, Polster remains confident about the upcoming season. He expects his side's eagerness to recover from last season will drive the team to more successful times in 2016.
"Definitely don't want to beat around the bush, we had the worst record in the league last season," Polster said. "For the guys that are returning, we want to prove to ourselves and to the league that we can perform at a high level and make that jump to the playoffs.
"Everyone's goal, if you ask them, is definitely to make the playoffs, and I think we can definitely make that happen if we play a clean style of soccer and add that killer instinct that allows us to continually take points from matches. It'll be difficult for sure with all the new faces, but Pauno has a very smart tactical mind and I think he'll always have us prepared."