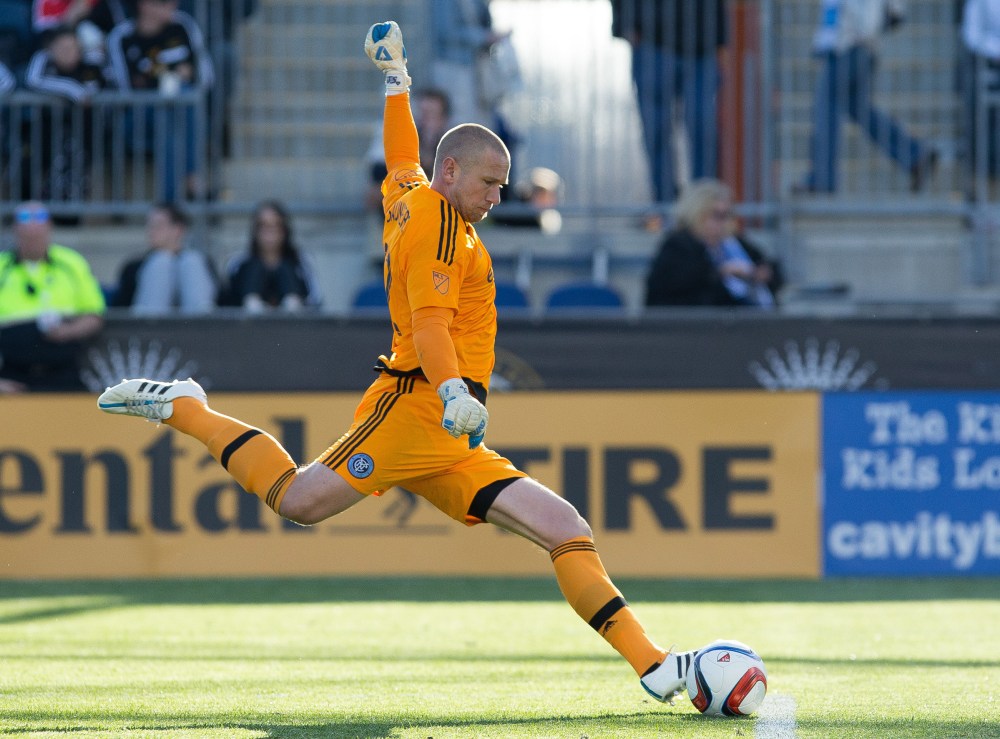 Josh Saunders was a busy man last season.
The New York City FC goalkeeper led Major League Soccer with 123 saves but also topped the categories of shots faced and goals conceded with 188 and 57, respectively. That type of workload put 13-year veteran through quite a battle with his body, so he prepared for this year's campaign with some particular conditioning.
"A lot of focus was just getting my body healthy in the offseason and I spent a lot of time at high altitude training by just going on long hikes, low-impact, high-intensity stuff, which helped me drop my weight a little bit," Saunders told SBI. "I think for me, lowering my weight this year will take less of a toll on my body and that was something I focused on in the offseason."
Saunders, who registered at 213 pounds last season, conducted these workouts in Phoenix, where he exercised at elevations ranging between 2,000 and 6,000 feet to get himself fit for his second season with NYCFC, which was guaranteed after he inked an extension with the club last December.
"A lot of hard work went into it. I had a tough time before that with the injury (torn ACL in 2013)," Saunders said. "So I think it was just the payoff and it was a show of good faith from them in me to believe in me to do a job for them for the future. So I would say it was a sigh of relief, it was just gratitude and I'm just happy to be playing still."
Not only did NYCFC opt to stick with Saunders back in December, but the club also reaffirmed its support for him when it dispelled recent rumors connecting it with FC Porto and former Real Madrid star goalkeeper, Iker Casillas.
"Obviously it makes me feel great," Saunders said, "but these are similar circumstances to what I went through with Los Angeles as well. Being on a high-profile team, a wide range of scouts and people are looking out for them and there's always going to be something in the media, so I just turn a blind eye to that stuff and allow myself to continue work hard and do my job to the best of my abilities, and knowing that they did turn that down, it was a good feeling."
Saunders was chosen by NYCFC as its defensive player of the year last season, but he knows that despite making as many saves as he did, the amount of pressure he faced in 2015 is something he'd prefer to see less this year.
Helping him achieve that this season includes some of the fresher faces for NYCFC, as the club brought in a bevy of new players in Ethan White, Ronald Matarrita, Frederico Brillant and Diego Martinez to bolster the back line. And the revamped NYCFC defense under new manager Patrick Vieira has impressed already by posting shutouts in each of the club's first three preseason games.
"There's always need for improvement," Saunders said. "You look across various ways to improve. For me, immediately shots off me, kind of process catching balls more, just taking that pressure off the defense but also vocalizing and organizing and helping to cut down on chances before the ball even gets to me. That's something I'm looking to get better with and keep our stats down this year."
"They've been really good," he added of the newly acquired defenders. "I think their spacing has been very good, their athleticism has been great, they brought a fresh energy to the back line. I'm excited to see what it's going to be like day one playing against Chicago so I think that's something I'm looking forward to in a true competition, how they react and what their personalities are in a meaningful game."
Apart from these new additions, this was also the first offseason NYCFC has had with most of its squad together. Days before Saunders inked his extension, the club traveled to Puerto Rico to take on the Puerto Rico national team, whom Saunders made two caps for in 2008, and Saunders made good use of the opportunity to reminisce his time there and connect with his teammates, new and old.
His teammates are not the only ones whom Saunders has a fond connection with though. The NYCFC fanbase has been known to tab him as one of its favorites, and Saunders in return, takes some extra measures to show his appreciation for the support.
"I think because it was so new last year, everybody was so passionate and so excited and crave for a team to cheer for within the city," Saunders said. "They needed a connection with a player and they continue to need a connection with a player and multiple players on the field, and just to be able to do that on a person-by-person basis, by making physical contact with a high five or stepping aside and having a conversation with a fan rather than just exploiting myself on social media, I try to reach out to a broader fanbase, I'm just doing it one at a time.
"And I think that makes a bigger impact in individuals' lives and I think that's my way of showing gratitude to the fans for coming out and supporting our team through the year," Saunders said.
The best way to repay any fanbase though, is to provide a winning product on the pitch, and Saunders is determined to help NYCFC turn into just that.
"The expectation is the same for me no matter what team I'm with, you're always going to win the championship," said Saunders, a three-time MLS Cup winner. "So I keep that goal high and focus on that, and just move forward and try to get better every day. However you do that, you do it, from an individual basis to a team basis."