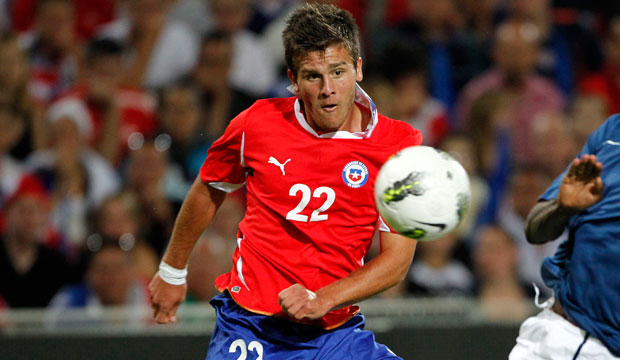 In need of attacking depth, Sporting KC made a big move on Tuesday to secure the services of a talented young forward.
Tuesday morning, Sporting Kansas City announced the loan signing of 22-year-old Chilean striker Diego Rubio from Real Valladolid of the Spanish Segunda Division. The young forward previously played for Portuguese powerhouse Sporting CP while also earning three caps with Chile's senior team.
The addition of Rubio does several things for Sporting KC. Most importantly, it will help solve a depth problem that has plagued the team for the last few seasons. Ahead of the season, Sporting KC coach Peter Vermes said his team needs to be smart with squad rotation now that Sporting has the CONCACAF Champions League group stage in the mix.
While reliable depth can be found at almost every position on the team, Rubio should bring some stability to the forward position. Sporting KC has a collection of experienced veterans and already-proven young players at fullback and each midfield position. At centerback, Sporting can back up Nuno Andre Coelho and Matt Besler with Ike Opara, Kevin Ellis and defensive midfielder/centerback Lawrence Olum.
Even before Sporting lost Krisztian Nemeth to Qatari side Al Gharafa, the team had experienced a lack of depth up top. With the wings squared away after the signings of Brad Davis and Justin Mapp, an addition at central forward makes a lot of sense.
In 2015, Sporting was able to test out the versatility of American international midfielder Graham Zusi, but it only magnified his inability to reach 100 percent health and made him less effective. When Sporting's star forward Dom Dwyer was injured, Zusi lined up at forward and played as a false nine, as did versatile midfielder Jacob Peterson. At times, it worked because Nemeth was able to spearhead the offense, but in 2016 Sporting will need a real backup to Dwyer if they hope to achieve their domestic and international ambitions.
It appears Sporting may have found a missing piece in Rubio. Unlike 19-year-old homegrown forward Daniel Salloi, who the club signed this offseason, Rubio has a wealth of experience playing at the professional first-team level.
Rubio made 20 appearances for Sporting CP and spent last season with Real Valladolid. While with the Portuguese side, the young forward emerged as a star of the club's youth team by netting 22 goals in 52 appearances for the club's B team.
At 22, Rubio could prove himself as a player deserving of a starting role at Sporting KC or, if his time at this club is unsuccessful, he will at least be an option off the bench. Even if Rubio never fully gets going, the loan deal provides flexibility, along with the possibility of bringing the forward in on a permanent basis.
Most importantly, Rubio is a center forward that can help the team in the here and now. For a team that has switched positions for many different players over the years, Sporting KC looks like it can enjoy some dependability at every position on the field in 2016.