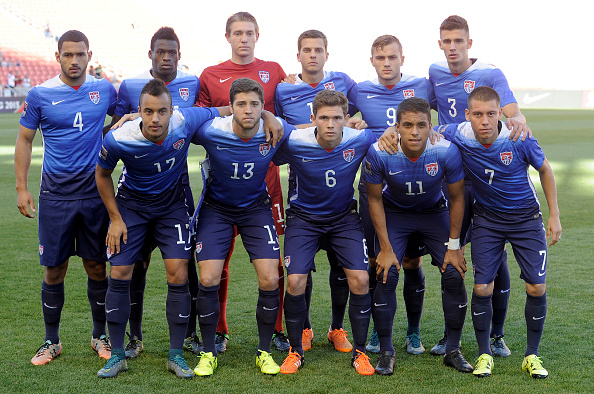 Given the previous generation's failings, and even some of its own, the U.S. Under-23 Men's National Team knows just how much pressure awaits in the coming weeks.
After settling for third place at the CONCACAF Olympic qualifying tournament, the U.S. U-23s are set to take on Colombia in a home-and-home playoff with a berth in the summer tournament on the line. It's a less than ideal path to a dream tournament, but one that must be taken if the U.S. is to qualify for the Olympics for the first time since 2008.
The road to Rio continues on Friday in Barranquilla, Colombia for the opening leg of the two-game series. The challenge of traveling to Colombia is one the U.S. is certainly not taking lightly, and one its players know will be difficult.
"We have to be willing to be in a game and suffer for a little bit," midfielder Wil Trapp told SBI. "These games are going to be difficult. They're not always going to be pretty. At the end of the day, we're fighting for a chance to play in Rio for the Olympics, so it's absolutely worth the challenge.
"We will generate chances, but we also have to finish those chances. That will be extremely important for us. The thing is just realizing that it's 180 minutes vs. just 90 minutes. We have two games, and it's not about trying to do everything we can to get an extra goal away or at home. It's balancing that, as well as bringing that competitive edge."
Looking back at the team's qualifying run, Trapp and several of his teammates said there has been plenty of analyzing and reflecting on what went right and wrong. Admittedly, it was a difficult experience, but one the U.S. has learned from.
Entering Friday's opening leg, 10 members of that qualifying team have been named to head coach Andi Herzog's 23-man roster. With it, 10 players rejoin the team with a fresh memory of seeing the team's Olympic dream nearly squandered.
Several months removed from the loss to Honduras, Trapp says that the team needs to be a bit more disciplined with its shape. Throughout the tournament, the U.S. proved stout defensively while lethal in front of goal. That changed against Honduras, and suddenly the U.S. team's dreams of an automatic Olympic berth were dashed swiftly and painfully. Midfielder Matt Polster says that the only game the U.S. didn't play well in was the one that mattered most, forcing the upcoming playoff that has seen anticipation build for months.
Polster admits the pressure is significant, given the stakes and situation at hand. However, the Chicago Fire midfielder says the U.S. merely needs to build on what the team did well in qualifying. It's not about reinventing the wheel or completely changing mindsets. He believes it's about sticking to the team's strengths for another chance at achieving their ultimate goal.
"It's going to be a high level with a high pace," Polster told SBI. "Especially at home, they're going to want to dictate the game and come at us. I think we got a little bit of a taste with it when we played Brazil. We were missing a bunch of guys in that camp, but, for the guys that were there, they noticed how a South American team played. We didn't do our greatest, but we took a lot of things away from the game in knowing how it is going to be against Colombia. It was a good experience overall for us."
"I think it will be a good atmosphere," added Trapp. "Stepping into South America, they love their football and any time a national team of any age is playing, the rally the support. For us, it's managing that environment, managing our mentality and sticking together as a group."
Herzog and U.S. Men's National Team head coach Jurgen Klinsmann took several steps to help prepare for the difficulties that lie ahead. The first of which came in a pair of November friendlies with Brazil, matches that, like Polster said, acclimated the U.S. to the challenges that come in facing elite South American opposition.
The second bit of preparation came in January's senior team camp, a gathering that included 11 players that comprise the current roster.
"There were two sides of the camp," Polster said. "One side was to get some of the young guys like myself, Wil, Eric Miller, Jerome (Kiesewetter) in with the first team with Jurgen and Andi Herzog. Having that aspect of it was nice. Having those high level coaches and some of those veteran players to see what it takes to play at that level, but on the other side, it was nice to play with some of the guys that are going to be playing against Colombia in the qualifiers to get to know them better and to get a relationship going.
"It was very important for us," added Trapp. "It was a great month-long camp of just getting chemistry and getting an insight into what guys are like on the field as well as off the field. It's just as important with the games coming up because you have to be together on the field and off the field. It was a great time to get some insight on those things and see some new guys that came into the fold that maybe weren't there in qualifying."
With preparations made and a bit of chemistry established, the U.S. can now gather to focus on the task at hand. Polster says he expects the team to take a long, hard look at Colombia over the next several days while tinkering with a potential lineup for Friday's opener.
No matter who starts for the U.S. in Friday's clash, they will be feeling the weight of those who came before them. After failing to qualify in 2012 and leaving the door open for another missed opportunity in 2016, the U.S. knows moments like the upcoming series hold the utmost importance for both the players on the field and the future of U.S. Soccer.
"The pressure is even more on us now because of not qualifying in the years before," Polster said. "We just need to go down and play a really solid game. We need to be solid defensively. They're going to try and come out and dictate the game. It depends what that coaches do, but with the forwards we have like Jordan Morris, Jerome Kiesewetter, we're going to create chances. We're going to get a good look at goal, as long as we're solid defensively and prevent them from scoring, I think we have a good chance of getting a goal here or there and qualifying.
"We're expecting to go down there and we're going to go to win. Playing that first game away from home is massive for us. It gives us the edge a little bit because we're going to go down there for that first game and we're going to be hungry to get a result. That's the expectation: to make the Olympics, because we didn't do it last time."