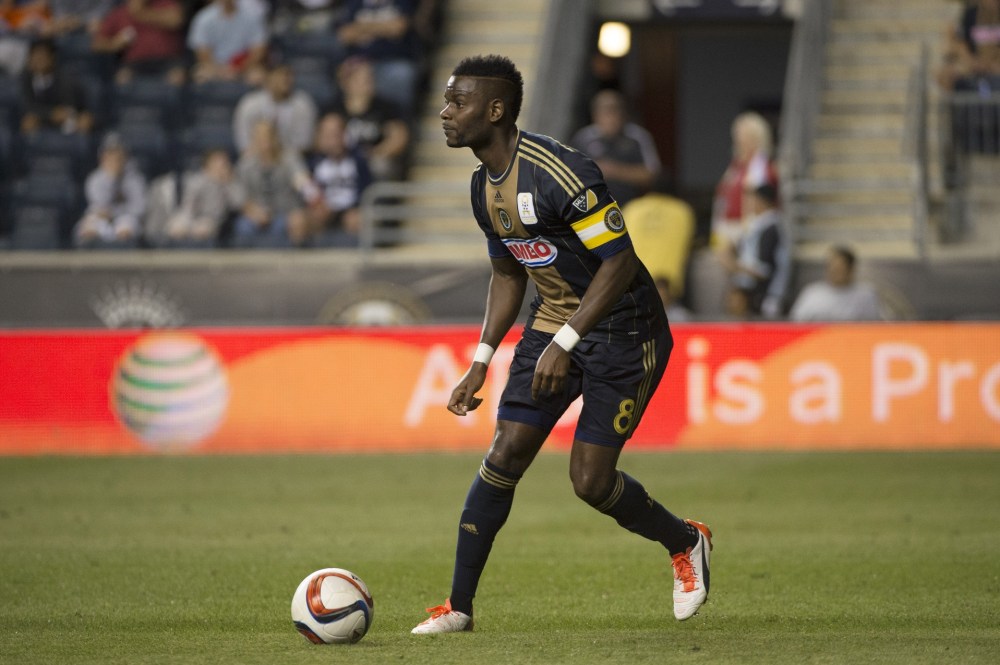 The schedule makers did not do the Philadelphia Union any favors to start the season.
Despite coming into Sunday's clash with FC Dallas at Toyota Stadium as decided underdogs, the Union are ready to give Oscar Pareja's side a challenge in the season opener.
However, that task will be more difficult than expected since two of the most experienced players in the squad are dealing with injuries.
Defensive midfielder Maurice Edu suffered a setback during his recovery from groin surgery and midfielder Tranquillo Barnetta received a knee injection earlier this week.
"(Edu) healed completely from the groin surgery," Union manager Jim Curtin said on Wednesday. "He aggressively approached his rehab. Maybe, in hindsight, too aggressively and there's what's called a stress reaction. It's a warning sign that there's potential danger. At the moment, he is in and out of a walking boot.
"Tranquillo had an injection in his knee just to try to loosen things up there," Curtin said "It's not a new injury. It's a situation where he has some tendinitis and some soreness in there from past surgeries. We'll monitor that and be smart."
"They're two leaders in our group," Curtin continued. "They've done what they can do when they're not on the field each and every day. The reality is we have to prepare for a very good FC Dallas team and we possibly could be doing it without two of our top guys."
Regardless of who takes the pitch for the Union on Sunday, Curtin insists a team approach will be the key to defending the likes of Fabian Castillo and Mauro Diaz.
"The message is it's a team effort," Curtin said. "It's not a one-v-one matchup. It's not an outside back versus Fabian Castillo, it's our whole team being bought into the style and the way we want to play and all pressing together. Our forwards, midfielders and defenders being on the same page and being nice and compact and not giving those players too much time and space."
In terms of selection for the match, Curtin said two spots are still up for grabs in the starting XI.
"Every morning we talk about the starting XI and the 18,"Curtin said. "There's different variables that go into it. We're pretty clear. Maybe there's two spots left where there's discussion about. I'm happy with the group and it's important for the guys going into the game that they have a clear frame of mind on the field."
The focus on the Union starting XI will most likely be in defense, a position that was seen as the team's weakest in 2015.
"I think (FC Dallas) are a team that are dynamic," Curtin said. "They are one of the best attacking teams in our league. It's no secret we need to improve our defense. I think we did that in the offseason. It needs to be said that defending starts with the forward line. We have a real commitment now from all of our guys on the field to defend. The starting points are there. It will be a measuring stick for sure against FC Dallas."