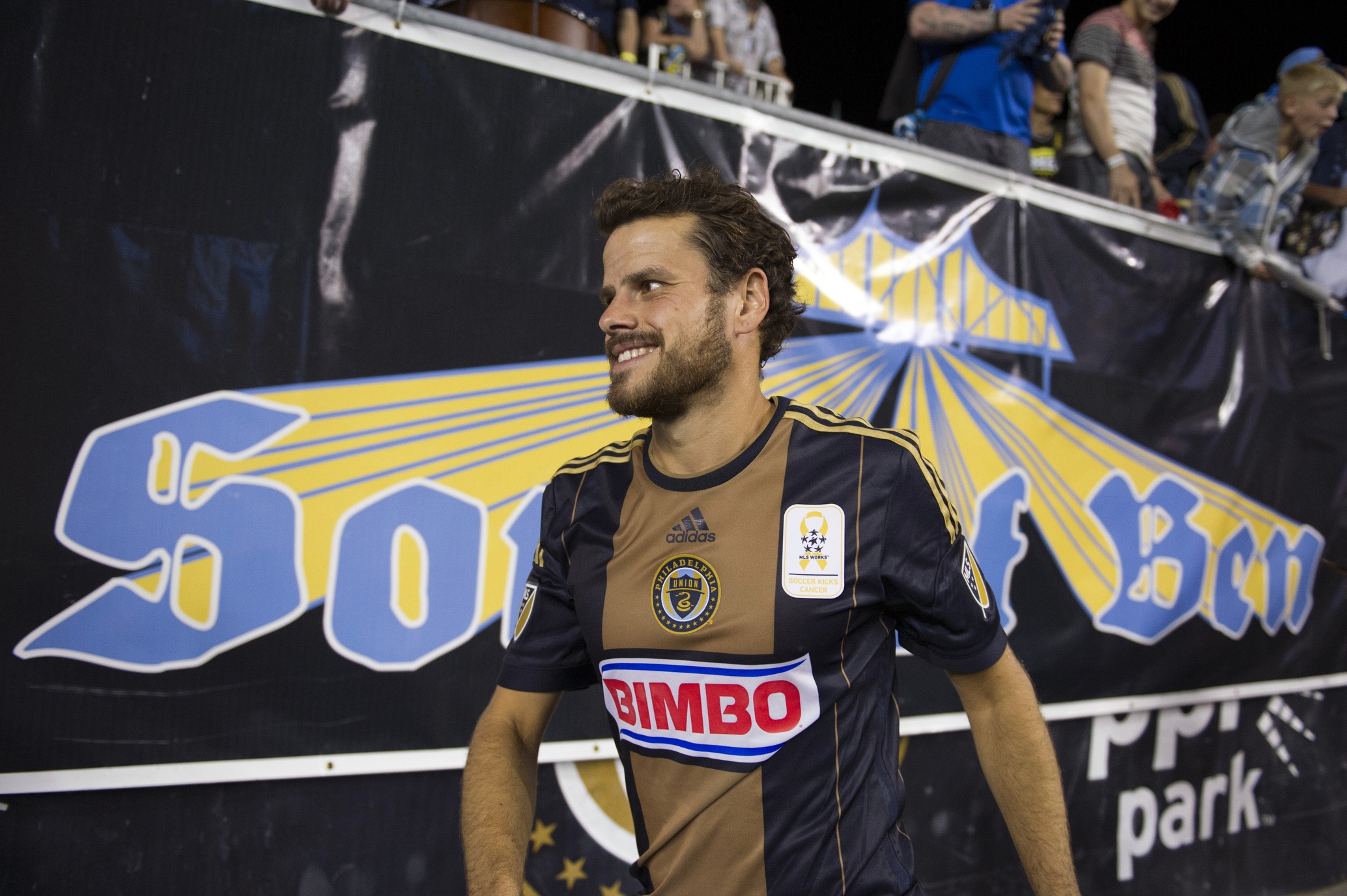 A year ago, the Philadelphia Union may have struggled without the presence of three key players, but that has changed in 2016 thanks to a variety of factors.
Jim Curtin's side played the majority of the first month of the season without midfielders Maurice Edu, Vincent Nogueira and Tranquillo Barnetta. Edu is facing a long-term absence with his injury, but Nogueira and Barnetta are ready for selection once again as the second-place side in the Eastern Conference heads to Toyota Park to play the Chicago Fire on Saturday.
"Vincent has been getting through training fine," Curtin said during his weekly press conference on Wednesday. "He has a little discomfort. He'll have an MRI today maybe for a peace of mind more than anything else.
"Tranquillo had a little tweak in the knee right before we went away for the weekend so he missed a session or two, but he is back training fully," Curtin added. "He's not restricted in any way."
The addition of the two international players to the selection pool presents Curtin with what he calls a good problem.
"It's difficult to make our 18 and it's becoming even more difficult to make our starting 11," the Philadelphia boss said.
One of the players who shined during the month of March was Warren Creavalle, who only played in five games last season after joining the Union from Toronto FC in August. Creavalle's work rate throughout matches, and in practice, has impressed Curtin.
"He put in a ton of work in the preseason," Curtin said of the 25-year-old midfielder. "He wasn't chosen in Week 1, but he's a guy with a quiet demeanor and goes about his business and brings it every day in training. He's a great example for all of our guys, especially the young guys. You never know when your number is going to be called and when it is, don't let go of it.
"It needs to be said though not too long ago he was in a very good midfield in Houston starting for a very good team with Ricardo Clark in there and a Dom Kinnear-coached team," Curtin added. "Dom doesn't have players on the field who can't play. This isn't a revelation. We're very happy with how he's performing. He's not just doing it in the games, but day in and day out he's been playing at a very high level."
For those players who don't make the matchday squad, Curtin now has the opportunity to send them down to USL side Bethlehem Steel to receive playing time.
In the USL season opener last week, seven Union players found their way into the starting lineup, including Fabian Herbers, who scored the lone goal in the 1-0 road win over FC Montreal.
"Fabian is one of our top players in and around the goal," Curtin said. "The weight of his crosses are always just right. He has clinical finishing. For him to get that goal is a big moment. He's very happy. I think it's good for confidence anytime a young player gets on the board."
Curtin confirmed on Wednesday that he can send any of the first-team players down to Bethlehem to play with international roster spots being the only issue.As for Saturday's opponent, Curtin has plenty of respect for new Fire boss Veljko Paunovic.
"I respect the way he goes about his business and the work he puts in," the former Chicago defender said. "One of my closest friends in soccer in his assistant Logan Pause and he speaks highly of him. It's not between me and Paunovic, it's about the teams. Our 18 guys versus his 18 guys. I expect a good game on Saturday."