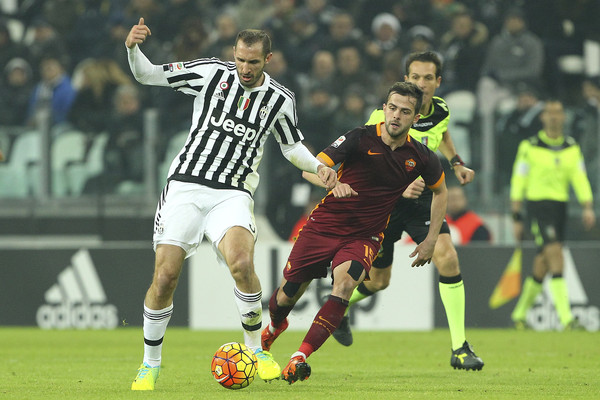 Despite currently holding a comfortable 3-0 advantage ahead of Wednesday's Coppa Italia semi-final against Inter Milan, Juventus will be without a few of its key players.
Among the absentees for Juventus will be defenders Patrice Evra and Giorgio Chiellini, along with Claudio Marchisio and Mario Mandzukic. The winner of today's matchup will meet AC Milan in the competition's title match. (REPORT)
Turkish side Galatasaray has been banned from European competition for one season, after failing to adhere to UEFA's Financial Fair Play rules. The ban will be for 2016-17 if the club qualifies for Europe, but can be pushed back to 2017-18 if Galatasaray do not advance. (REPORT)
Michel Platini has brought his FIFA appeal to the Court of Arbitration for Sport. Platini is currently serving an eight-year ban for his role in a series of corrupt events that transpired during his time with soccer's governing body. (REPORT)
Arsenal midfielder Santi Cazorla could miss the remainder of the season due to a reaction in his Achilles, following knee-ligament surgery . The Spaniard last played for the Gunners in the team's Nov. 29 draw against Norwich City. (REPORT)
Wayne Rooney has reportedly flown to Dubai to recover from his recent knee injury. The Manchester United forward was said to have been granted permission by head coach Louis Van Gaal. (REPORT)
Lionel Messi is among the nominees for Laureus World Sportsmen of the Year, along with Jamaican sprinter Usain Bolt and NBA star Stephen Curry. Also joining the Barcelona forward are Formula One driver Lewis Hamilton, tennis champion Novak Djokovic and American golfer Jordan Spieth. (REPORT)
Messi has also reiterated his desire to finish his career in native Argentina. The 28-year old said, "I haven't set myself any goals, short or long term, but I'd like to keep playing whilst my body allows it and I have something to offer the team. When I know that it's time, I'll make a decision." (REPORT)
TUESDAY REWIND
After a down year with expansion side New York City FC, Portland Timbers midfielder Ned Grabavoy is eager to pursue another MLS title in 2016. (REPORT)
Former D.C. United midfielder Perry Kitchen is reportedly close to signing with Scottish side Hearts, after failing to agree to an extension with MLS. (REPORT)
Fabian Castillo has quickly established himself as one of the most exciting attackers in MLS, but while the FC Dallas youngster does have his eyes on an MLS Cup, he also seeks bigger aspirations in a move to Europe. (REPORT)
Five MLS sides set their rosters on Tuesday, following a series of cuts. Among the notables players leaving teams are LA Galaxy defender Dan Gargan and Toronto FC's Herculez Gomez. (REPORT)
—
Will Juventus hold off Inter Milan? Should Galatasaray's ban have been longer?
Share your thoughts below.