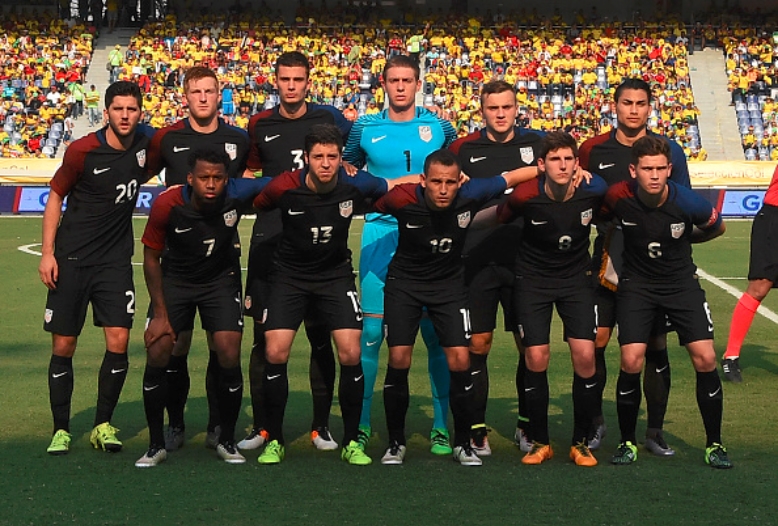 The U.S. Under-23 Men's National Team has put itself in a position to qualify for the 2016 Olympics. Now, the task is to seize that position as the U.S. is 90 minutes away from reaching its ultimate goal.
All things considered, the U.S. took care of business on Friday, earning an away goal in a 1-1 draw with Colombia. Entering Tuesday's second leg, a scoreless draw would be enough to send the U.S. through and into the Olympics.
Earning a draw is anything but a certainty, though. Throughout Friday's contest, Colombia was on the front foot as the U.S. was repeatedly bailed out by the defensive duo of Tim Parker and Matt Miazga. The U.S. did have chances against a leaky Colombia back line, though, and could look to exploit those chances on the counter attack.
Heading into Tuesday's clash, head coach Andi Herzog will have to balance protecting his side's lead with being proactive in chasing series-clinching goals. With that being said, Herzog has some difficult decisions to make following a grueling opening leg.
Here's a closer look at a lineup Herzog could go with on Tuesday:
—————–Morris—————-
Kiesewetter–Hyndman–Arriola
————Trapp—Alashe———-
Polster—Parker—Miazga—Miller
—————Cropper—————
Some thoughts:
The U.S. enters Tuesday's contest with a slight advantage, so Herzog will not be pressed into doing anything reckless tactically. The U.S. has the luxury of letting the game come to it and will not need to chase the game early with an overly-aggressive lineup.
With that said, Tuesday's successes will likely start with the team's defense yet again. All things considered, Miazga and Parker looked spectacular as a partnership, with the latter showing particularly well in the opening leg. The duo cleaned up messes time and time again and should be penciled in immediately as the first-choice centerback partnership.
The player who sits behind them will be up for debate. Following Ethan Horvath's injury, Herzog may have to make some decisions in goal. If Horvath is in any way still shaken up, Cody Cropper is more than capable of stepping into the starting gig. Tuesday's game is too big to rest hopes on a goalkeeper that is at less than 100 percent, and the U.S. may need some goalkeeper heroics to survive the assumed Colombia onslaught.
Fullback is also a position that could see some changes. After shining in USMNT camp at the position, Kellyn Acosta struggled throughout Tuesday's draw, even before conceding the penalty kick. Matt Polster has the versatility and defensive chops to step into the lineup should Herzog look to change things up, while Eric Miller has the ability to start on either side of the centerback duo.
Wil Trapp should generally be penciled into the midfield, while the player who plays alongside him is usually a bit more up in the air. Given the U.S. advantage heading into the second leg, it wouldn't be a surprise to see Fatai Alashe given the start. Although limited on the attacking end, Alashe provides a legitimate presence defensively that should help frustrate Colombia's attack. If the U.S. does end up having to chase a goal, Herzog can insert a player like Friday's goalscorer Luis Gil to help bring a more creative presence to the midfield.
Following a strong performance on Friday, Emerson Hyndman has done more than justify a spot on the field for the second leg. The Fulham midfielder was generally the team's most creative player. While defense is far from his strength, Hyndman showed to be capable in Friday's clash and could always drop a bit deeper into a more central three if the U.S. decided to sit a bit.
Out wide, it was surprising to see Jerome Kiesewetter limited to just a substitute appearance. After a grueling game in ridiculous temperatures, the Stuttgart winger will enter with fresh legs and should prove a handful for what looked to be a shaky Colombia back line. The other flank could see a similar situation with Paul Arriola, while Gil and Julian Green also remain options to play out wide.
Finally, Jordan Morris remains the team's premier striker. Morris came a crossbar away from scoring last time out while also breaking away from the Colombia defense on one or two occasions. Fitness is a concern, though, as Morris did look exhausted late, but options like Kiesewetter or Mario Rodriguez could replace Morris should his legs become too heavy.