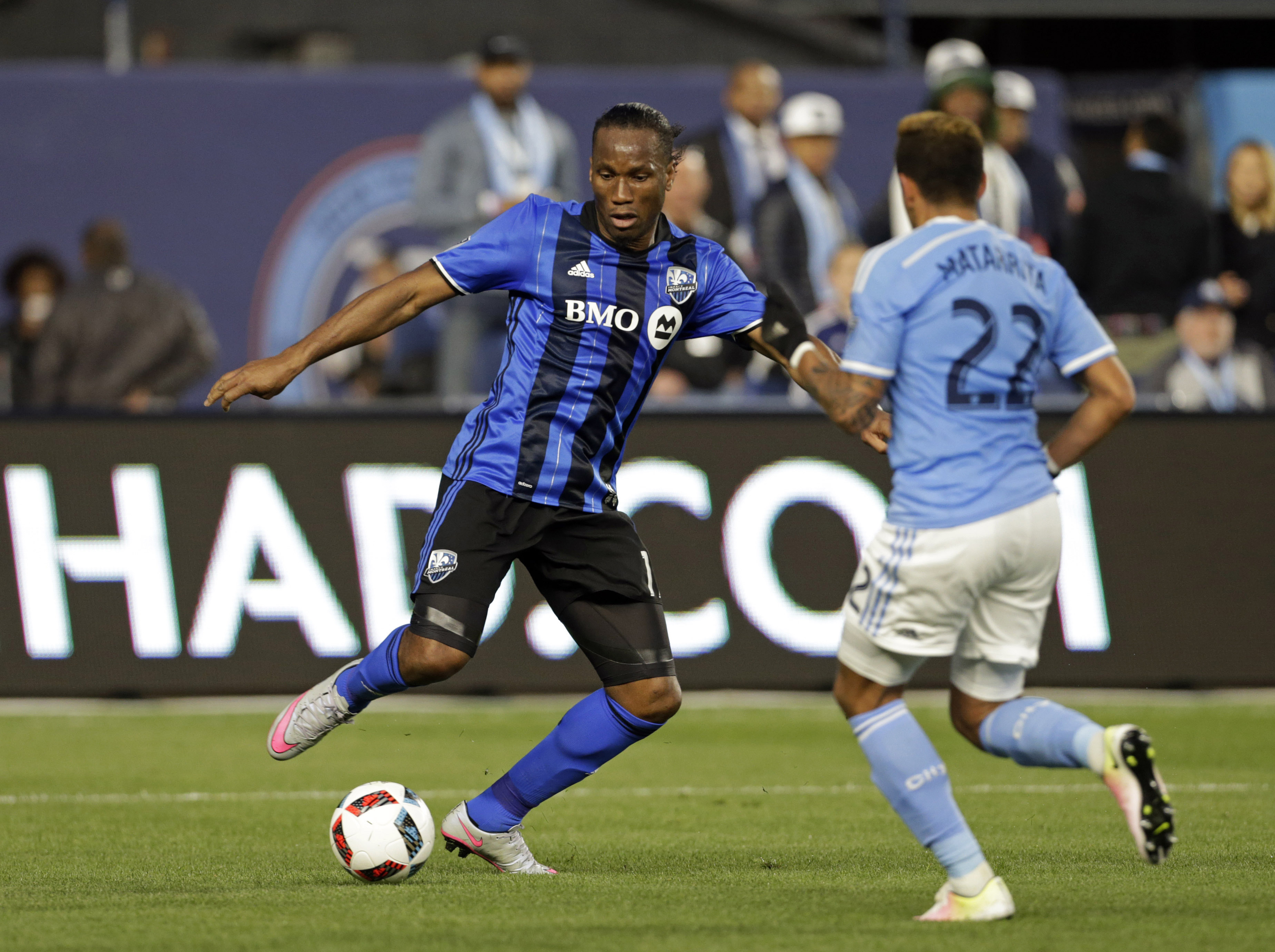 NEW YORK — Didier Drogba had more of an impact on Wednesday's equalizer than met the eye.
A minute into stoppage time and staring in the face of defeat, Drogba whipped in a free kick from the right that helped the Montreal Impact pick up a 1-1 road draw with New York City FC. Drogba got the assist, of course, for delivering the ball that was nodded home, but he also deserves credit for his impromptu traffic control signals.
"He literally just told me, 'Come forward, come to the first post,'" goal-scorer Dominic Oduro told SBI. "Normally I go back post, but Didier knew I was going to hit it first post. If you watch the replay, he just looked at me like, 'Come forward,' so I knew the service was going to the first post.
"It came right at me and I headed the ball in."
Drogba's delivery was his biggest contribution in the affair, and one of the few that really stood out in his second consecutive 90-minute shift of the season. Having missed most of the preseason and much of the first two months of the campaign to get in shape and avoid playing on turf, Drogba is still lacking sharpness and his rhythm is not quite at an optimum level yet.
The 38-year-old striker knows it, too.
"It's the second time I play 90 minutes after five months, so it's very difficult," said Drogba, who has one goal in four games this season. "I think within a month I will be okay."
If the Impact can get Drogba back to his best in the coming weeks, their chances of remaining in the top spot in the Eastern Conference will raise significantly. The Ivorian has shown plenty of energy and proven to be a handful for opposing defenses in his two starts and four matches thus far, but he is still not at his most dangerous.
Drogba showed last year in half a season just how deadly he can be by scoring 11 goals in 11 regular season games, but both he and his teammates will need to regain the chemistry that they had with one another in 2015.
"We've been hitting too many direct, long balls at Didier since his return in these last few games and he can't do much with nothing but long balls," said Ignacio Piatti. "Honestly, we have to correct that, and try to play more with the ball on the ground so that it can get to him in better positions."
It might take more repetition and games for that to happen, but the Impact are confident that Drogba will soon give them a boost by returning to his top form. In fact, they, like Drogba, believe it is just a matter of time.
"For Didier, it's about finding his rhythm and getting 100 percent fit," said Impact head coach Mauro Biello. "Once he's able to do that, he's going to be able to bring a lot to the game."