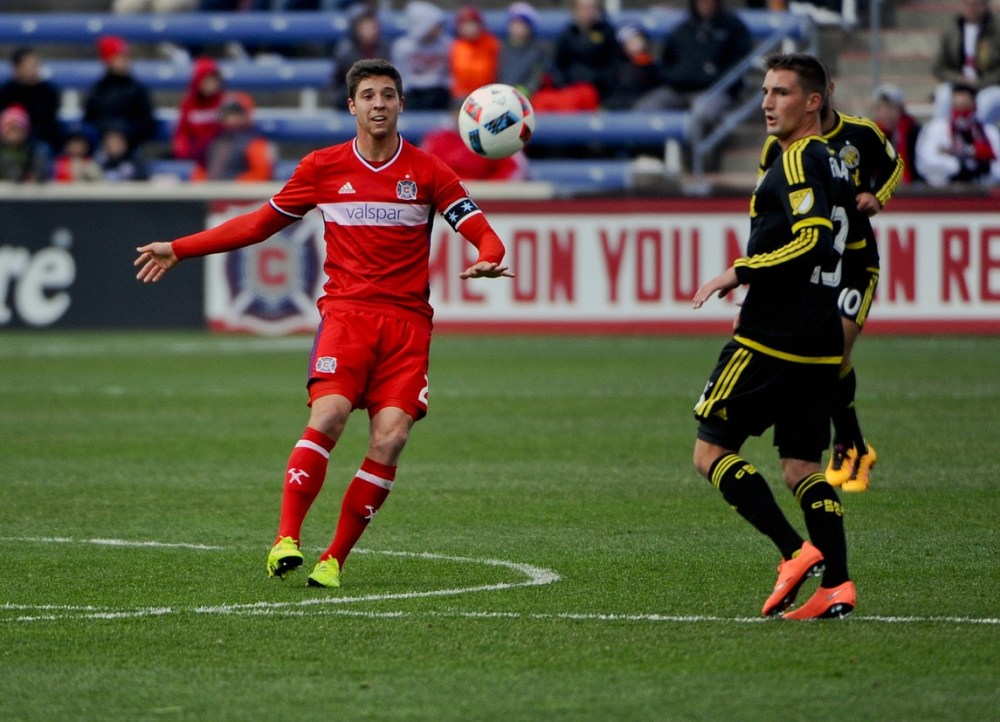 With no game this weekend, Chicago Fire head coach Veljko Paunovic spent the week working his team hard in training.
"We had a couple two sessions a day, it's been good, it's been good, it's been challenging but I think that's what we need since we don't have a game on the weekend," Fire midfielder Matt Polster told SBI after Thursday's session. 
Apparently earlier in the week the first-year coach even had the players running the hills behind the Toyota Park practice fields.
"I think it was just something to do instead of just running on the field, we did that too, but just to mix it up a little bit, make it not so much boring fitness," Polster told SBI.
Paunovic was happy with the chance to work his players hard, but coming off of a late 2-1 loss to the Montreal Impact and a draw at New York City FC before that, his competitive streak started to show.
"It's a good opportunity to work on things," Paunovic told SBI on Thursday. "It's also a good opportunity to prepare for the next game, you have more time, but it's also, for the competitive people like I am, it's too long until the next game, especially when the last game we played we lost, so you want as soon as possible to (get) payback that next game and perform better, improve and win. So from that standpoint it may be a little bit too long but it's also a good opportunity to improve, good opportunity to prepare for that next game that is coming a little bit later but it's good."
Finding the finishing and working the counter
Through the first six games of the season, the biggest development for the Fire has been an emerging defense. Before conceding two second-half goals in Saturday's loss, the Fire set a club record with 411 scoreless minutes, including three consecutive shutouts.
On the other hand, however, the Fire have scored just three goals in the past five games and long stretches of Thursday's training session showed it's an area of frustration and focus.
More than finishing technique, though, Paunovic seemed concerned with his team's mentality in the final third.
"We know how important it is, working on finishing and scoring goals of course," Paunovic said. "But I think more than anything we have to mentalize better, we have to understand how important it is when we're in that opportunity to score the goal, just to have that killer instinct where you just don't leak or give away opportunities to score. So that's something even more mental than just practicing on the field. … That hunger of wanting to score, you really have to feel that. As soon as we understand that better I think we will improve that. Because we are there, we create situations to finish and more important than just to finish is to score. We have those moments, but I think we still need to understand how important it is, especially for a young team and a team that is building through the season like we're doing so far. So it's very important."
During Thursday's training session, it looked like the Fire were hoping to find those finishing opportunities coming out of their defense. They worked on transition situations, running odd-man breaks and going back-and-forth on a short field.
"We have defended well for long stretches of games so I think if we can keep doing that, next game we bounce back and we have another really good performance defensively. I think if we do look on the counter and we're quick, I think we can expose some teams and maybe nick a quick goal," Polster said. "I think we know what our strengths are right now. We definitely can defend – we didn't, on the weekend there was a couple chances and obviously they have some good quality like Drogba and Piatti – but I think we know what our strength is.
"I think we can defend well for long stretches of games. So if we can now convert that into some attacking moments it's always positive."
Accam still coming along slowly
David Accam still wasn't in full training on Thursday. The Designated Player started the season with two goals and an assist in the Fire's first two games, but he hasn't appeared in the past four after suffering a knee sprain. Paunovic stressed that they are being cautious with Accam's timeline.
"On David, it's still the same, the same thing, the same issue," Paunovic said. "He has to feel good, and we are working hard.
"It takes time, when the ligament is the issue you have to be very, very careful. You have to also give time to nature to do the process and also as much as we can with the recovery and treatments to speed up the time of recovery. I know how it is as a former player. I know how difficult it is for the player that is injured, and we have to be very careful with the approach and all that process of recovery, especially when it comes to that point when the recovery needs just maybe two days more in order to progress in the best possible way.
"We have to be smart with the approach. I think so far we are just following his pace and his pace has to be comfortable, he has to be confident about what we are doing, how he is improve, and I think he is. So that's what we are doing now."
Intrasquad end to the week
The Fire ended the week of training with an 11-on-11 scrimmage on Friday. Paunovic said it would be as game-like as possible, with real referees and the players in game kits.
"We need guys like (Joey) Calistri, guys like (Alex) Morrell, guys who are not participating so much to have minutes and have the real game feeling so that's how we prepare and that's how we take advantage of this week," Paunovic told SBI.
On Friday, both of the two teams featured a mixture of players who have started under Paunovic. For the winning Red team, John Goossens scored with an assist from Brandon Vincent and Giberto converted a penalty. Razvan Cocis scored, assisted by Arturo Alvarez, for the losing White team.
The Fire are now off for two-days before beginning preparation for their home game against D.C. United on April 30.