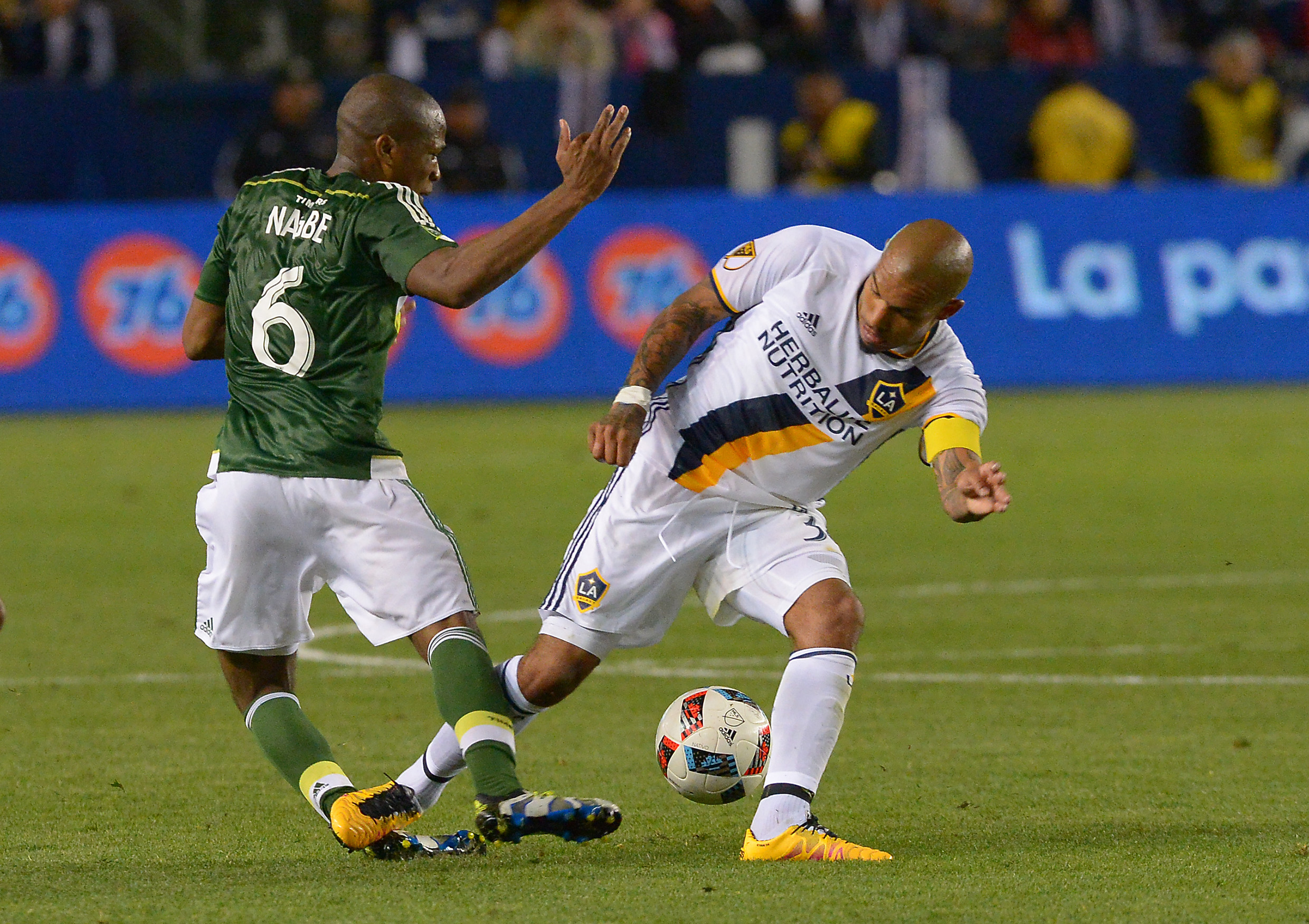 The biggest talking point in the aftermath of the LA Galaxy-Portland Timbers game was not the result, but rather a horrendous tackle that left one of MLS's most talented attacking talents in a wheelchair and a familiar suspect facing the heat.
The Galaxy and Timbers played to a 1-1 draw at StubHub Center in Carson, California, on Sunday night, but the match was overshadowed by the ugly incident that occurred in the 73rd minute. Galaxy midfielder Nigel de Jong went in studs-up on a tackle on Darlington Nagbe, and the Timbers winger immediately crumpled to the ground in pain before being forced out of the game.
Replays showed that de Jong forcefully made contact with Nagbe's left ankle on the play, and the U.S. Men's National Team player was unable to put pressure on it afterwards. Nagbe watched the end of the Western Conference showdown on the bench with a towel over his head before being taken to the locker room in a wheel chair.
There was clear discomfort in his face, and plenty of frustration and anger from the Timbers over the play that resulted in only a yellow card for de Jong.
"I understand that there's a message that referees want to send. Well, we better start sending it then because they didn't send it today with some of the tackles that were in that game," said Timbers head coach Caleb Porter. "When are we sending it? Just some games? That's the big thing. It's like, if we're going to have an initiative to send a message on tough tackles, well then let's do it. Let's do it every game. Not some games."
A player with a long-standing reputation for injury-inducing tackles, the 31-year-old de Jong went over to Nagbe after the final whistle to apologize. He told the 25-year-old speedster that he did not mean to injure him, and repeated that afterwards when talking to reporters.
"A ball came my way. It was a 50-50 ball. I went over the ball a little bit and caught mostly his ankle," said de Jong. "It was not my intention to hurt the kid. He's a good kid, and I said so after the game."
The severity of Nagbe's injury was not known in the immediate aftermath of the game, but there was a huge uproar from plenty of observers who deemed de Jong's tackle malicious and unacceptable.
Fox Sports commentator Stuart Holden was especially critical of de Jong's tackle on Nagbe. He can relate to Nagbe's pain more than most, having suffered a broken leg at the hands of a de Jong tackle six years ago.
"I'm sitting here and now I'm seeing this challenge firsthand on Darlington Nagbe, and it makes me feel sick because I know what Darlington Nagbe is going through," said Holden on the postgame broadcast. "We saw him sitting there, he had the towel over his head, we saw his body mannerism, and that's a man that knows he's done something serious. I don't want to speculate what it is, but I know it's not good.
"De Jong did go over and apologize, but there is absolutely no excuse for that type of challenge. We don't need it in the game. It's horrific, it's horrible, and he's going to get retroactive punishment."
The Timbers also took to their official Twitter account to publicly voice their displeasure. They sent a tweet directly at the LA Galaxy shortly after the game, and the two clubs had a brief back-and-forth that further infuriated fans.
@TimbersFC Merritt? Is this you?

— LA Galaxy (@LAGalaxy) April 11, 2016
@LAGalaxy Sorry we don't find signing dirty players funny. But have at it.

— Portland Timbers (@TimbersFC) April 11, 2016
MLS has a Disciplinary Committee that reviews plays and hands out retroactive punishments when it deems appropriate. Many are expecting de Jong to get a lengthy suspension for his tackle on Nagbe.
"Any time you see someone get hit studs-up, you're not happy about it," said LA Galaxy forward Mike Magee. "It's my teammate, so I'd love to defend him, but the game can do without those kind of tackles."