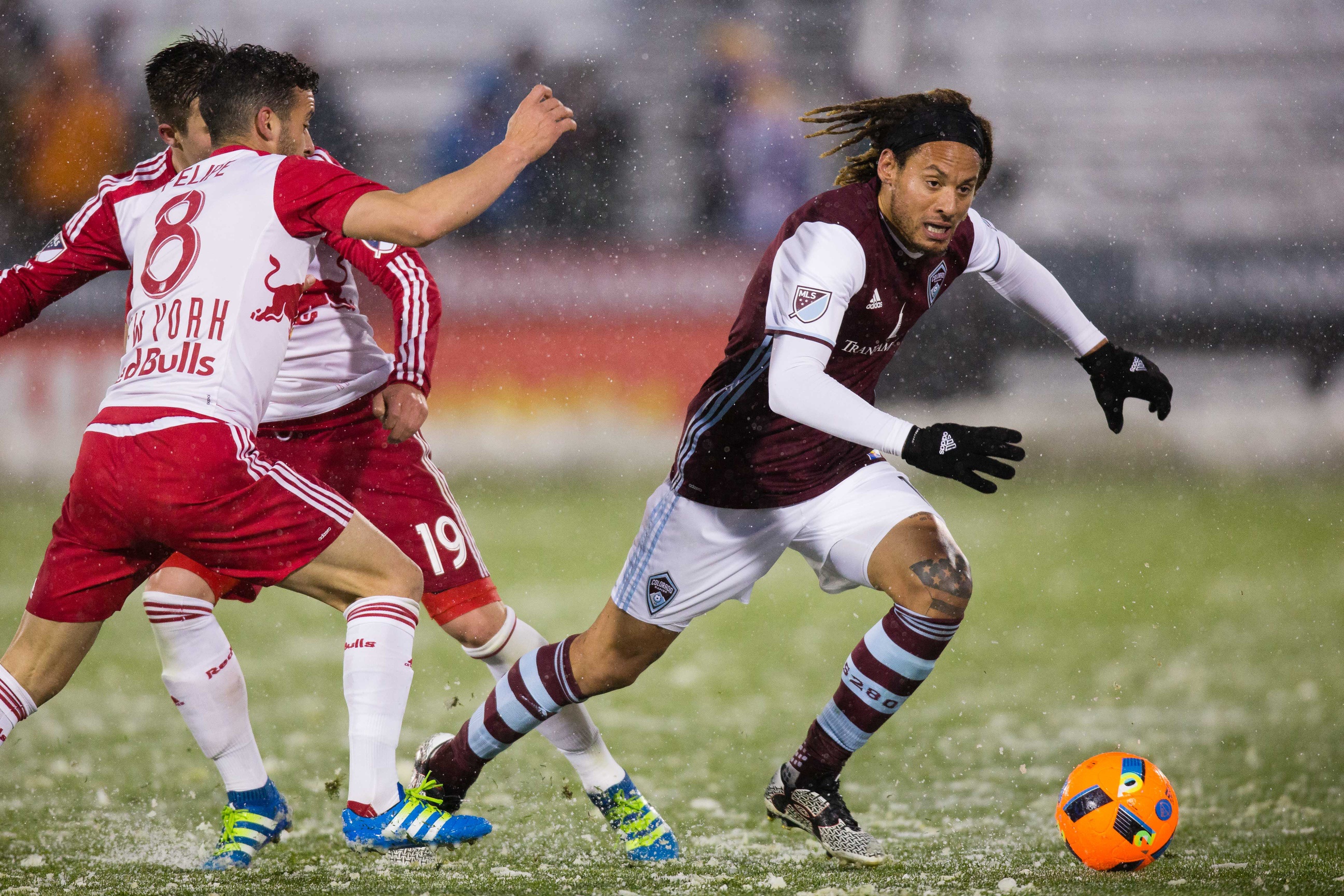 Colorado Rapids fans had to wait six matches to see what Jermaine Jones could bring to their team, and on Saturday they had to feel like he was worth the wait.
In his first game back from serving a six-match suspension, and his first appearance with theRapids, Jermaine Jones has scored his first goal and recorded the game-winning assist in the Rapids' 2-1 win against the New York Red Bulls in a snowy Dick's Sporting Goods Park in Commerce City, Colorado.
With the score tied late, Jones placed a perfect pass in the path of Dominique Badji, who placed a perfect shot past Luis Robles in the 82nd minute to secure a victory.
It was a night that saw the stadium covered in snow, which brought back memories of the U.S. Men's National Team's memorable snow-covered World Cup qualifying win against Costa Rica in 2013 at the same stadium.
Jones enjoyed a stellar showing for the U.S. that night, and he starred in the snow yet again on Saturday. He opened the scoring in the 21st minute after slotting home a pass from Rapids defender Mekeil Williams.
The Red Bulls tied the score in the 60th minute when Ronald Zubar.
The win was the second straight win for the Rapids, who are just a point out of first place in the Western Conference heading into Sunday's matches. The loss is the Red Bulls' sixth in seven matches, and has them in last place in the Eastern Conference, with the fewest points in MLS.
MAN OF THE MATCH
With a goal and an assist in his first game back from a six-game suspension, Jermaine Jones was the easy choice. The offensive input was impressive, but a strong showing on the defensive side of the game held the Red Bulls to a goal from a set piece.
MOMENT OF THE MATCH
Badji's power slide into the snow around the corner flag after the game-winning goal made for an exciting finish to this game. The pass from Jermaine Jones to cut through the Red Bulls' defense was the moment of the match; the pass was perfect for Badji to run onto and his finish into the bottom right corner could not have been more precise.
MATCH TO FORGET
After having a wealth of chances and falling short to a standout performance from Tim Melia, Bradley Wright-Phillips struggled in this game. Recording only two shots on the night, it was difficult for the Red Bulls attack to find any good attacking movement in the run of play.