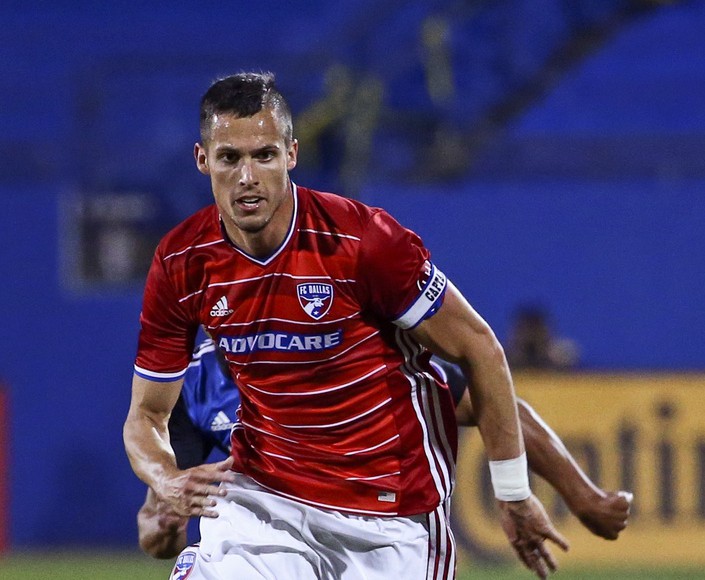 Following Week 7 action in MLS, the team at the top of the standings has reportedly received some bad news.
FC Dallas could be without centerback Matt Hedges for four-to-six weeks due to a torn meniscus. FC Dallas confirmed the injury to SBI Soccer, and stated the injury is in his left knee. A report claims Hedges started feeling the problem after playing on the Portland Timbers' artificial surface at Providence Park, and the defender then missed FCD's home win against Sporting Kansas City on Sunday. (REPORT)
Columbus Crew captain Michael Parkhurst was sent off during his team's 3-2 win against New York City FC on Saturday, but his suspension has been rescinded by the league. Ted Unkel apparently sent off the wrong player, as MLS retroactively handed Tyson Wahl a one-game suspension. The Crew have appealed Wahl's suspension, and will receive a decision from the league's review panel later this week. (REPORT)
Atlanta United FC revealed updates on its new training ground in Marietta, Georgia. The ground is set to be ready in April 2017. (REPORT)
The Seattle Sounders announced they would open full capacity of CenturyLink Field on five occasions in 2016, including against New York City FC on June 25. They will also open full capacity against the LA Galaxy on July 31, Portland Timbers on Aug. 21, Vancouver Whitecaps FC on Sept. 17 and Real Salt Lake on Oct. 23. (REPORT)
—
What do you think of the league's decision to hand Wahl a suspension instead of Parkhurst? Like the updates on Atlanta United new training ground? How long do you expect Hedges to be out?
Share your thoughts below.