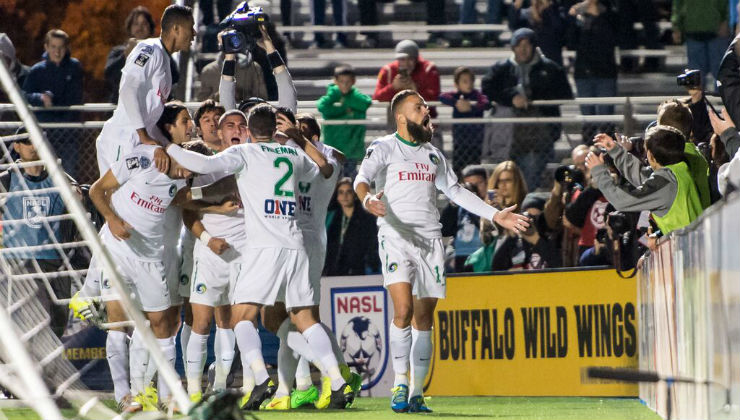 In an opening weekend that was less than stellar for the majority of the teams in the league, the New York Cosmos made waves to follow up on their 2015 championship.
The Cosmos have another chance to impress at home this week against the Jacksonville Armada, who will make their competitive debut under new coach Tony Meola.
Another Florida derby will take place on Saturday, as the Tampa Bay Rowdies travel to Miami FC. Stuart Campbell's men will attempt to explode on the scene after an underwhelming scoreless draw against Indy Eleven in Week 1, while Alessandro Nesta looks for a second consecutive result against in-state rivals for the expansion team.
A newly reformed Indy Eleven team will host Ottawa Fury FC, a team whose shock run to the Soccer Bowl in 2015 led to a total dismantling of their side this past Sunday. Expect former Fury midfielder Sinisa Ubiparipovic to be a difference-maker for the home side in this game.
Elsewhere, the Carolina RailHawks will look to build on a surprising Week 1 victory as they face Rayo OKC, and Minnesota United FC will travel to FC Edmonton.
Here's a closer look at NASL action this weekend:
INDY ELEVEN vs. OTTAWA FURY (Saturday, 7:30p.m., beIN SPORTS)
Peter Wilt and his staff completely restructured Indy Eleven this offseason, and they started out with a good result on the road in Week 1.
Holding a talented Tampa Bay Rowdies team to a scoreless draw at home was impressive, and the boys in blue should be expected to perform at home on Saturday. Specifically look for performances out of Ubiparipovic and Duke Lacroix.
The Fury were thoroughly derailed by the Cosmos last week, and will be looking for a solid defensive performance to stabilize in Week 2. The key to the game will be the performance in the midfield from Julian De Guzman and Marcel De Jong.
MIAMI FC vs. TAMPA BAY ROWDIES (Saturday, 8p.m., ESPN3)
After underwhelming in the opening performance, fans will expect the Rowdies to turn it on against Miami FC this weekend.
It may have shocked the league that an injured Freddy Adu didn't take the field, but the plethora of attacking talents now with the central Florida side will have to take the gauntlet for now. Michael Nanchoff will be expected to build on his Team of the Week performance, and Tom Heinemann and Kalif Alhassan should be sharper the second time out.
Miami FC held its own in its debut, and will now face a second test at home against a talented Rowdies side. It will likely be Jaime Chavez and Adailton who turn in standout performances to help the club earn a win in this one.
RAYO OKC vs. CAROLINA RAILHAWKS (Saturday, 8p.m., ONE World Sports)
Rayo OKC made its competitive debut in an impressive atmosphere last weekend, but the league newcomers will need more than just the crowd behind them in order to earn a result against the RailHawks.
After a disappointing 2015, the RailHawks posted a 2-1 victory over Minnesota United to start the year. Tiyi Shipalane could prove to be a threat all game long in Oklahoma.
Rayo OKC will eventually find attacking fluidity through MLS veterans Robbie Findley, Sebastian Velasquez and Ryan Johnson. However, it could be too early for that trio to be firing on all cylinders in Week 2. Regardless, though, the Ghanaian Derek Boateng looks to boss the midfield.
FC EDMONTON vs. MINNESOTA UNITED FC (Sunday, 4p.m., ESPN3)
FC Edmonton faces a tough outing as it hosts Minnesota United, a side that just lost unexpectedly in North Carolina.
Head coach Carl Craig should have his team ready to grab three points on the road this Sunday. Expect Christian Ramirez to grab headlines as he leads a side that also includes the attacking talents of Stefano Pinho and Ibson.
The Eddies will open up at home without their captain, Albert Watson, after a red card in Week 1. Daryl Fordyce and Tomi Ameobi offer attacking talent up front, but it'll be up to Nik Ledgerwood and Cristian Raudales to get them the ball.
NEW YORK COSMOS vs. JACKSONVILLE ARMADA (Sunday, 6p.m., ONE World Sports)
The Cosmos came sprinting out the gates last week, and now have a chance to start the Spring Season 2-0 as they host a newly reformed Armada.
Juan Arango announced his arrival to the league with a brace, and Niko Kranjcar also impressed in his first minutes. This Cosmos side continues to be a powerhouse in NASL, and Gio Savarese will hold no punches back on Meola's professional coaching debut.
It will be intriguing to see who Meola fields in the Armada's starting lineup, after the technical staff completely rebuilt the team from the ground up after a poor inaugural season. As the team looks to find form and make a new name for itself, look at Richie Ryan and Junior Sandoval to provide stability and a veteran presence to this team of unproven but talented athletes.