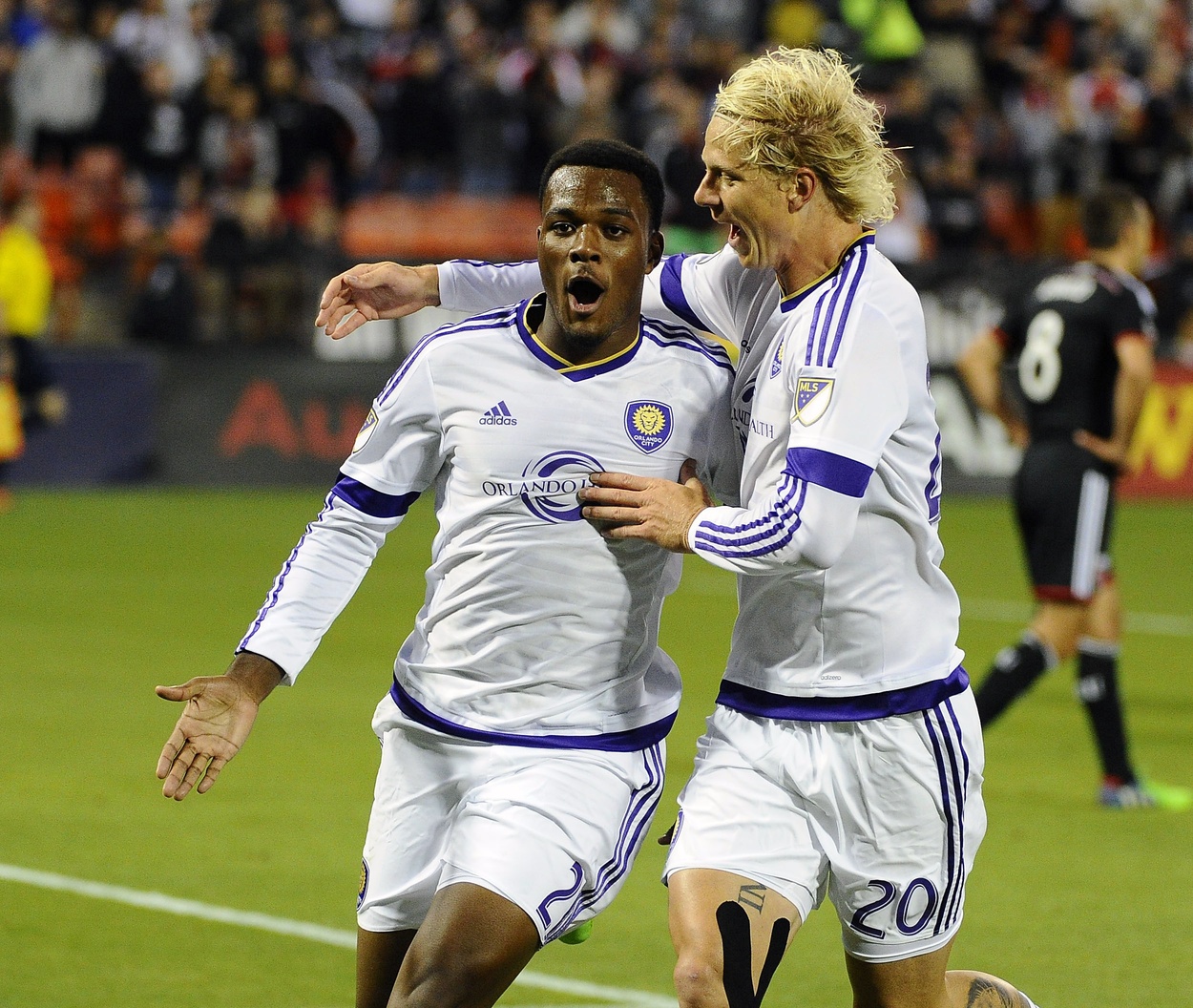 Through the first five weeks of the MLS season, Orlando City SC head coach Adrian Heath is pleased with the points his side has been able to amass. However, Heath believes there is improvement to be made in the manner in which the team is collecting them.
Through the opening five weeks of the MLS season, the Lions have secured eight points, good enough for third in the Eastern Conference. Unbeaten until a last-gasp loss to the Philadelphia Union over the weekend, the Lions have generally scraped along and secured results at very top.
It started with a thrilling two-goal comeback in extra time as the Lions secured a point against Real Salt Lake in what proved to be a game-of-the-year contender. A draw with the Chicago Fire was followed up by two wins, including a statement 4-1 thrashing of reigning MLS Cup champions Portland Timbers.
According to Heath, the Orlando City season has not really demonstrated true justice from the soccer gods. To this point, Heath believes the results have not quite matched the performances, even if the point total has.
"When I look at the season so far," Heath told SBI, "I'm sitting there thinking that the two draws, I think, could have been wins, we could have gotten a draw at New York and we didn't get anything this week. We wouldn't have been far away from the same total, but sometimes scorelines don't paint the proper picture of how the game went.
"On a regular basis, you're not going to win 4-1 at home like we did against Portland," Heath added, "and have great attacking play like that for 90 minutes, but can we maintain the level of performance that got us there? Can we keep playing progressive football all the time? Can we take the game to the opposition? … I just want us to be more consistent, not fluctuating between very, very good and bad at times. I want us somewhere in between, even when we're not playing particularly well. If we do that, with the talent that we have, we can be a difficult team to play against."
This past weekend's result wasn't one that was too unexpected. Missing starters Cyle Larin, Brek Shea, Cristian Higuita and Tommy Redding, Orlando City was always going to have a tough time competing against a Union team on the rise.
Heading into this weekend's clash with the New England Revolution, Shea is set to return upon the completion of his suspension. Heath said Redding also looks set to rejoin after actively training on Monday while undergoing the league's concussion protocol. But perhaps the most important return would be that of Larin, who is expected to recover from his ailing hamstring.
"We had our first day (Monday) and he's been out with the fitness people," Heath said of Larin, "and the one thing about this week is that we have a game on Sunday, so it gives us an extra bit of time and we'll gradually work through the week to see where he is, but we're hopeful that he will be available to play on Sunday.
"I just think that we're better prepared this year than we were last year," Heath added. "I think we've got depth. We've got more players that can come into the team that I think can help us. That's been a pleasing thing."
One player Heath expects to play a part in the coming weeks is Julio Baptista. The former Real Madrid midfielder earned his first MLS appearance in Friday's defeat, coming on very late in the game for what amounted for little more than a cameo.
Heath was reluctant to make any major changes during the game that could disrupt the formation and flow that his team had been playing in. Truth be told, Heath said, hindsight is 20-20, but Heath wanted to keep things steady with a game in the balance. In the weeks ahead, though, Heath expects Baptista to play a major role in the team's attacking play.
"We've got to get him acclimated, and we have to get him up to match fitness," Heath said. "He came a couple of weeks in and did fine, but what we need to do is get him match fitness. He went back to Spain, and we had to get his visa and all of his paperwork done, and that was a waste of two weeks that puts us back a little bit. If the result would have been different, I probably would have thrown him on with 20 or 30 minutes to go to see how he was. While we're still in the game, I didn't want to disrupt the team.
"We're just hoping that when his time comes, he can give us some minutes and give us a spark off the bench or come on and give us something. I'm not saying he can do this, but can he come off the bench and do the sort of things that (Didier) Drogba did last year? Can he have that influence? Drogba, at 37, came in and was unbelievable last year. We don't know whether he's capable of that, but his history and career prove that he can score a goal. You only have to look at the teams that he's played with to think that he can play at this level if he's fit and well. He's a great kid, he trains really hard, and we just hope he can help us when we need him."
Baptista's real introduction could come this weekend in a match against a Revolution team that gave the Lions fits last year.
Following a 2-2 draw in May, Orlando City was on the end of a 3-0 shellacking at Foxborough in one of only two Orlando City losses over the last eight games of 2015. Given the team's solid start to 2016, a match against a fellow contender in the Revs will serve as a good litmus test for an Orlando City team still looking to find the formula to remain among the league's elite.
"The one thing I know is that they have very good attacking players," Heath said. "If you look at them with the way that they've been set up, it's been a few years of getting the team together, but they have a little bit of everything. I really like Lee Nguyen. I think he's one of the best American players there is. The front, (Diego) Fagundez is young, (Juan) Agudelo, Kelyn Rowe, they've got very good attacking pieces. I think the kid Scotty Caldwell is really underrated and that (Gershon) Koffie is a very good player. I've named nearly half the team there.
"We had very difficult games with them last year. They murdered us up in Foxbrough and we weren't very good and we came back and got a draw here and could have won the game. I've got a lot of respect and admiration for this team. We're going to need to be prepared and we're going to have to perform like we did last week against the Timbers. If we can perform at the top of our ability, I'm sure Jay (Heaps) will have them so they'll be in the game as well."