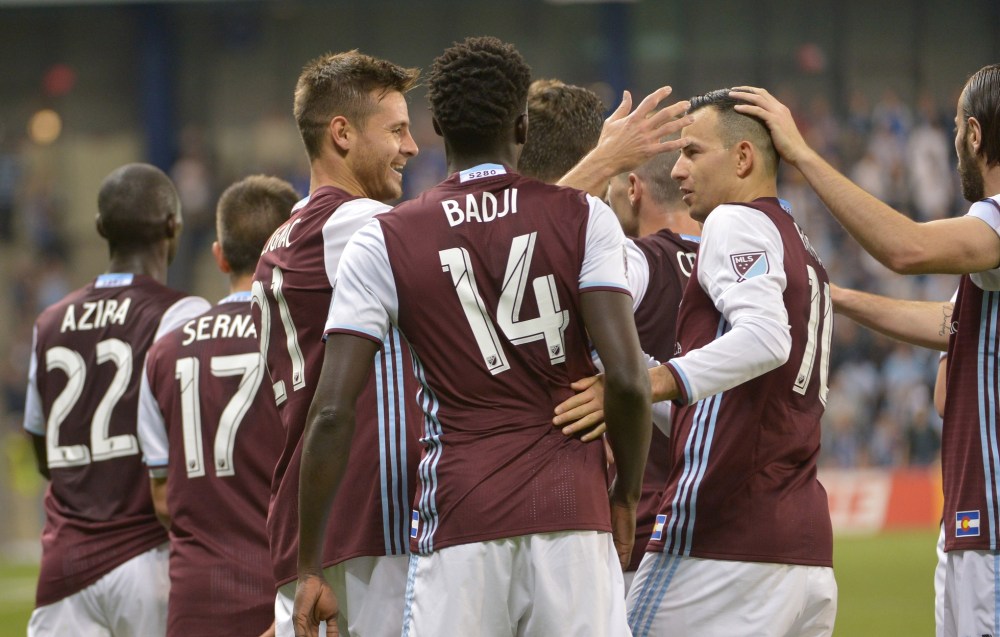 On the night of the club's 20th anniversary, Sporting Kansas City looked little like the powerhouse it had become post-rebrand. Now 3-2-0, Sporting KC stumbled to a 2-1 loss to the Colorado Rapids, who were determined to ruin the home side's evening.
Sporting KC started the first half against the Rapids slow, conceding plenty of shots. The home club looked much more like the Wizards of nearly 10 years ago, the teams that missed the playoffs and fired coaches.
The defeat for Sporting KC is the second in a row at home, and yet again, the club allowed a team with a weakened lineup and a lower position on the table to come in and take a result. The Rapids only named four players to their bench for this game due to many injuries, but they remained disciplined and focused on the gameplan in order to earn a impressive result.
"For me, it's not about the tactics. It is about the heart and the spirit of a bunch of guys that will work hard for each other," Rapids coach Pablo Mastoeni said of the win. "We come to a very difficult place, against a very good team, and I think today those players showed what it's all about.
"This is why we play this game, why we coach, and why we are involved in professional sports. It's all about the moments like this."
After a disappointing 1-0 away loss to Real Salt Lake over the weekend, the Rapids turned around and finished their chances in this match.
"(The win is) massive," Rapids midfielder Dillon Serna said. "Kansas City has been one of the best teams in the league so far, and to come on the road and get three points, now we're going to go back home confident."
Serna played right back for the short-handed Rapids in the match. The makeshift lineup for the Rapids was faced with a big challenge in the second half. Sporting KC recorded a total of 14 shots in the second 45 minutes and hit the woodwork three times.
The win was reminiscent of a 2-0 win over Sporting KC toward the end of last season. The down-and-out Rapids were able to take three points in an away match against a playoff-bound Sporting KC.
"We can talk tactics, and talk this and that, but it is really about the intangibles and the momentum," Mastroeni said. "It's the belief and the chemistry. It is all these little things and the fortune. You must be opportunistic and capitalize on them. If Gashi is not in the position, and it just hits the woodwork, and then is like everything else and that is why this game is crazy.
"I don't know how to explain it, but I think there is a lot to this game that statistics can't answer, that tactics can't answer, and human beings can't answer. Tonight was a fantastic win of spirit, heart, and stones."