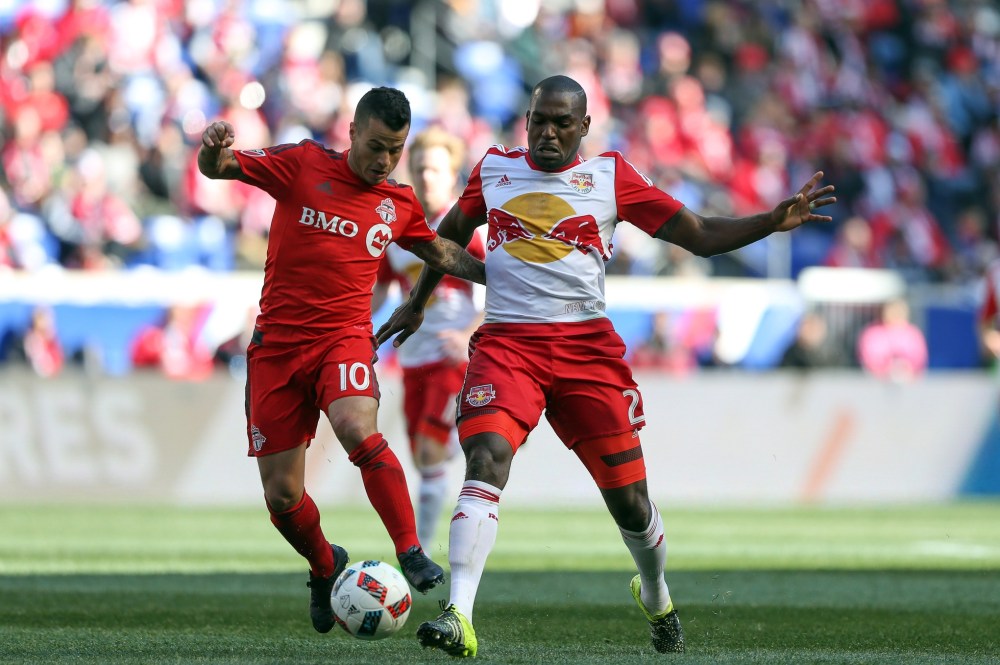 With results simply not coming for the New York Red Bulls over the opening five matches of the 2016 MLS season, one area that has greatly impacted their chances of winning games has been the club's injuries.
A trio of Red Bulls players exited their match against the Houston Dynamo on March 19, the side's only win of the new season. Centerbacks Gideon Baah and Ronald Zubar, as well as Gonzalo Veron were each lost in the game after suffering hamstring injuries. Left back Kemar Lawrence then went down with a left knee injury two weeks later against the New England Revolution.
Head coach Jesse Marsch had some good news though, following Monday's training session in Hanover, New Jersey.
"I think Kemar is looking close to game ready. Ronald Zubar is looking really close to game ready as well," Marsch said following Monday's session. "They may factor in on Wednesday. We have to get through the next two days and see how they're doing.
"Gideon and Gonzalo are on the field again moving around and close to training. We're hopeful that they can get through this week and then after these two games they can become available."
Here are some more Red Bulls notes:
MARSCH LOOKING TO INCORPORATE YOUTH IN LINEUP
The Red Bulls begin the first of two consecutive road matches in four days, when the side travels to San Jose on Wednesday. Given the short turnaround, Marsch will be looking to get some of his younger players involved, especially given their early-season success with USL side Red Bulls II.
The club's reserve team remains unbeaten through three matches, with players like Brandon Allen and Derrick Etienne impressing. Allen has posted three goals and an assist thus far in 2016, while Etienne has added a goal and two assists.
"Guys that I think we're trying to figure out how to factor in are (Anatole) Abang, Tyler Adams, Alex Muyl, Zach Carroll, Brandon Allen, Derrick Etienne played very well," Marsch said.
"I think our USL team is vastly improved. Watching them over the past three games has made us proud. I think that that platform within our organization has improved so much. Credit goes to everyone but certainly (head coach) John (Wolyniec) and (assistant coach) Ibra (Sekagya) are doing a great job with that team. They looked very good from the start so that part is good.
"Certainly our players have gone down there and taken it as a real opportunity to prove themselves and establish themselves with our team. And it will lead to them getting first-team minutes."
GOALS ARE COMING, BUT DEFENSE NEEDS TO BUCKLE DOWN
After leading MLS in goals a season ago (62), the Red Bulls have tallied a measly four in five games. On the opposite end, the team have conceded a league-leading 11 goals, which can be attributed to the injuries suffered.
Midfielder Sacha Kljestan is confident goals will come in the near future because of their ability to create chances. His biggest concern is keeping goals away from their own net.
"There's definitely pressure because we haven't scored enough goals this season," Kljestan said. "The other problem is we've given up too many goals. We kind of have to go back to basics. We've talked about knowing that the goals will come because we are leading the lead pretty much in chances created.
"We're in the top three for almost every category offensively, besides goals. We think the goals will come, but defensively we need to tighten things up more and not give away such easy goals on small mistakes."
TEAM LOANS PLAYERS TO RED BULLS II
The Red Bulls undoubtedly have one of the deepest academies in MLS, as shown by their list of offseason acquisitions from within their youth system.
The club announced on Sunday that Anatole Abang and rookie Justin Bilyeu would be loaned out to Red Bulls II, although both players are still eligible to feature for the senior team.
Abang made his first appearance of 2016 for the Red Bulls in Saturday's 2-0 home loss to Sporting Kansas City. The attacker came on in the 65th minute, replacing Lloyd Sam. He also notched a goal for Red Bulls II in Sunday's 4-0 victory over Bethlehem Steel FC.
Additionally, Red Bulls II has acquired Amobi Okugo. The 25-year-old defender is not currently under contract with an MLS team, but has been training with the Red Bulls starting team over recent weeks.