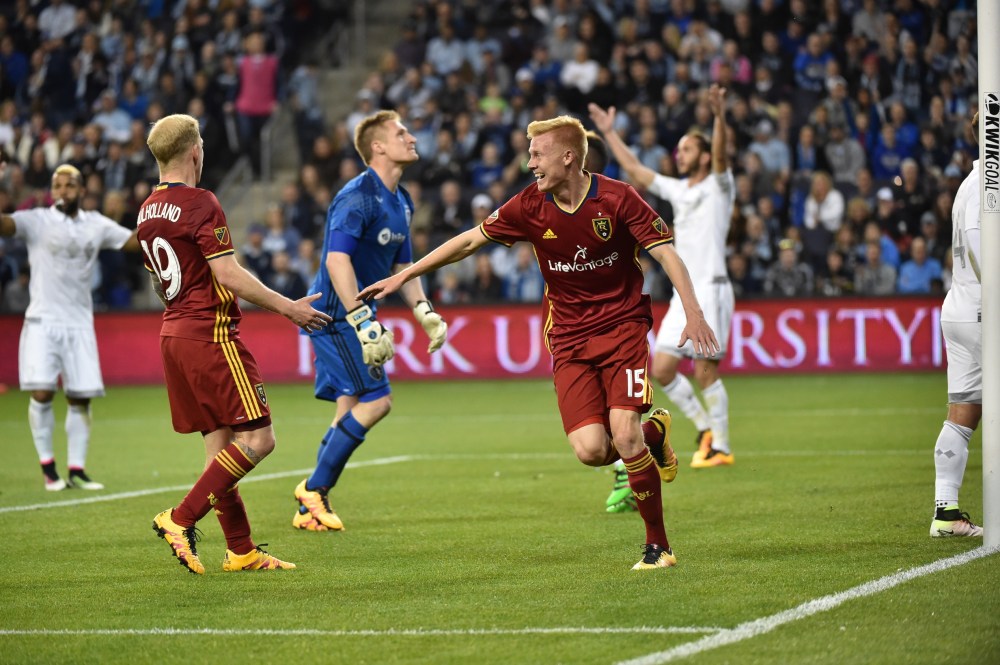 With two draws and now two wins, Real Salt Lake is unbeaten on the season.
The team stayed on track with a 2-1 win over Sporting Kansas City on Saturday night in Kansas City, Kansas, and Real Salt Lake made a statement with that win by calling upon several players who aren't regular starters.
"(The difference was) focusing on the game plan that we had. We really followed through," Real Salt Lake coach Jeff Cassar said. "We talked about a few things that we wanted to do all week long and the players went out there and they did it. It's a massive credit to them."
Heading into Saturday, however, RSL looked set up to lose. Missing its playmaker Javier Morales to injury and enforcer at centerback Jamison Olave to red card suspension, Real Salt Lake defied the odds to claim the win.
RSL captain and left back Tony Beltran said the win showed the strength his team's depth has as well as the confidence the team can have when missing some players. Justen Glad stepped in for Olave and scored the first goal of his career off a set piece played in by Joao Plata in the 29th minute.
The second goal was added in the 79th minute by Luke Mulholland after Mulholland quickly won a poor clearance from a corner kick and scored from long range.
"I don't know if we learned something about ourselves or if everybody else learned something about our team," Beltran said. "I think that the guys know they're capable of this and we believed in ourselves, and that's probably why we're on such a high right now. We wanted to make this statement to everybody that over the course of the season, these guys can contribute and that we're a capable team."
Glad and the RSL defense almost claimed the shutout on the night, but gave up a penalty in stoppage time which was converted by Benny Feilhaber. As a whole, Real Salt Lake defended Sporting KC handily all night. Sporting KC was caught offside eight times in the match, and Cassar said his team executed every part of the gameplan.
"We were trying to do some things. We had a defensive scheme that we wanted to do," Cassar said. "It was making sure the spacing was right, and when it did get to certain areas, trying to win it there. It was more about being disciplined and not getting pulled out of shape."
To step into the team and contribute with a goal and an impressive defensive performance was a big boost to Glad.
"It's a good stepping stone, obviously," Glad said. "It's a big confidence booster, obviously, to come in and get the goal. We'll take it going forward. We'll take the points and we'll improve everything that we need to improve on."