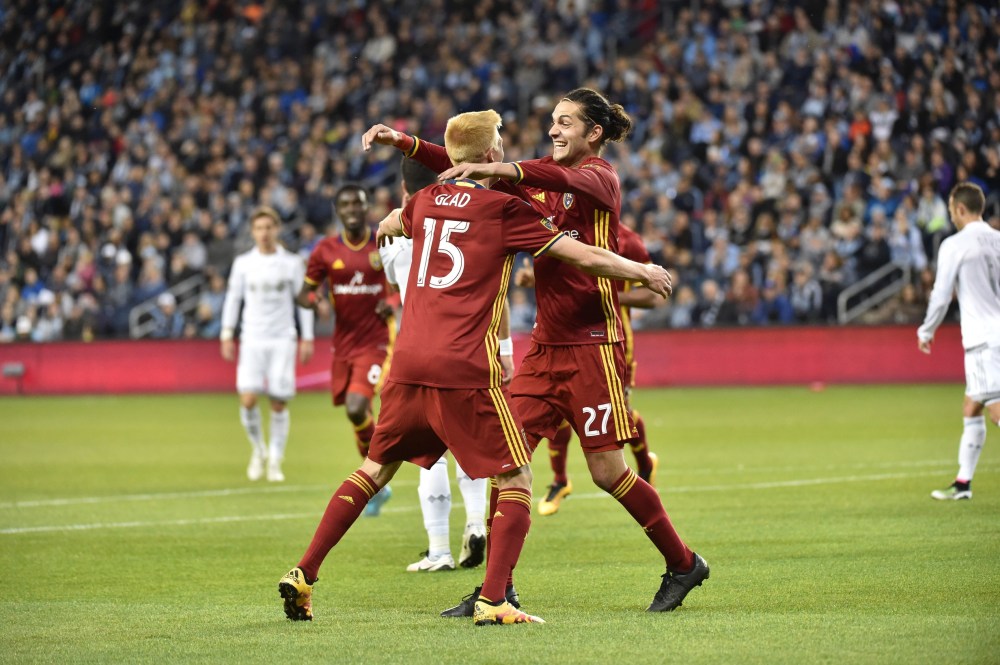 Handing Sporting Kansas City its first loss of the season, Real Salt Lake remained unbeaten to start the 2016 MLS season.
RSL defeated Sporting KC, 2-1, at Children's Mercy Park in Kansas City, Kansas, thanks to a set-piece goal from centerback Justen Glad and a goal off a quick turnover from Luke Mulholland.
In the 29th minute, Glad scored from a header at the back post off a set piece played into the box by Real Salt Lake midfielder Joao Plata, who recorded his third assist on the season.
Real Salt Lake doubled the lead in the 79th minute, killing off any hope for Sporting KC, when Mulholland sent a shot from 25 yards into the bottom corner. Sporting KC midfielder Soni Mustivar had a pass to his left, but instead tried to find Graham Zusi in the middle. The ball was quickly turned over and Mulholland capitalized.
Sporting KC pulled a goal back after a penalty kick in second-half stoppage time. Benny Feilhaber converted from the penalty spot for his first goal of the season. The penalty was called on Real Salt Lake's John Stertzer, who took Sporting KC striker Diego Rubio down just inside the box.
With a significantly weaker lineup due to injuries and suspensions, Real Salt Lake overcame the odds to hold onto the first-half lead. Smart organization from the Real Salt Lake back line kept Sporting KC forward Dom Dwyer at bay.
Both teams were without some key players after international duty. Real Salt Lake played without midfielder Kyle Beckerman and Sporting KC were without Matt Besler, who returned to Kansas City midweek but was out with a concussion suffered in the U.S. Men's National Team camp. Real Salt Lake also missed Javier Morales due to injury and centerback Jamison Olave due to red card suspension. Sporting KC was without Roger Espinoza due to red card suspension.
Returning to the lineup for Sporting KC, however, was Feilhaber. The MLS MVP candidate from last season struggled to make an impact in the match, and RSL kept the pressure on through both halves.
MAN OF THE MATCH
With the assist on the night and several key plays, Joao Plata easily stuck out in this game. Plata created RSL's other great chance in this game by playing Yura Movsisyan in for a shot that hit the crossbar.
MOMENT OF THE MATCH
While Sporting KC found little attacking momentum and recorded only a little more than half the shots as RSL, the home side's opportunity to take a point was eliminated with Luke Mulholland's 79th minute goal. Sporting KC midfielder Soni Mustivar played the ball into the middle of the pitch after a corner, and Mulholland easily stole it and subsequently scored.
MATCH TO FORGET
The best from RSL came in the middle of the field in this game. Plata and Luke Mulholland ruled the midfield and it translated into quick attacking play. Soni Mustivar had one of his worst games in his time with Sporting KC as he allowed Plata and Mulholland to combine with ease in the middle.