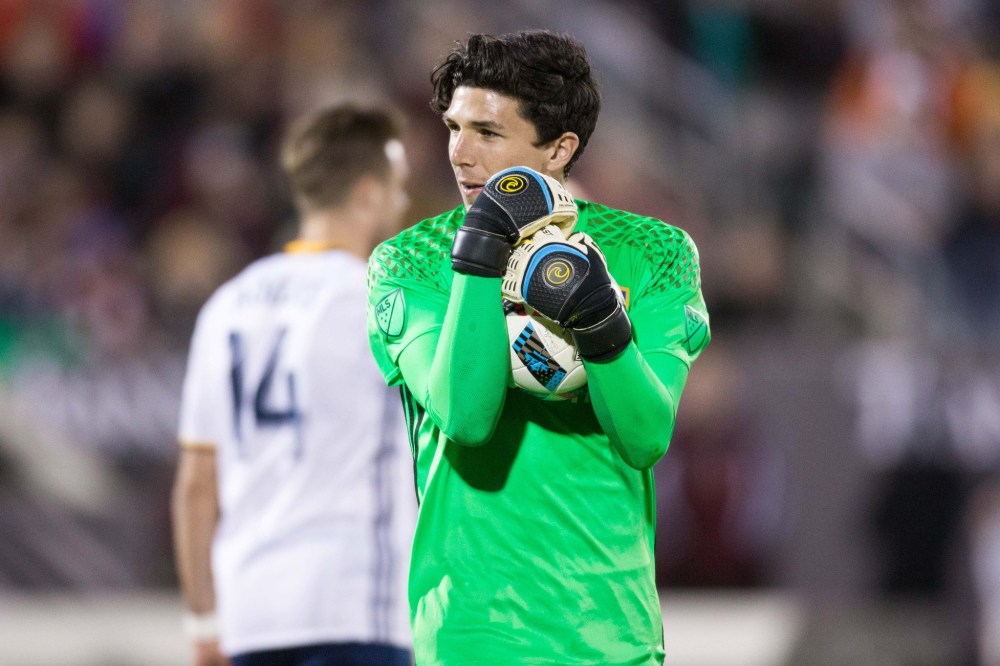 Five years.
Come July, that's how long goalkeeper Brian Rowe will have been a member of the LA Galaxy. While he has yet to cement his place as the first-choice option since joining the Western Conference club many years ago, Rowe has performed impressively well in goal for the team through four games in 2016.
Veteran netminder Dan Kennedy joined head coach Bruce Arena's side ahead of the 2016 MLS campaign and was the starter for the Galaxy on opening day. He was forced out of the game early due to a leg muscle injury, opening the door for Rowe to earn some important minutes early into the season.
Rowe has recorded 16 saves in 340 minutes played thus far, and most recently helped the Galaxy record their first shutout of the season against the Vancouver Whitecaps.
Kennedy started participating in full training this week, signaling his potential return to the starting lineup, but Rowe's play this year has made Arena's decision of who start against the Portland Timbers on Sunday that much more difficult.
"I'm just trying to be as consistent and good as I can be in training every day, and I'm hoping that the product that I put out in games or in training can speak for itself," Rowe told SBI.
Rowe is facing competition for playing time once again with the Galaxy, but this time is a little different. This time, Rowe's competitor for minutes is also his longtime mentor.
"I've always looked up to (Kennedy)," Rowe said. "I got drafted by Chivas (USA) and was with them for their preseason and got to know Dan a little bit, and when I came back with the Galaxy, he was across the way with Chivas still, so I've always looked up to him.
"He's always been kind of a mentor (since) early on in my career, just sort of asking him questions on how he takes care of his body and how he mentally prepares. I feel as though we've had a good relationship in that sense. Even now, as we are competing on the field every day, we still get along and we share stuff to each other that helps out."
Rowe, 27, has not appeared in more than 10 games in a season for the Galaxy since joining in the summer of 2012, and that's mainly due to the talented veteran goalkeepers in front of him. While he has not earned much playing time, Rowe believes training, watching and talking to the Galaxy's numerous star players over the years has really made him become a better player.
"I've gotten to play with a lot of world-class players, played with David Beckham my first year, Landon Donovan, Robbie Keane, and now we have this group of guys coming through with Giovani (Dos Santos), Nigel (De Jong) and Ashley (Cole)," Rowe said. "I think seeing that day in, day out the game kind of just slows down for you a little bit. You don't get the nerves that you used to when you're a young player, so it's kind of the process of putting your time in, and you then start to feel more comfortable and confident.
"There have been a number of veteran goalkeepers that have been ahead of me that I've gotten to train with and learn from. Every one of them has had a different style of play and sort of a different philosophy, so that's also been tremendously helpful to just chat with them and pick their brains and watch them day in, day out."
Rowe has been down this road before — not knowing for sure whether he would be named a starter. However, he wants nothing more than to lock down the stating role for a team he has called home for many years.
"I'm a competitor just like all of the other guys," Rowe said.
"I love playing. That's the fun part of our game. We put the hard work in during the week, and the games are the times to go out and play with your teammates and put what you've worked on out on the field as a product."