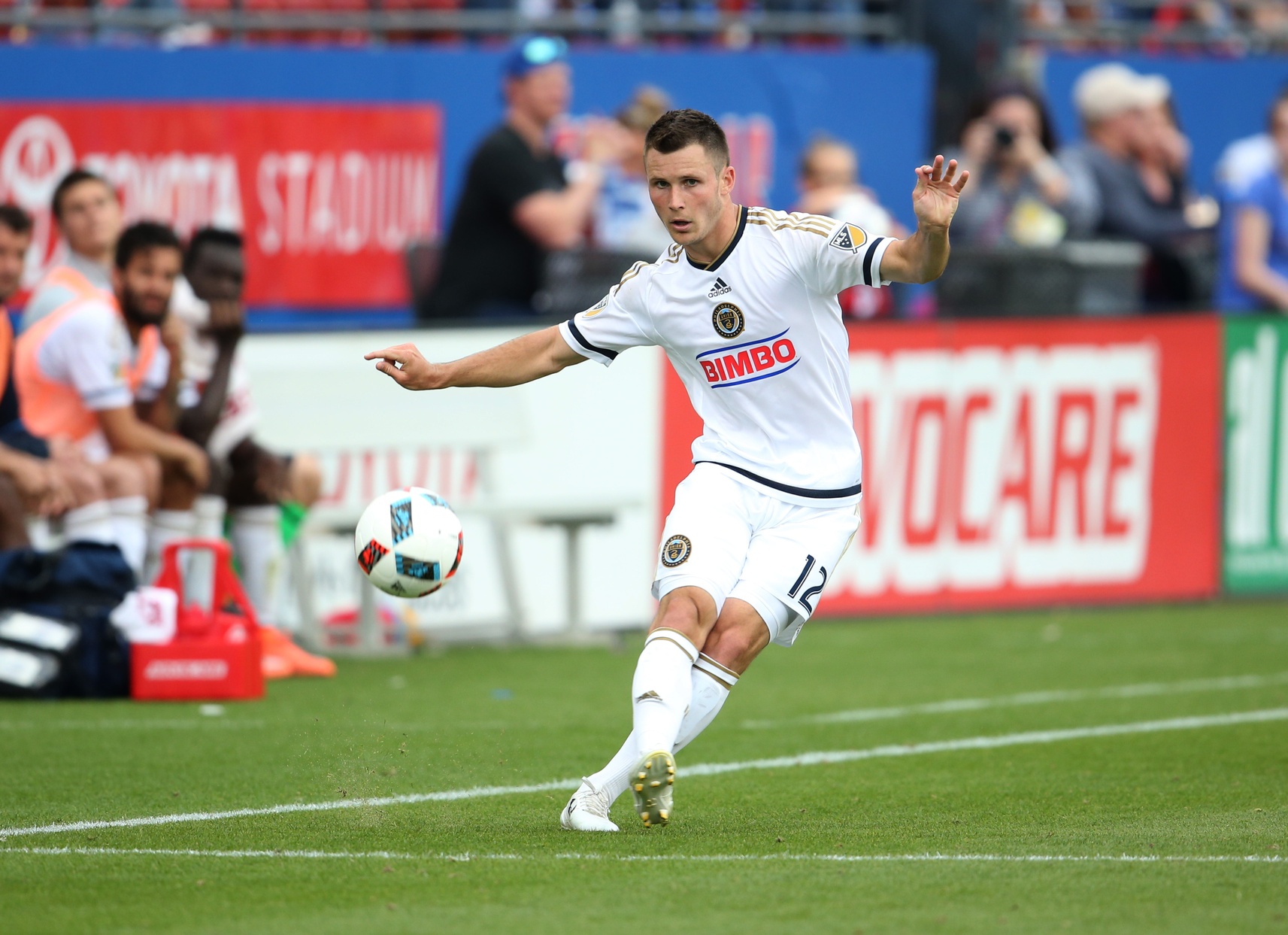 For years, Keegan Rosenberry dreamed of taking the field as a member of the Philadelphia Union. That dream has become a reality, and Rosenberry's experiences have proven more ideal than even he could have hoped for.
A month-and-a-half into his rookie season, the fullback has firmly established himself in the Union lineup. The Georgetown product has become an integral part of an improving Union back line, playing all 90 minutes in each of his team's matches thus far.
However, the road to the Union's starting XI was never a certain one. Following his senior year at Georgetown, Rosenberry saw a Homegrown claim from the Union denied, thrusting him into an uncertain MLS Draft. On that day, destiny became reality, as his hometown club selected him with the third pick of the 2016 MLS Draft.
Rosenberry is the first to admit he never expected to go that early, but, to this point, he has justified the selection in every way possible. From the bafflement of Draft Day to the confidence of a starter, Rosenberry has shined for a club he has always called home.
"Whirlwind describes it pretty accurately," Rosenberry told SBI, "but one of the most important aspects for me when I got drafted by Philadelphia is the familiarity I have with the team. For me, I was just so thankful and so blessed to be put in a situation where I know the staff, know the players.
"Having that familiarity gives me a little more confidence than I would have had at a brand new place, and for me, that was huge: the ability to feel comfortable. You know where to show up for practice. You know which door to go into when you arrive at the stadium. Little stuff like that gets rid of any uncertainty and allowed you to play freely."
Throughout his youth and college career, Rosenberry had taken the field at Talen Energy Stadium six times. The venue was just over an hour's drive from his hometown, Ronks, and his time in the Union's academy and Georgetown had afforded him opportunities to play meaningful matches at his local stadium.
On March 20, now a professional, Rosenberry saw a place that was previously all too familiar become surreal.
Weeks prior, Rosenberry had made his MLS debut in a visit to FC Dallas, but Rosenberry's true welcome-to-MLS moment came in the Union's win over the New England Revolution in the team's home opener.
The lead-up brought Rosenberry back to advice received from his college coach: "Play the game, not the occasion." The 22-year-old forward did just that in front of countless family and friends intent on seeing the fullback make waves for his hometown club.
"It was pretty surreal, to be honest. It was quite the experience," Rosenberry said. "For us to get the win, especially for the fans, in the home opener, it was huge. For the organization, for the outlook of the fans and the potential that we have as a team, it was highlighted in that game.
"It's drastically different. It's the same building, same structure, same setting, but at the same time, you have 18,000-plus where maybe a few sections were filled in my first few games. The atmosphere and how much emphasis is put on our performance for those fans and what we can do for the city, it's much different, in a good way."
Throughout his tenure, Rosenberry has made sure to pick the brains of his veteran teammates, some of whom he has known since his days in the Union academy. In Sebastian Le Toux, Rosenberry has found a mentor who also happens to play in front of him on the field. The two spend their time talking golf, while furthering a relationship that has turned into a strong working one down the right side.
Another person who has proven helpful is Union head coach Jim Curtin, who Rosenberry has known for several years dating back to his youth days. Rosenberry said the familiarity with how Curtin runs a team has been vital to limiting his rookie adjustment period through the first several months.
In Rosenberry, Curtin sees a player who may not pass the eye test to all who watch him. But to him, Rosenberry is deceptively athletic and extremely coachable, a combination that has helped Rosenberry achieve success thus far.
"I think Keegan is a very good right back. His soccer IQ is the first thing that I go to," Curtin said. "He's an incredibly smart player. He studies the game, studies the other teams, knows the league well. From a starting point, he had a really high starting point, even if there's always room to improve for a young player.
"We have a foundation of young players, but Keegan has been the one that has emerged, although they're all doing well. He's run with his time on the field and contributed in a big way. I'm happy with where he's at."
Curtin said the fullback does very well in recognizing the times to go forward, and tends to hit every goal Curtin sets for him in regards to creating on the attacking end. Defensively, Rosenberry has proven sound, but is always looking to improve against tougher opposition.
At this level, Rosenberry understands he's one bad performance or injury from losing his spot. As competitive as MLS is, Rosenberry knows he has to bring it each and every day if he wants the past six weeks to not be the best of his career.
Throughout his time under Curtin, Rosenberry has learned to put good days together. Whether it's in training or in a game, Rosenberry has to seize the opportunity and make it his own.
So far, the fullback has had quite a few good days as a member of the Union, but with a whole career ahead of him, he's looking to achieve many more with a team that has placed so much faith in him for many years.
"I think, in the most ideal scenario, this probably would have been it," Rosenberry said, "but you don't really plan on that. I do my best to prepare for anything and prepare for the unexpected, as cliche as that sounds. At the same time, it's not that I would have been OK going this way, but you have to be ready for it. You can't expect to come in and start right away. For me, it was about preparing for what comes next and handling it.
"The biggest goal for myself and the team is to make the playoffs," Rosenberry added, "not just because the team hasn't for the past couple of years. We know the potential that we have, and I think it would be disappointing to us and the fans if we don't achieve that potential. It's going to be difficult, obviously, but that's been the goal from day one. It won't be easy, but I'm looking forward to the challenge"