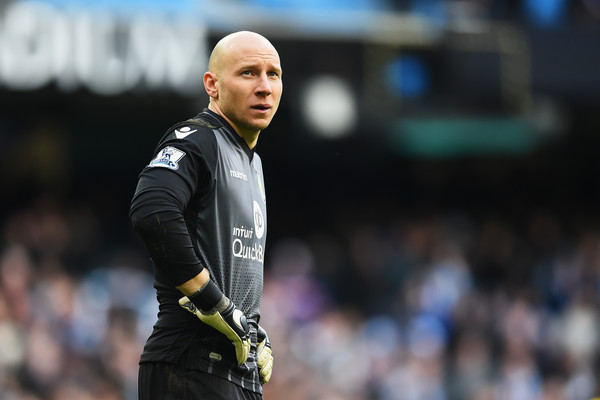 For the first time in approximately three decades, Aston Villa will not be playing in the English Premier League next season. The question on many U.S. Men's National Team followers' minds is what does this mean for goalkeeper Brad Guzan?
The club was relegated to the English League Championship after falling to Manchester United, 1-0, on Saturday, and the fallout has already begun. Two club directors have resigned in the wake of Aston Villa's relegation, and Steve Hollis, club chairman, is currently in "extensive negotiations" to sell the club.
Guzan's contract runs until the the summer of 2017, but given the state of the club, many USMNT supporters would rather see the netminder make a move back to the English Premier League or another top league in Europe.
USMNT goalkeeper Tim Howard is already leaving the EPL, as he will join the Colorado Rapids in MLS this summer after a decade at Everton. If Guzan decides to go a similar route, and no other American goalkeepers are signed, the 2016-17 EPL season will be the first since the mid-1990s no American goalkeeper takes part of.
Guzan did start his career in MLS, playing for Chivas USA from 2005-08. At the age of 31, he still has plenty of years to play at a top level, but a return to MLS could be appealing if teams were willing to pay the price. Traditionally, goalkeepers in MLS don't generate the large salaries to compete with European leagues, but Tim Howard's recent deal with Colorado could help set a new trend.
Guzan has not played anywhere else but in England since his move to Aston Villa in 2008. He did go out on loan to Hull City during the 2010-11 season, but he established himself as a capable goalkeeper in the EPL following that stint. A move away from the United Kingdom may not tempt Guzan, but a move, in general, should.
With all that in mind, we want to know: Where do you think Guzan should play next season?
Cast your vote for our SBI Question of the Day here:
[polldaddy poll=9390856]
Which option did you vote for? What MLS team would make the most sense for Guzan? Think there's a chance Guzan stays with Aston Villa, or is his departure inevitable?
Share your thoughts below.