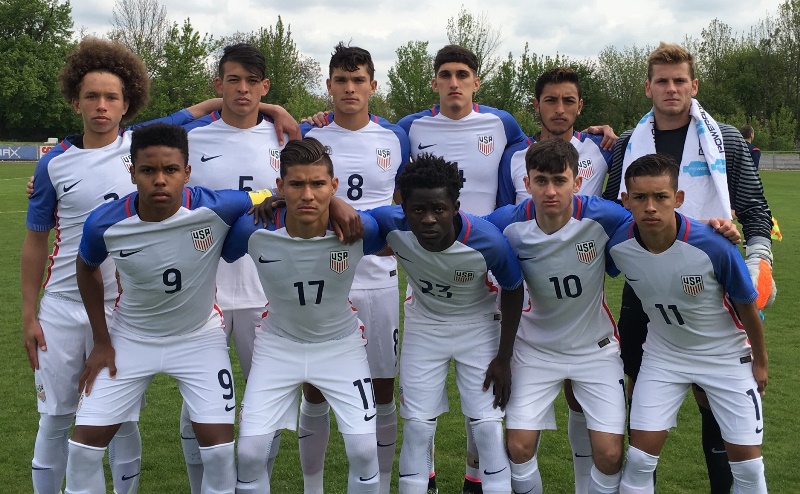 The U.S. Under-19 Men's National Team will soon be playing for some silverware, and it can thank an own goal for that.
The U.S. defeated Ukraine, 2-1, on Tuesday to book a spot in the Slovakia Cup final, and the decisive tally came on a first-half own goal. Captain and midfielder Weston McKennie opened the scoring for the young Americans in the 27th minute, but the game-winner came six minutes later when a Ukraine player hit the ball over his own goal line.
Ukraine pulled one just before halftime, but never found an equalizer in a game that was comprised of two 40-minute halves.
The U.S., which is coached by Brad Friedel, is now 2-0 in the competition after grabbing a 5-1 win over Georgia on Monday.
The Americans still have to play their final group stage match against Slovakia on April 28 before competing for the tournament crown one day later vs. Russia.
Here is the U.S. lineup that played in the 2-1 win vs. Ukraine:
Starting lineup: Will Pulisic; Alexis Velela (Marlon Fossey, 40), Hector Montalvo, Danny Barbir, Hugo Arellano; Weston McKennie, Ander Egiluz (Pierre Da Silva, 40); Luca De La Torre, Nelson Hunsinger (Ernesto Espinoza, 61), Isaiah Young (Colby Agu, 76); Brandon Vazquez (Joe Gallardo, 80+2)
Subs Not Used: Nabilai Kibunguchy, Benny Diaz
Not Dressed: Eric Calvillo, Ben Hale, Sebastien Des Pres
What do you think of the the young Americans' 2-1 win vs. Ukraine? Impressed with their passage to the tournament final? Like the job Friedel is doing as coach?
Share your thoughts below.