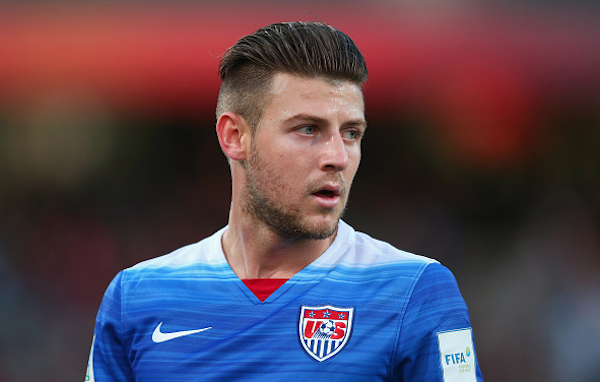 MIAMI SHORES, Fla. — Paul Arriola is looking at the bigger picture.
After enjoying a strong Clausura campaign in Liga MX, Arriola was brought into his first camp with the U.S. Men's National Team this week. Arriola impressed in recent months with his string of solid performances for Club Tijuana, and the call-up had him buzzing even though he was not named to the U.S.'s preliminary squad for the Copa America Centenario.
Some players would have been disappointed with that, but not Arriola because he saw a chance to make an impression that could lead to more looks down the road.
"I can't really explain. I was just so excited," Arriola told SBI. "I heard that I had a chance of making it into camp and obviously I would have loved to be on the 40-man roster, but at the same time I couldn't be bummed out that I wasn't on it because this was my first camp.
"That's what I have to take out of it: First camp. I need to make my statement and prove that I can stay on the team and hopefully after Copa America I'm one of those guys that can slowly get into the whole process."
The 21-year-old winger could become more of a fixture with the U.S. in the coming months should he return to Tijuana from his summer break and pick up where he left off. Arriola appeared in 16 of Xolos' 17 games in the Clausura campaign, and caught the attention of plenty of stateside observers with his contributions.
Arriola is now hoping to bring his crafty dribbling runs and the other qualities that allowed him to thrive for club over to country. He wants to make a good first impression week while he trains with the U.S. and potentially earns his first cap in Sunday's road friendly against Puerto Rico.
"I think the biggest part for me is just to show my personality, show who I really am on the field," said Arriola. "I don't think that there's many players that have the same characteristics that I do, and that's just my opinion. I'm one that stays out wide, that likes to take on players, just get in quick little movements and enough space to get a cross off or a shot off or anything like that.
"Even in Mexico, I don't see a lot of players that like to take their man on completely and go down the line and a get a cross. It's more like an early cross. For me, it's showing what I can give to the team and how I can help change the dynamic when the team needs it."
Arriola has already shown a bit of that in his initial training sessions.
"I think Paul has a great attitude and a lot of quality," Perry Kitchen told SBI. "He's very quick and he's good on the ball and he's got a nose for goal. From what I've seen in the past few days, I've been very impressed. I think he has a very bright future and I'll definitely be pulling for him."
Like most young players, the challenge for Arriola is to now go from squad player to every-game starter on the club level. Arriola earned the nod in each of the Xolos last eight league matches, and will likely need to continue to be a lineup regular next season if he wishes to become a U.S. fixture when the Americans resume their World Cup Qualifying odyssey in the fall.
Being consistent and making the most of opportunities will be key in avoiding seeing less minutes next season, and Arriola knows that full well after having a a down year follow his successful debut campaign in 2013-14. He is also aware that there is plenty more to accomplish, but is still pleased to have made some real strides in his development these last few months.
"For me it was another stepping stone towards where I want to be," said Arriola. "Now obviously I need to continue to be a starter as the next season comes. We know that there's going to be a lot of players that are coming into our team. But it's the most minutes I've played, the most action, I felt the most confident, whether it was right wing back, right back, right mid, right center attacking mid.
"I'm excited, I'm excited for what's to come, but obviously I need to continue to work harder. This is just another chance for me to show how I work."