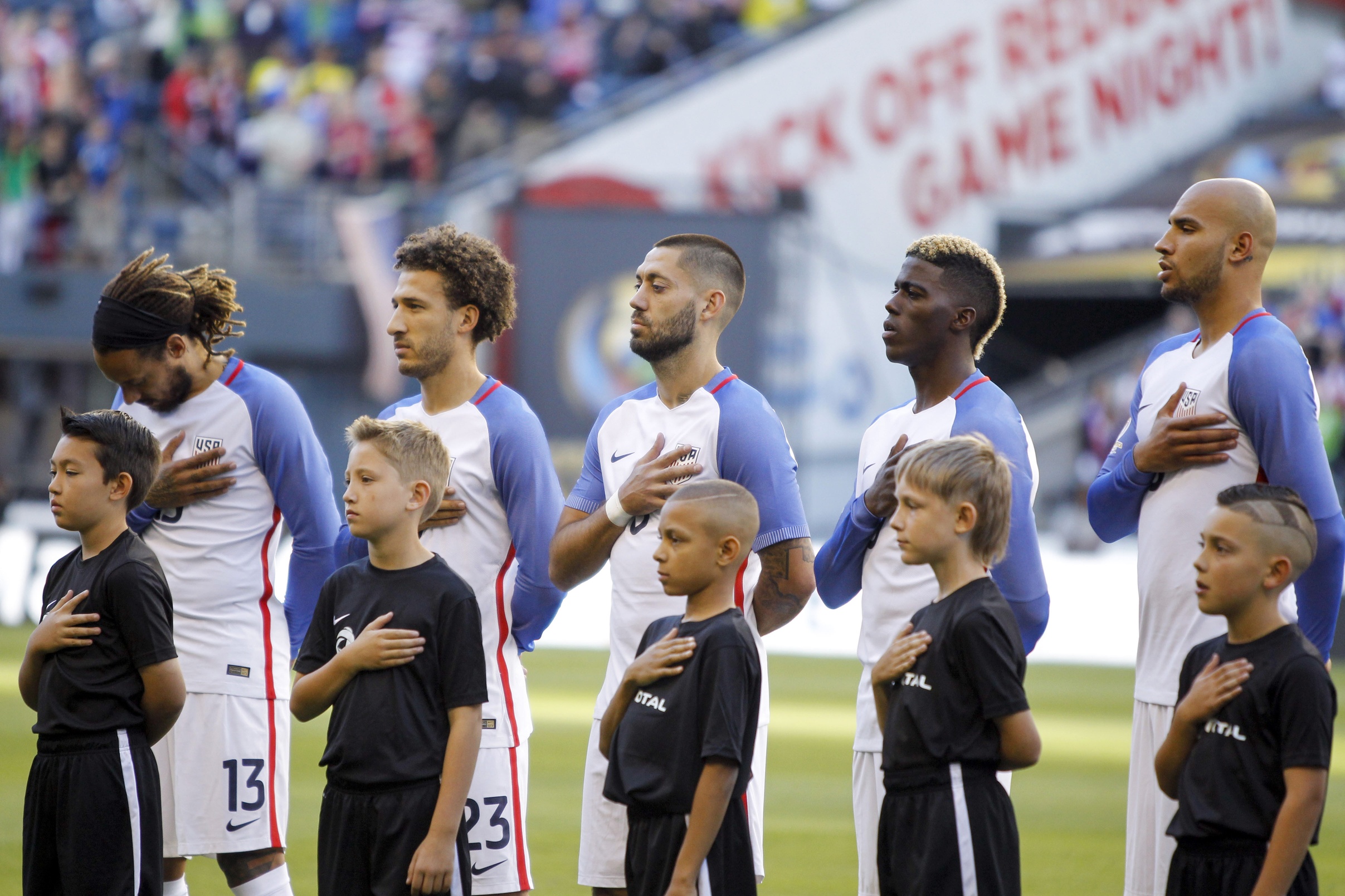 The dust has settled. The Copa America is over, and the U.S. Men's National Team emerged with a fourth-place finish that produced legitimate highs to go with excruciating lows.
After finishing top of a qualifying group that included Colombia, Costa Rica and Paraguay, the U.S. sealed a statement knockout victory over Ecuador to advance to the tournament's semifinals. A 4-0 walloping from Argentina soon followed, while the U.S. narrowly missed out on third-place in a 1-0 defeat to Colombia in their final match.
It was a tournament that saw the U.S. play at both their best and their worst. A 4-0 shellacking of Costa Rica served as one of the most dominant USMNT performances in recent memory, while brawls against Paraguay and Ecuador showed that the U.S. still has the ability to grind out results against dangerous teams. However, a disinterested performance against Argentina saw the U.S. squander their chance to make a true statement to the world.
Several players rose, several players fell, but the USMNT picture was made a bit clearer by the Copa America. Here's a look at several takeaways from this summer's tournament:
BROOKS TAKES STEP FROM PROSPECT TO MAINSTAY
John Brooks was not the only USMNT player to shine at the Copa America, but no stock rose higher than that of the Hertha Berlin centerback.
Throughout the USMNT's Copa America run, Brooks emerged as a bonafide star. From his dazzling performance against Paraguay to his strength against Ecuador, Brooks proved that he is not just the USMNT's defender of the future, but rather the USMNT's defender of the present.
Brooks broke through with his memorable winner against Ghana in Brazil, but years of rocky performances followed. His struggles came to a head in the Gold Cup, where he faltered alongside Ventura Alvarado. He wasn't ready and, given the amount of mistakes made, it wasn't truly clear if he ever would be. He was athletic and strong, but would he ever be a proper defender and leader required to marshal the backline?
It seems so long ago that Brooks faced those questions. After a standout year with his club, Brooks' form continued to this summer's tournament. Big clubs should come knocking, while his place with the national team is all but solidified.
From this point forward Brooks, should be one of the first names on the team sheet. He should be a centerpiece at centerback. He should be a mainstay and a player the U.S. can turn to when a victory is required.
Brooks made the leap. After years searching for a competent defender to lead from the back, the U.S. has found their answer and, he's only going to get better.
BATTLE SET FOR FORWARD MINUTES
Bobby Wood is for real. If you didn't believe it after his wonder-season in Germany, you certainly believe it now. With that in mind, the U.S. now faces some decisions with how to manage its forward pool going forward.
With Wood, the USMNT has a legitimate forward option that appears ready to lead the line on the international stage. Possessing a combination of speed, strength and creativity in the box, Wood can function as a typical hold-up striker or a more dynamic option atop the field. The 23-year-old striker may not always get the goals expected of him, but his ability to dictate play and find chances will be valuable asset as he continues to improve following his move to Hamburg.
Still, the USMNT has a dilemma. Jozy Altidore, the USMNT's primary forward for the past several years, remains waiting in the wings. Jordan Morris is faring well in MLS, despite his Copa America exclusion. Aron Johannsson is a bit of a forgotten man due to a series of hip injuries, but the Werder Bremen forward will remains a valued option should he return from his ailments as the same player. Gyasi Zardes remains a forward option, even if his best work is likely on the wing.
For the first time in a long time, the U.S. has a stable of young, hungry forward options. The U.S. is no longer solely depended on Altidore, whose injury derailed the 2014 World Cup just as soon as it began. There are dynamic young players making a push for a competition, a fact that must please Klinsmann as World Cup qualifying continues.
Still, the U.S. does have to figure out how Clint Dempsey fits into the picture. Still the USMNT's most lethal option, Dempsey cannot be put out to pasture as things stand. He's too good, too important. At one point, it appeared Dempsey's international career was moving towards its conclusion, but it has never been more evident that Dempsey needs to remain a part of the picture. It's no slight on the other forwards; merely recognition that, even at his advancing age, Dempsey is still just that good.
Can Dempsey play a bit deeper? Possibly. Can players like Wood and Morris be shuffled out wide to accommodate Dempsey down the middle? Sure. Those decisions are for Klinsmann to make, and he will need to make them quickly with qualifying looming.
Still, those decisions will be welcome because, for the first time in a long time, Klinsmann has the luxury of making them. The U.S. has legitimate forward options, and the competition for them will be something to watch in the lead up to the 2018 World Cup.
BRADLEY'S SPOT UP FOR DEBATE FOR FIRST TIME IN YEARS
Michael Bradley has long been the engine in the USMNT midfield, the man who made the pieces around him move. But after another lackluster tournament performance, Bradley's role with the U.S. is truly up for debate.
For the third tournament in as many years, Bradley has failed to rise to the occasion when his team needed him most. Overall, it was an entirely unconvincing string of performances, as Bradley continuously struggled to make his mark on games in any positive way.
With his continued struggles, Bradley's place with the U.S. is being questioned, and rightfully so. At the end of the day, no player should truly feel entirely safe, even the captain. In teams around the world, spots are entirely up for grabs, as players rise and fall in and out of the game's top level.
Bradley shouldn't be seen any different, no matter how well he has shown in years past. Since joining Toronto FC, Bradley has never truly looked up to par. Call it a lack of competition, sharpness, or motivation, but Bradley's aura has disappeared since departing Roma.
In the USMNT's third-place clash, Bradley was brought to the bench early in the second half in what many saw as a message to the midfielder. The team could continue without him, if only for just one game.
The issue remains in replacing him, as Klinsmann has no true Plan B. The USMNT's most consistent midfielder, Jermaine Jones, is on the wrong side of his prime and may not be on the plane to Russia should the U.S. qualify. Kyle Beckerman's USMNT career is all but done, while Klinsmann has yet to show any sort of faith in either Perry Kitchen or Darlington Nagbe. Danny Williams, once regarded as the heir apparent to the No. 6 position, remains in purgatory. It leaves Klinsmann with few options, as Bradley, in many ways, remains the USMNT's best option, even if he has been playing far from his best.
Michael Bradley may or may not be the USMNT's best midfielder. He may or may not be the answer heading to Russia, and he may or may not be vital to the team's hopes of getting there in the first place. But one thing is now certain: Bradley's role deserves discussion. Let the debate begin.
KLINSMANN REACHES EXPECTATION, BUT GROUND REMAINS ROCKY
People love comparisons. Are things better than they were? Are they as good as they could be? Jurgen Klinsmann is no exception, but the question of how he compares depends on what exactly you compare him to.
If you compare Klinsmann's latest run through the Copa America to the USMNT's performances since Brazil, it's hard to view this summer's tournament as anything but a success. The U.S. reached their goal, and toppled some damn good teams along the way, in what was widely regarded as a expectation-meeting performance from Klinsmann's team. After years of tinkering, Klinsmann found his formula and stuck to it while getting the most out of his team since the 2014 World Cup.
But if you're comparing Klinsmann to his predecessors, the German-born manager's resume is still lacking. Klinsmann's USMNT is 0-5-1 against the world's top 10 in official competition. The three managers prior to him? 5-15-2. Despite his preachings of proactive soccer, Klinsmann's U.S. has struggled to take it to the world's best more than any regime in recent memory.
It's difficult to measure what that all means in relation to Klinsmann's current status. The current USMNT head coach works in a much different environment than Bob Bradley or Bruce Arena, for better or for worse. The expectations and pressure have risen, even if the results haven't in several ways.
For the time being, Klisnmann is safe. Barring a Miguel Herrera-like incident, Klinsmann will lead the USMNT back into World Cup qualifying this fall. However, despite reaching his goal, the fire remains on his feet, as the U.S. looks to take that next step that was promised when he took the job in 2011.
USMNT REMAINS A WAYS AWAY FROM GREATNESS
The U.S. Men's National Team is good. They're not bad and they're certainly not great, a fact that was most evident throughout the Copa America.
When all was said and done, the USMNT finished the Copa America with a respectable 3-3 record. Victories over Costa Rica, Paraguay and Ecuador served as impressive results, while Argentina and Colombia proved too much to handle for the U.S. in their three losses.
Putting everything in perspective, the U.S. should be commended for taking care of business. Even if they were favorites in each of the three matches, the USMNT's victories remain quite impressive. Ecuador, in particular, has proven to be one of the best South America has to offer, while Costa Rica is a legitimate side that has given the U.S. fits in recent years. The losses, meanwhile, were expected, as Argentina and Colombia rank in FIFA's top five for a reason.
The USMNT, in reality, remains in the middle of the pack when it comes to major international tournaments. They're good enough to give most elite teams difficult matches, and most top teams would admit that they'd prefer not to come up against the U.S. in tournament play. However, they are also prone to blowout losses and upsets, as the U.S. is still prone to the occasional stinker that rarely plagues a team considered on top of the sport.
In many ways, the difference is consistency. Until the U.S. can string together convincing performance after convincing performance, they will never be counted among the world's elite. Consistency is what keeps you among the world's best, not individual results. Upsets happen for a reason, but they remain just that: upsets. Until the U.S. can consistently compete, and defeat, top teams in meaningful competition, the debate of their world status should remain close.
Has progress been made? Arguably, yes. Is it enough for the U.S. to demand more respect? Not yet. Two years remain before the World Cup, the USMNT's next great chance at proving their mettle against the world's best.
For now at least, the U.S. remains what they are: a good team capable of winning or losing on any given day.