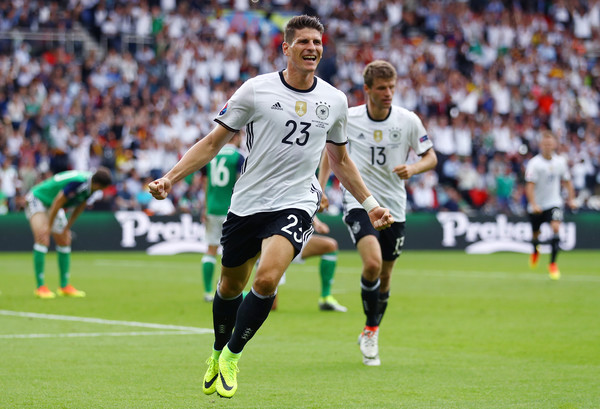 Germany has yet to truly look like the reigning World Cup champions, but a Mario Gomez finish proved just enough to emerge atop their Euro 2016 group.
A first half finish from Gomez was all Germany would need on Tuesday, as the reigning World Cup winners toppled underdogs Northern Ireland, 1-0, to close out Group C. The win sees Germany win the group with seven points, while Northern Ireland awaits their fate as the group's third-place finisher.
After controlling play through a majority of the first half, the Germans got their breakthrough in the 29th minute through Gomez. Played in by Mesut Ozil, Thomas Muller darted into the center of the box with a defender remaining tight on him. The German star proceeded to lay the ball of to Gomez in the center of the box, and the veteran forward rocketed a shot into the back of the net to seal the Germany win.
Throughout the opening half, it was Muller that proved to be Germany's best attacking outlet. Given space behind Mario Gomez, Muller created several opportunities in the first half, with his best look smashing the cross bar in the 34th minute.
The second half saw Northern Ireland emerge from their shell a bit more, but the underdogs could never truly break down a stout German defense. The best chances came from a variety of set pieces, but they could never truly threaten with a clear chance on goal. However, the Northern Irish defense's limiting of Germany helped bolster their chances of advancing thanks to an even goal differential.
MAN OF THE MATCH
Michael McGovern faced wave after wave of German attack from his position in the Northern Ireland goal, making eight saves to limit the damage on Tuesday.
MOMENT OF THE MATCH
In a game decided by one decisive moment, Mario Gonez's finish proved just enough for Germany to eke by Northern Ireland and earn their seventh point of the tournament.
MATCH TO FORGET
The German attacking unit will be frustrated by Tuesday's efforts, despite the win. Whether it was the crossbar or McGovern, the German attack just couldn't provide the goals in what could have easily been a five or six goal performance.