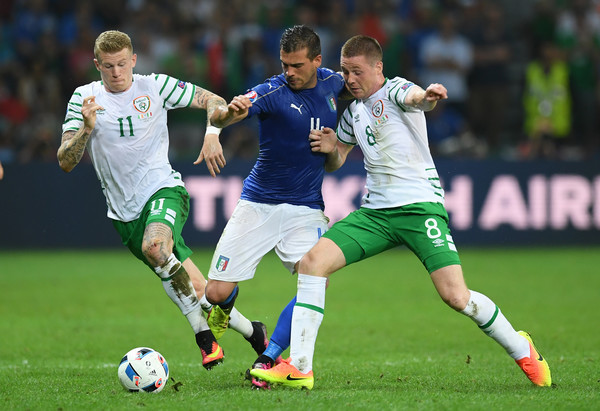 The Republic of Ireland advanced out of the group stage at a major tournament for the first time since the 2002 World Cup on Wednesday with a 1-0 win  over Italy to conclude Group E action.
Martin O'Neill's men used a game-winner from Robbie Brady to secure a match with hosts France in the round of 16 on Sunday.
Ireland looked like the more dangerous side in the first half due to the numerous chances they received on set pieces. However, the Boys in Green were unable to take advantage of the strong service provided by Brady on free kicks and corners.
Italy's best move forward in the first half came on the stroke of half time as they strung together a good amount of passes before wasting the surge into the final third.
The same trend continued deep into the second half as Italy were content to sit back and let Ireland, who needed a win to advance, attack them.
Italy substitute Lorenzo Insigne produced the best Italian scoring opportunity of the contest in the 77th minute as he struck the right post with an attempt from the center of the box.
Ireland finally found a breakthrough in the 85th minute, when Robbie Brady nodded home Wes Hoolahan's cross past Salvatore Sirigu to the delight of the green-clad supporters in Lille. The assist from Hoolahan came less than a minute after he fluffed a golden chance from close range.
The Azzurri, who locked up first place in Group E on Friday, will take on Spain in the round of 16 on Monday in Saint-Denis. Ireland will travel to Lyon on Sunday to play Group A winner France.
MAN OF THE MATCH
Robbie Brady was one of the few bright spots during the first 83 minutes of action due to his impressive deliveries on set pieces that just didn't find anyone in the box. In the 84th minute, Brady moved into the role of receiver to knock Ireland into the knockout round.
MOMENT OF THE MATCH 
Wes Hoolahan's cross to Brady in the buildup to the game-winner was a massive moment for the Boys in Green, especially after Hoolahan missed a sitter moments before.
MATCH TO FORGET
Leonardo Bonucci failed to track Brady during his run into the box before the goal. The Italy center back was also at fault for creating Hoolahan's effort in the 83rd minute.