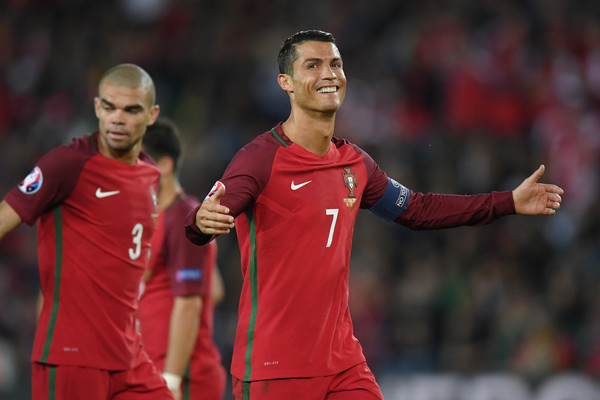 Portugal hasn't been at its best throughout Euro 2016, but Cristiano Ronaldo and co. can book a semifinal spot in Thursday's clash with Poland.
After narrowly edging Croatia in the Round of 16, Portugal takes on Robert Lewandowski's Poland on Thursday at the Stade Vélodrome. The Polish are also coming off a narrow win of their own, having topped Switzerland, 5-4, on penalty kicks to reach the current stage.
Of the two sides, Portugal is by far the more fit, as Raphael Guerreiro and Andre Gomes remain questionable due to muscle issues. If the duo are deemed fit, Portugal will be with a full complement of 23 players, while Poland looks to be without goalkeeper Wojciech Szczesny due to a thigh injury. The Polish will be boosted by the return of Bartosz Kapustka, who missed the Switzerland match due to suspension.
If Poland is to toppled Ronaldo's Portugal on Thursday, they will likely rely on a strong defensive unit once again. Through for games, the Polish have allowed just a single goal against Switzerland, a streak that includes a shutout of world champions Germany. Their defensive prowess has done a bit to hide their attacking weaknesses, as Lewandowski has yet to a score for a team that has scored two fewer goals than anyone left in the field. If Poland is to start scoring, it will likely be through Jakub Blaszczykowski, who has contributed to each of his nation's five goals throughout the past two Euro tournaments.
Portugal's hopes, as always, will rest on Ronaldo, who has made more Euro appearances than any other player. To date, the Real Madrid star has scored just two goals in 12 knockout games at major tournaments, but sits only one away from Michel Platini's record of nine goals in the competition.
The winner of Thursday's match will meet the winner of Wales' clash with Belgium.
What do you expect from Thursday's match? Who do you see booking a spot in the semifinals?
Share your thoughts below.