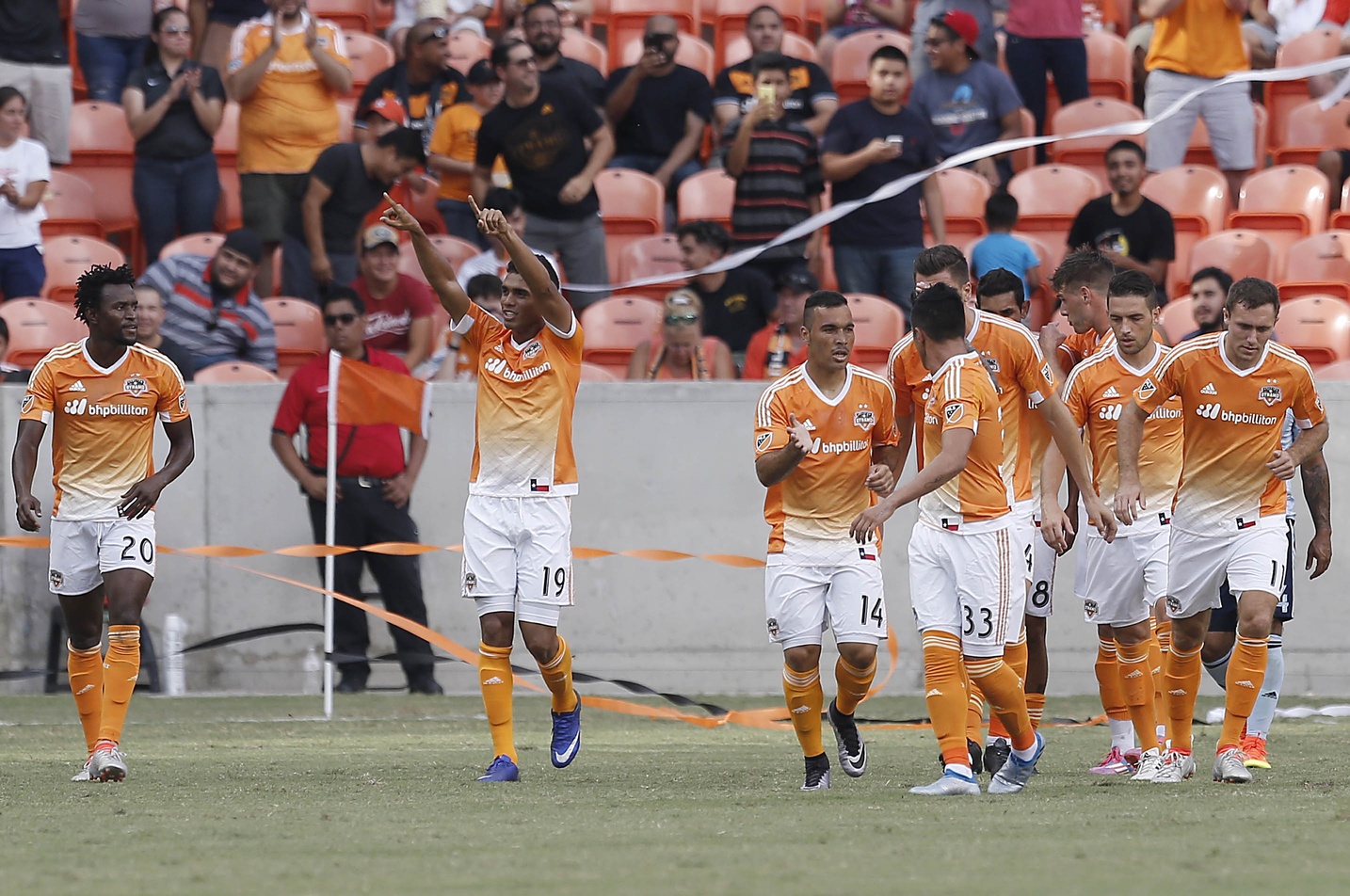 There will be a new U.S. Open Cup winner, as reigning champions Sporting Kansas City saw their title defense end in Wednesday's Round of 16.
Mauro Manotas powered the Houston Dynamo into the final eight of the U.S. Open Cup with a brace in Wednesday's 3-1 win over Sporting KC.
Manotas opened the scoring early as he knocked in an Abdoulie Mansally cross from the left wing near the center of the net. The seventh-minute opener was the first in any competition for Manotas as a Dynamo player.
Wade Barrett's men netted the first tally in the second half as well by way of a header from Alex. The midfielder directed a headed attempt into the left corner of the net after Andrew Wenger sent a headed pass in his direction off a corner kick.
Former Dynamo man Brad Davis pulled the visitors within one in the 61st minute as he tapped the ball into the net after Diego Rubio's cross was deflected from the right side of goal.
Manotas made sure the Dynamo wouldn't face any extra stress in the waning moments of the second half as he completed his brace in the 84th minute. The 20-year-old slotted a Boniek Garcia pass into the left side of the net to secure the Dynamo's passage into the quarterfinals of the competition.
The Dynamo will face the winner of the match between FC Dallas and the Colorado Rapids on July 20.
MAN OF THE MATCH
Manotas scored his first two goals for the Dynamo in the Open Cup win that was a major boost to the team's hopes on Wednesday night.
MOMENT OF THE MATCH
The opening goal from Manotas set the tone for the final 83 minutes. The Dynamo were able to control the match at home, something they've not done often in recent matches.
MATCH TO FORGET
Connor Hallisey failed to create much in attack during his 90-minute shift for Sporting Kansas City. Peter Vermes is still waiting to get the best out of the second-year player.