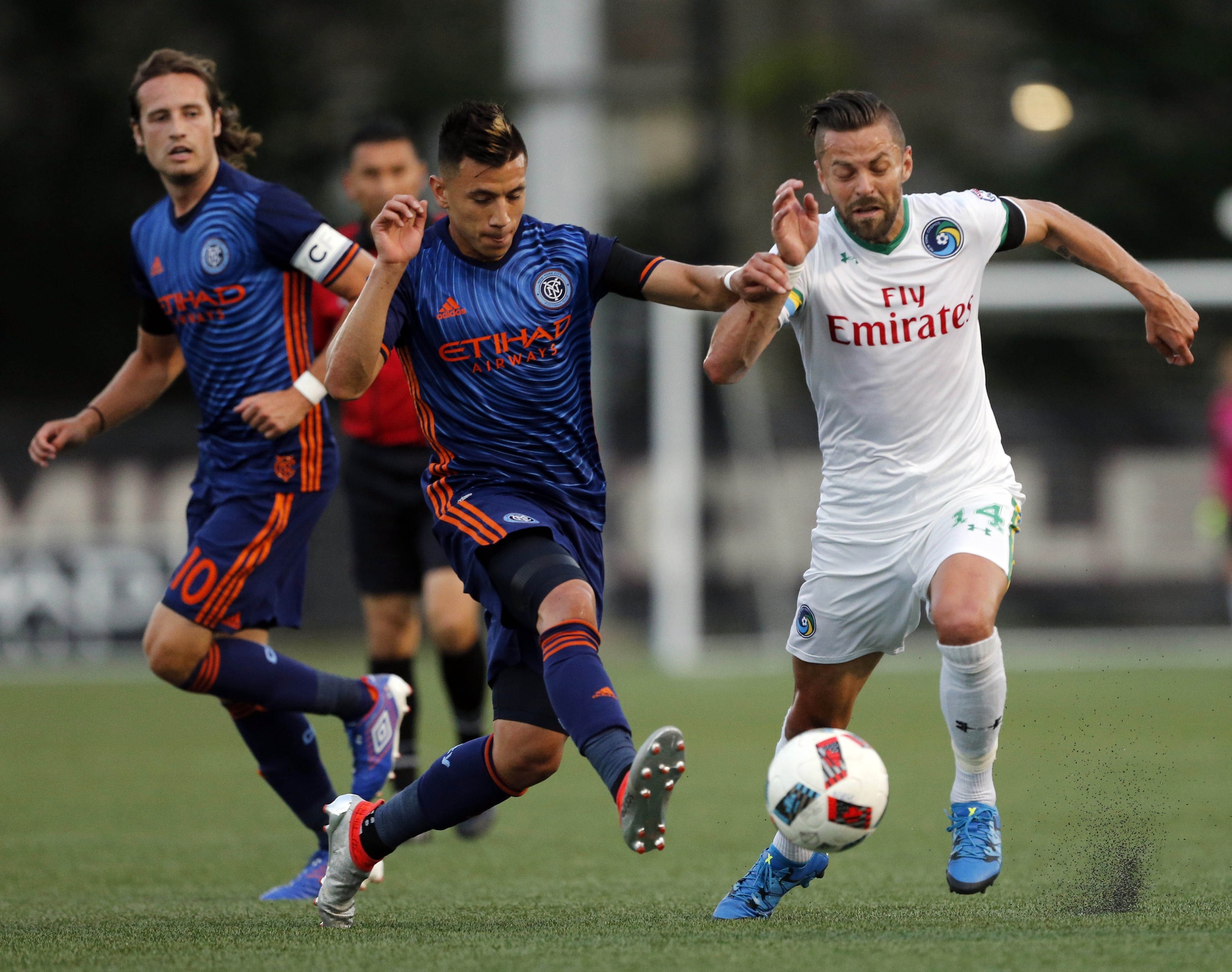 BRONX, NY — For the second straight year, the New York Cosmos toppled New York City FC in dramatic fashion.
After slipping past their local rivals in penalty kicks in last year's U.S. Open Cup, the Cosmos knocked off NYCFC, 1-0, on an 88th minute winner from Danny Szetela at Fordham University.
With just minutes left in regular time, the Cosmos broke through with a last-gasp winner. After winning the ball in the midfield, substitute Adam Moffat threaded a pass out wide to Yohandry Orozco. The Cosmos winger whipped a cross up and over the NYCFC defense as Szetela headed his team to victory from inside the six.
While NYCFC had the better of the ball throughout the opening stanza, the Cosmos had the better of the chances throughout the first 45 minutes. It took the Cosmos just six minutes to test NYCFC goalkeeper Eirik Johansen for the first time, but the visitors' best chance came in the 37th minute as Szetela mishandled a ball over the top that threatened to open up the NYCFC backline.
Throughout the first half, the Cosmos found success over the top, while NYCFC appeared content to build through short passes. However, both sides were forced to deal with a lackluster playing surface as the ball caromed off the artificial turf.
NYCFC emerged as the better side in the second stanza, creating significantly more than they did in the first half. Still, the hosts could rarely trouble goalkeeper Jimmy Maurer, who wasn't truly tested.
In the 73rd minute, NYCFC appeared to be headed for a breakthrough as Maurer was caught off his line. Hunter Freeman darted back to the line before sliding into the path of Patrick Mullins in the six-yard box, clearing the danger directly in front of an open net.
MAN OF THE MATCH
Danny Szetela was among the Cosmos most active options throughout the day, and the midfielder's goal served as a spectacular exclamation point in a rivalry win.
MOMENT OF THE MATCH
A last-gasp winner is a natural Moment of the Match, as the Moffat-to-Orozco-to-Szetela sequence was far and way the prettiest, and most important, play of the night.
MATCH TO FORGET
Playing int he midfield, Mix Diskerud never truly got going for an NYCFC team that struggled to move the ball. The MLS side was looking to play the ball on the floor throughout the match, but never managed to truly generate anything meaningful against the Cosmos defense.