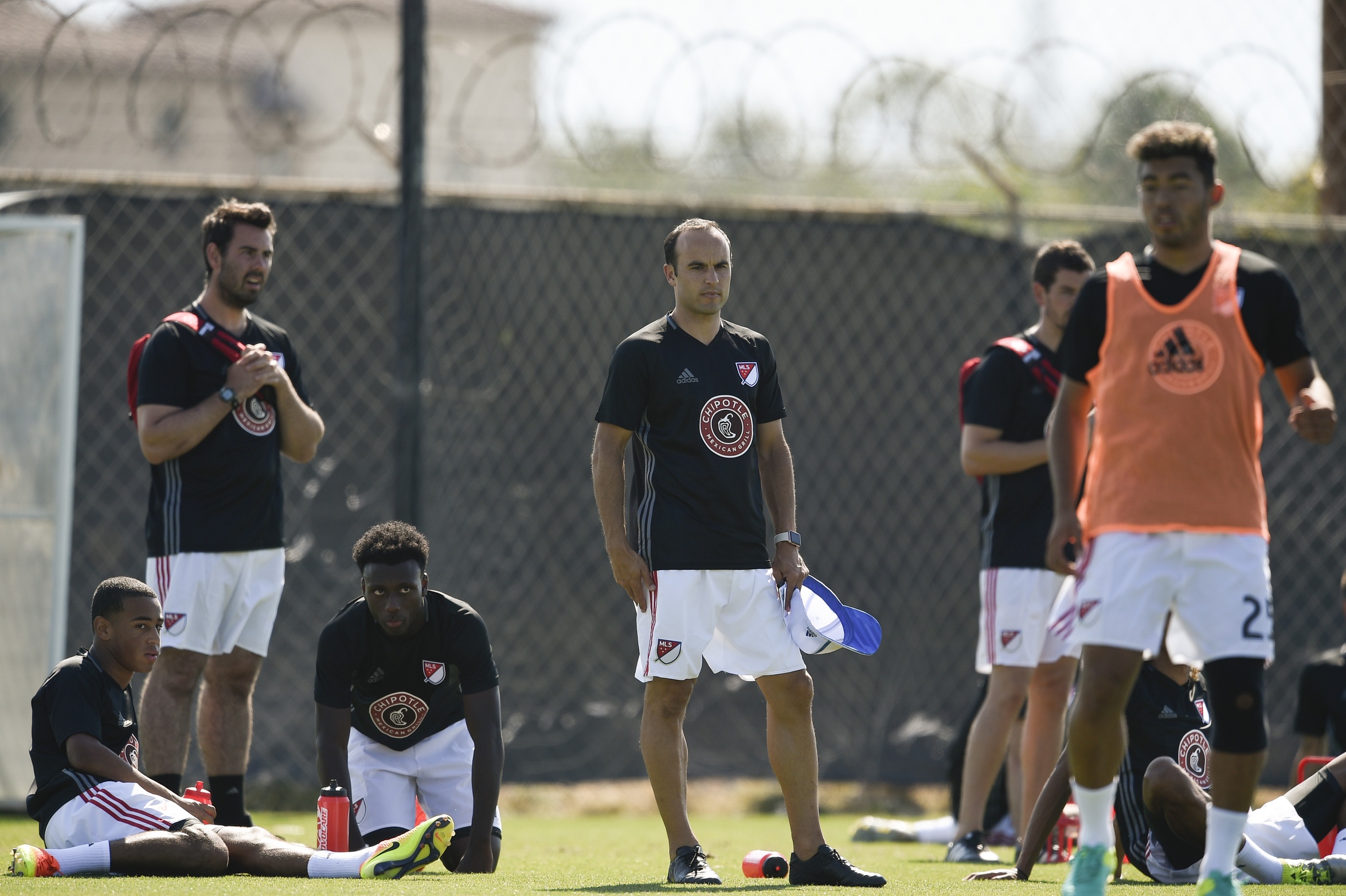 Like any All-Star event, the MLS Homegrown Game is meant to be a fun exercise. Featuring 20 of the league's best young prospects, the match presents a chance for the league's up-and-comers to shine, while offering a stress-free environment to reap the rewards of their hard work.
Coaching the team for the second straight year, Landon Donovan appreciates and understands how fun Wednesday evening's match against Mexico's Under-20 Men's National Team is supposed to be. However, the MLS and U.S. Men's National Team legend is quick to remind his group of budding stars that there may be more on the line than they actually realize.
"I think the players enjoy it," Donovan said. "I try to put myself in their shoes, and if I had the chance to work with a former national team player, probably someone that I watched on TV growing up, I think that would be pretty cool. I wish they had this around when I was in MLS, but I'm glad they get the opportunity. I think they get a lot out of it.
"I let them know that there's no pressure this week and just enjoy themselves and be kids. They can get out of that pressure packed environment that they're used to and just enjoy themselves. For them it's a week of fun, but they also know that there might be people watching, so they're going to take the game seriously."
Like any All-Star team, the MLS Homegrowns features players from an assortment of different backgrounds and skillsets, even if they all have taken similar paths to the professional game.
Headlining the roster are bonafide MLS stars like Jordan Morris, Justin Glad and Jesse Gonzalez, three players who, despite their age, are already vital to their sides. Up-and-comers like Tyler Adams and Danilo Acosta enter with a wealth of experience with the U.S. youth national teams, despite not fully making their mark on the MLS game. Joining them are regular MLS contributors like Jordan Hamilton, Jordan Allen and Tommy Thompson, giving the Homegrowns a wealth of MLS experience heading into a match against what Thompson calls a "great young team".
For Gonzalez in particular, Wednesday's game will provide an interesting matchup. The FC Dallas goalkeeper will be facing off with his international teammates after previously making seven appearances as a member of the Mexico U-20s.
Meanwhile, Thompson has the unique opportunity of playing on his own field. Now in his third year with the San Jose Earthquakes, Thompson says that playing in a one-off event at Avaya Stadium will certainly be something he remembers for quite awhile.
Despite all of their different paths, there are plenty of uniting factors for the MLS Homegrown team. For one day, they are teammates, united with the common goal of representing the league as well as their individual clubs. And, for one game, they have the chance to play under a coach that they all aspired to be when growing up.
"It's crazy. It's someone that you grow up watching, one of my idols when I was younger," Morris said of Donovan. "Me and my brother were in the backyard pretending to be him and other players, and now that he's my coach, it's pretty cool. He has a lot of experience and obviously knows the game very well, so it's going to be a fun week."
"It's surreal. I thought he did a great job when he joined the staff at the U-2o World Cup," added Thompson. "To have him here, it's great. Anytime he has any input, I'm always listening because he's someone I always looked up to growing up, so it's special to have him here with us this trip."
For Donovan, the Homegrown game presents another chance to coach. Since his retirement following the 2014 season, Donovan has repeatedly stated his love of coaching, especially on the youth level. Between broadcast work, fatherhood and even the purchase of Premier League club Swansea, Donovan has found the opportunity of working with the next generation worthwhile.
"I had the chance to do this last year and it was really enjoyable for me. I didn't know how I was going to take it. I didn't know if I was going to enjoy it, but the kids are great. They're eager. They want to learn and they want to be a part of something special one day, and they see this as an opportunity. For me, it's extremely enjoyable, it's rewarding, and I've had a lot of fun doing it. "