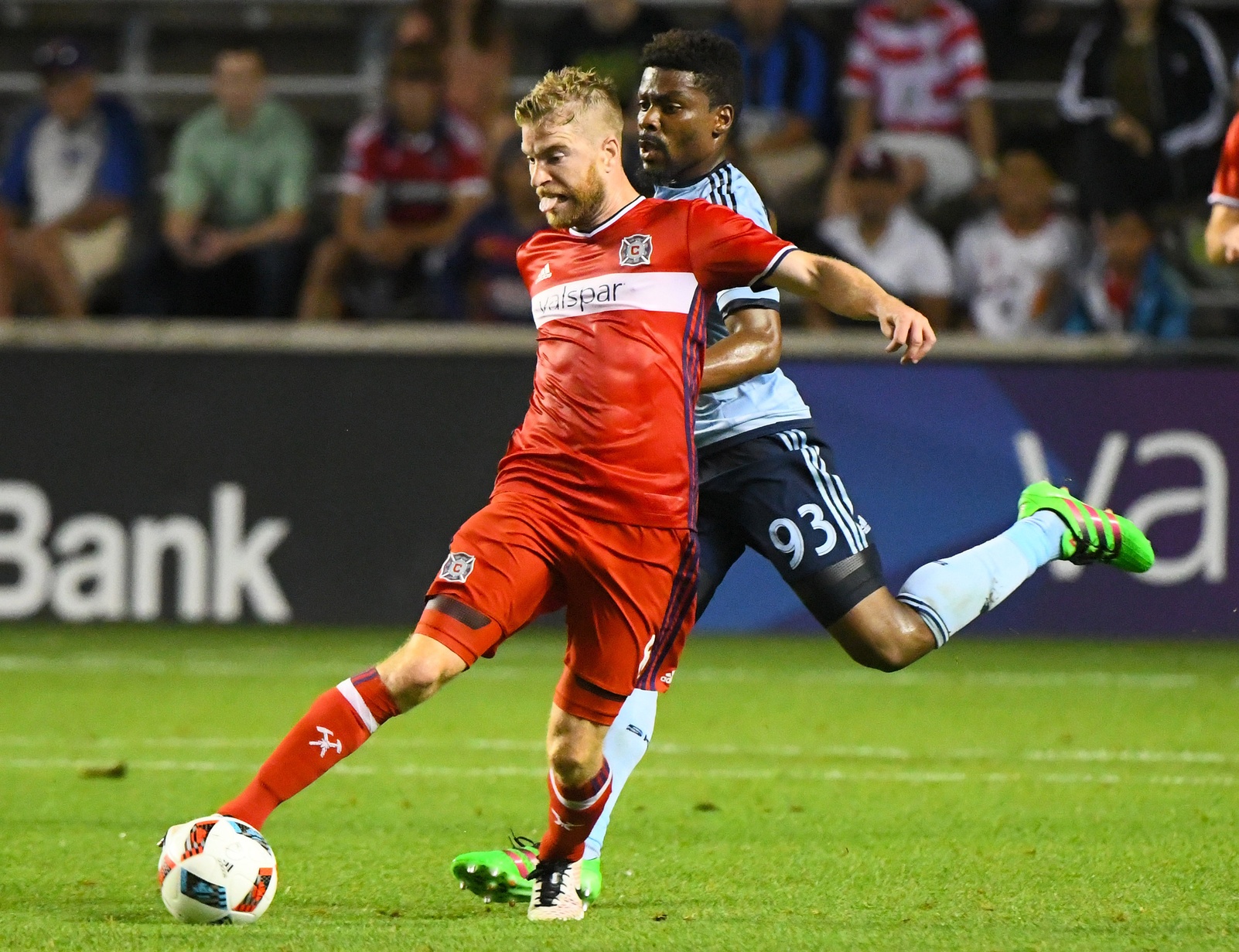 BRIDGEVIEW, Ill. – Michael de Leeuw may not score an easier goal than the one with which he opened his MLS account on Wednesday night, and the Chicago Fire's most recent signing seemed to know as much.
"If you can score in your first home game that's always great," de Leeuw said afterward. "Now I have one goal but it was– I couldn't miss that one. … Raz [Razvan Cocis] gave me a perfect goal so it was a perfect assist and yeah it's good."
The 19th-minute tap-in from within the six-yard box ended up being the difference as Chicago bunkered in and beat Sporing Kansas City, 1-0, in de Leeuw's home debut.
It also illustrated why the Fire were so desperate to sign a true center forward and why, once they had him, the Fire couldn't wait to get de Leeuw on the field.
Boasting the league's lowest-scoring offense, Chicago has scored 16 goals in 17 games and has struggled to finish chances even when they do create them. In the absence of a reliable striker, Fire head coach Veljko Paunovic has rotated through different formations and forward lines.
"During the season we had a lot of guys trying to develop that role of the player who will be in the box and take advantage of a lot of crosses," Paunovic said. "I think we're one of the teams in the league that has the most crosses or one of the best of course, so we need somebody to be there to score those goals, convert those opportunities."
David Accam has provided the sparks when healthy, netting four goals in league play, but he battled a knee injury early and does most of his damage with the speed of a winger, not the physical presence of a center forward.
Fellow Designated Player Kennedy Igboananike started well, scoring four goals and adding an assist in the first eight games. Then he registered just an assist in the next eight before being an unused substitute Wednesday.
Beyond that, Cocis with two goals is the team's only other multi-goal scorer thus far.
Gilberto was the biggest disappointment. The DP striker boasted the team's highest salary according to Players' Union data, but left the club when in June without scoring once this season.
Those struggles led the Fire to de Leeuw, a 29-year-old native of the Netherlands who came from FC Groningen of the Dutch Eredivisie. At his introductory press conference, de Leeuw described himself as a "nine and a half" – able to drop in and create but ultimately most comfortable centrally and in the box. He scored 46 goals in 117 league games for Groningen.
His signing was announced in May but because the deal didn't get done within the initial transfer window, he had to wait until July 9 to make his debut. His first MLS action came on the road at Toronto FC where he entered for the second half and took one shot in a 1-0 loss.
On Wednesday, de Leeuw did what a central forward has to and made the most of his little opportunities. He took 26 touches, made 19 passes and his goal came on his only shot of the night (just one of three the Fire produced as a team).
"The confidence is high because you score in your second game," de Leeuw said. "I think I'll get my chances every game so I think I can score always. I'm not going to say a number because that's putting a lot of pressure on me, but I'm trying to score every game. I think I will get my chances so if I make the chances I will make goals."
When he returned to the locker room from the press conference, Paunovic handed de Leeuw a game ball signed by his teammates. Even if de Leeuw doesn't want to put a number on his scoring target, Paunovic joked that he hopes "by the end of the season you've got like 30 of those."
While the goal showed de Leeuw's promise for the Fire, he said there's still a ways to go in terms of developing the relationships with his offensive partners. He's shown what he can bring to the attack, now comes more game minutes to build those connections the Fire hope will pay dividends.
"I think they know what kind of player I am but I think we have to play more games (so) that they understand me and I understand," de Leeuw said. "You can train it but in games you always get different situations. But I think they know what kind of player I am and if I score goals then they know, 'OK give the ball in the box, give it to Michael.' So that's (what) I have to show them."