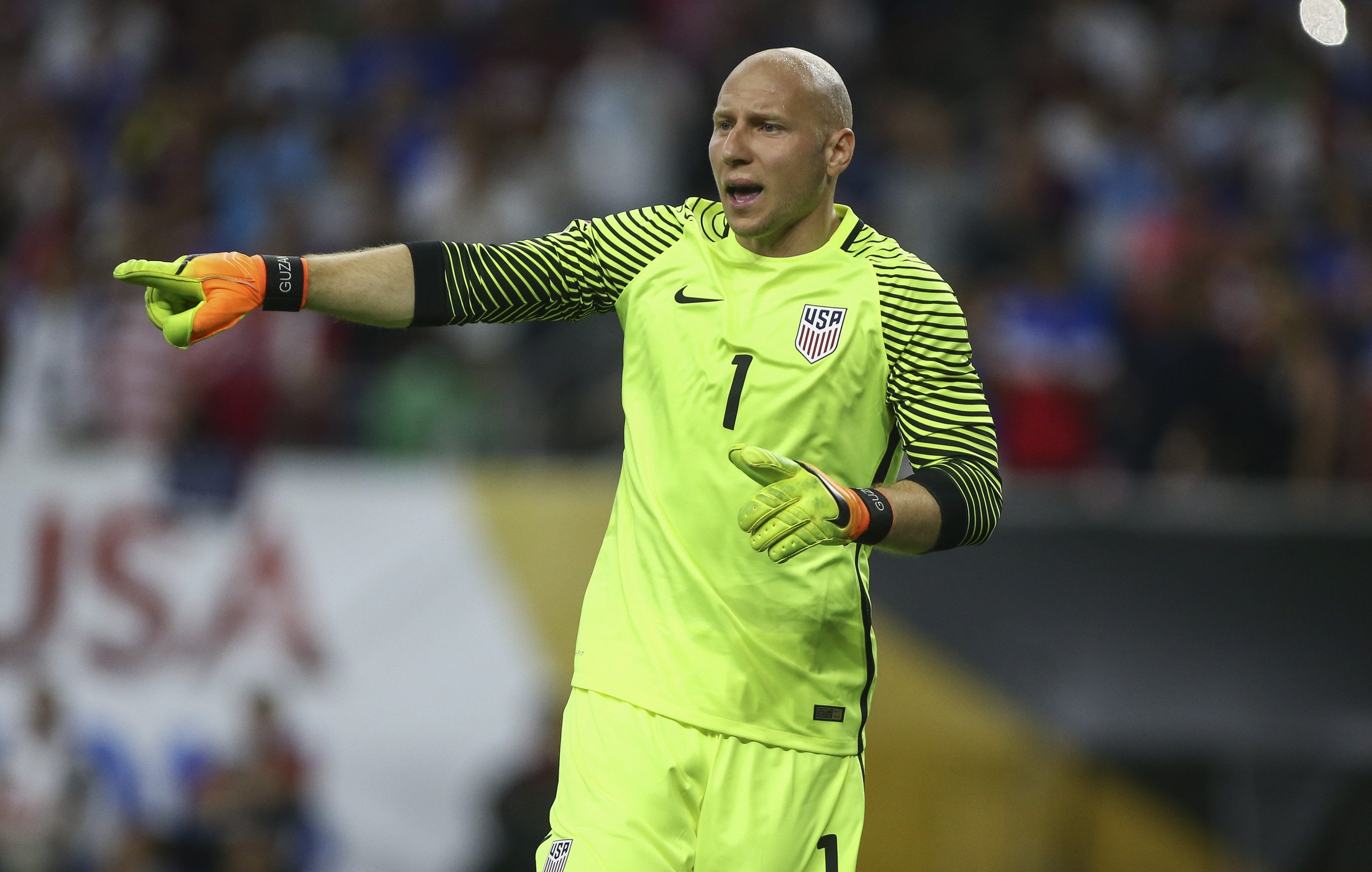 Following Aston Villa's relegation, the future of Brad Guzan was a bit murky. The U.S. Men's National Team had options, some safe, some ambitious, as the veteran goalkeeper looked to take the next step in his career. That next step became official on Friday, and Guzan will face yet another major challenge to reclaim his status as one of the Premier League's most reliable goalkeepers.
Middlesbrough announced on Friday that the club had come to terms with the USMNT goalkeeper on a two-year deal, further bolstering a new-look roster that now includes Valencia imports Alvaro Negredo and Antonio Barragán, Dutch attacker Viktor Fischer, free signing Gaston Ramirez and £12,000,000 man Marten de Roon. Guzan's move comes after seven seasons with Aston Villa, the worst of which came in last year's campaign. Saddled with relegation, it was always unlikely that Guzan would go down with the ship, but with the chance to look at options both at home and abroad, Guzan faced a difficult decision heading into the next step in his career.
The decision was Middlesbrough, a club where he will face stiff competition. Former Barcelona star Victor Valdes was signed earlier this summer, and the Spanish goalkeeper will have a leg up on Guzan heading into the season. Valdes, who endured some trying years in England and Belgium in recent seasons, has been with the team throughout preseason, giving him a slight advantage over Guzan with the season just a few weeks away. That's not to say Valdes is penciled in as a Week 1 starter, but Guzan will need to utilize his limited time in camp to acclimate himself to a team full of new faces.
Competition is a good thing, and any coach will say it, but losing said competition is not. Guzan needs game-time for several reasons, making his competition with Valdes all the more important. The American star simply cannot afford to sit the bench if he hopes to do what needs to be done.
First, after an admittedly difficult year at Villa, Guzan has a reputation to rebuild, even if Villa's struggles were far from his fault. Given a porous defense and a team lacking effort, Guzan was never in a position to succeed, but that didn't prevent the team from scapegoating him with a mid-season benching. Guzan was not at fault for what happened at Villa, but, like everyone associated with that mess, the USMNT goalkeeper must remove some of the stink that comes with being a part of the worst teams in Premier League history.
While rebuilding his club reputation is paramount, it is likely not Guzan's No. 1 focus. At the end of the day, as a U.S. international, Guzan will always have a home, and a fairly solid payday in the U.S. He may not have Tim Howard-like name recognition, but any number of teams in MLS would love to have a Guzan between the pipes. Middlesbrough may be Guzan's last chance in England, but the goalkeeper's club career is far from over.
His international status as USMNT starter, however, is a whole new animal. Guzan was more than solid throughout the USMNT's Copa America run, earning the  No. 1 spot with his play on the field. With Howard waiting in the wings, Guzan was a model of consistency throughout the summer tournament, erasing any doubts of shaky performances that came before it. However, head coach Jurgen Klinsmann has always placed a special emphasis on club form and with Howard back in the fold alongside up-and-comers like David Bingham and Ethan Horvath, the goalkeeping position will be hotly contested heading into Russia 2018.
The 2016 campaign will be a test for Guzan, and Middlesbrough as a whole. Promoted teams always face an uphill battle, especially in the Premier League, although it looks like Middlesbrough is better equipped to handle that battle than 2015-16 Villa. With players like Negredo, Ramirez and Stewart Downing, several of the club's key players enter the season with Premier League experience, helping to ease the transition. Meanwhile, both Valdes and Guzan have played at the highest level, and both goalkeepers would solidify the backline quite a bit.
Guzan's move to Middlesbrough is a challenging, yet calculated one. Success would further Guzan's claim as the USMNT's No. 1 goalkeeper, while all but solidifying his place as USMNT starter heading towards Russia. However, struggles would reopen the door for a competition while once again clouding Guzan's club picture.
At the end of the day, Guzan is a Premier League-level goalkeeper, and his history with Villa and the USMNT show that. But it now becomes about validating that belief once again with an ambitious move that is certainly going to be the most pressure-packed of his career.