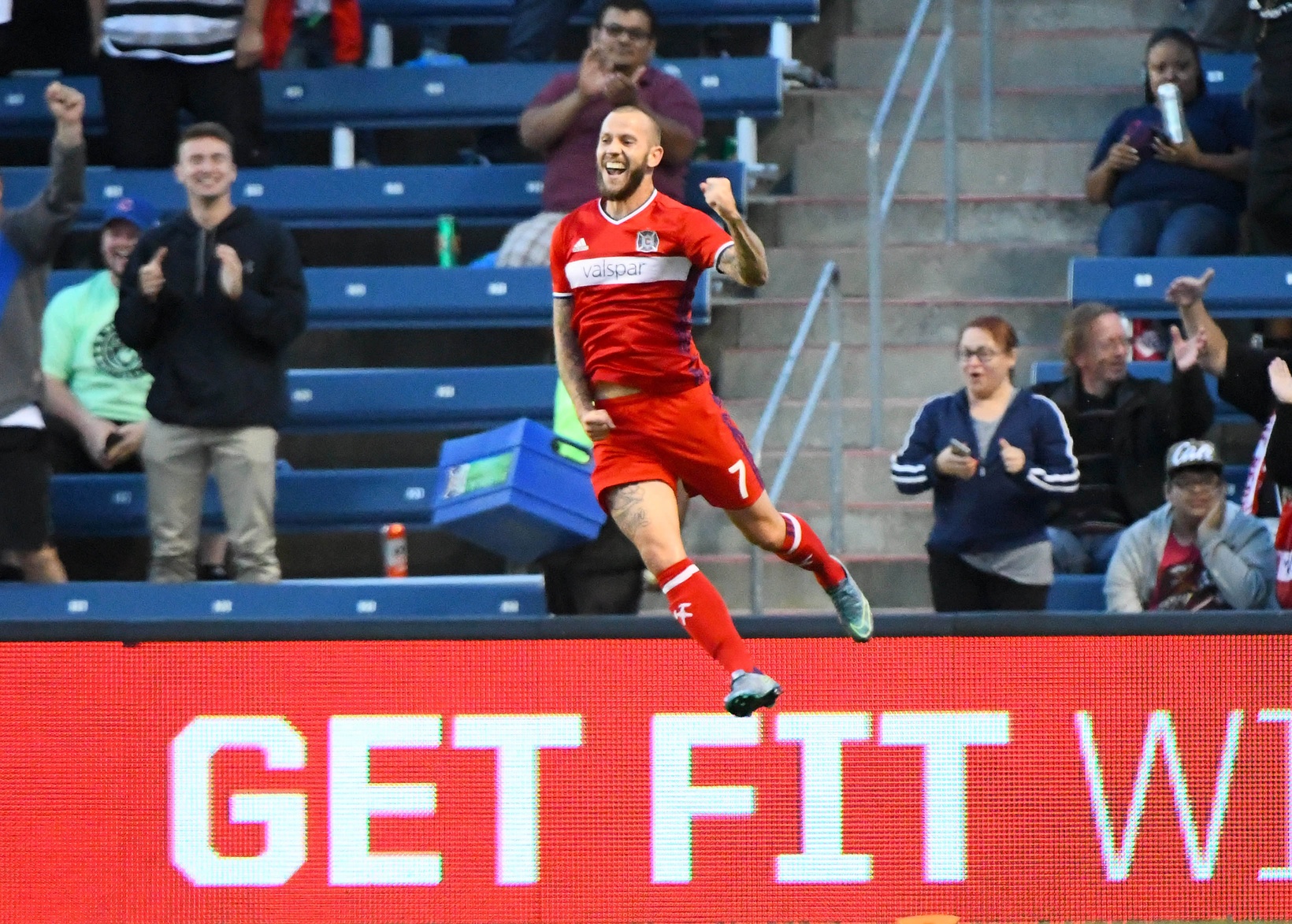 BRIDGEVIEW, Ill. – When the Chicago Fire signed John Goossens less than a week before the 2016 season opener, any fans who recognized the name likely only knew him from one highlight.
As a trialist in a preseason friendly, Goossens chest-trapped a ball and hammered home a looping volley from more than 25 yards out. Players don't get signed for one highlight, and Goossens clearly showed an all-around game that impressed the coaching staff, but that one moment stood out as a stunning glimmer of potential for a team that had rarely seen such magic in recent years.
On Friday, Goossens made himself another highlight. This one less audacious but more consequential.
His first MLS goal, a low one-timed blast from the top of the box, proved to be the game-winner in Chicago's 1-0 win over the San Jose Earthquakes. Afterward, he struggled to describe what he saw on the instinctive play.
"That's hard to say, it's in one action. … I don't know, the ball's coming to you and you try to hit it on goal," Goossens said.
The 58th-minute shot went through the legs of Kennedy Igboananike, screening San Jose goalkeeper David Bingham enough to beat him to the near post. It gave Chicago just its third league win of the year and first back-to-back wins, including Tuesday's U.S. Open Cup victory.
"I think he was of course not only the one who scored the goal, but he played a great game, together with the rest of the guys, executed a game plan that we had and I think it was a fantastic evening," Fire head coach Veljko Paunovic said. "Very, very passionate, very hard game, lot of opportunities. I think we created more but also I think San Jose played a very good game, they're always dangerous. I think they're a very good team.
"Having all of that said I think we had the hero of the game here for sure, scoring the goal and playing the way after– I know it was very hard for him, he was injured for a long time. Now coming back and seeing that he's seeing the light at the end of the tunnel is very important for him."
After missing nearly two months with a knee injury, Goossens sounded excited just to be playing again and finding his form. He now has a goal or assist in all three games since returning from injury.
"Once you're back from an injury you just want to enjoy," Goossens said. "You're happy you're back on the pitch. That's the biggest reason for me why I started playing soccer. I love this game. Every time during a training, during a match, I just try to enjoy, try to be happy on the pitch.
"I think I will be more happy once you're back from a long injury and I'm just lucky that it's getting really well right now. I had a good game last week, I had a good game tonight. But the next game is even more important. Today we had a good game but it's the past and the most important is next week in Toronto. So I think that's the way we all should live, we want to win the next game."
The first half of 2016 has been up and down for Goossens, signs of promise and setbacks.
A 27-year-old from the Netherlands, he began his career in the Eredivisie and made stops in India and Romania before joining the Fire in February.
He quickly earned a place in the team, making five appearances (three as a starter) and tallying one assist, before suffering a sprained ligament in his left knee during training on April 29. The club initially announced his timetable as one to four weeks, but he didn't see the field again until June 22 when he came on as a substitute and had an assist in the Fire's loss to the Philadelphia Union. He then started and went 60 minutes with another assist in the club's Open Cup win Tuesday.
On Friday night, in his first league-play start since the injury, Goossens not only scored but completed 93.8 percent of his 32 passes, the highest percentage of any player in the game. He was credited with five key passes while dropping into the midfield from his position on the right wing.
His connection with right back Rodrigo Ramos, another standout over the past two games,  was apparent and fruitful. The two connected well, playing quickly off one another and together accounted for nine of the Fire's 13 key passes. Ramos led the team in touches (68) and Goossens was third (54).
"I think that's the way you play when you're having fun," Goossens said of their interplay. "You're doing your job and at the meantime you're having fun.
"Rodrigo is a great player who can run like 90 minutes and that makes it more easy for me when he's coming the defender has to make a decision what to do, will he stay with me or will he go with Rodrigo. I think we have a great combination and we have to keep work on that to make it even better, to make it even more difficult for the defenders."
Now healthy and with a goal and three assists to his name in 404 all-competition minutes, Goossens seems to be establishing himself as a reliable piece for Paunovic.
"We believe that John he was always a great talented player and he needed an opportunity like this one," Paunovic said. "I think in a country in United States, in a league like MLS, his qualities first as a person and then as a player can really fit very well. So we're very happy with his performance but he knows how I am, I'm going to push him now hard."