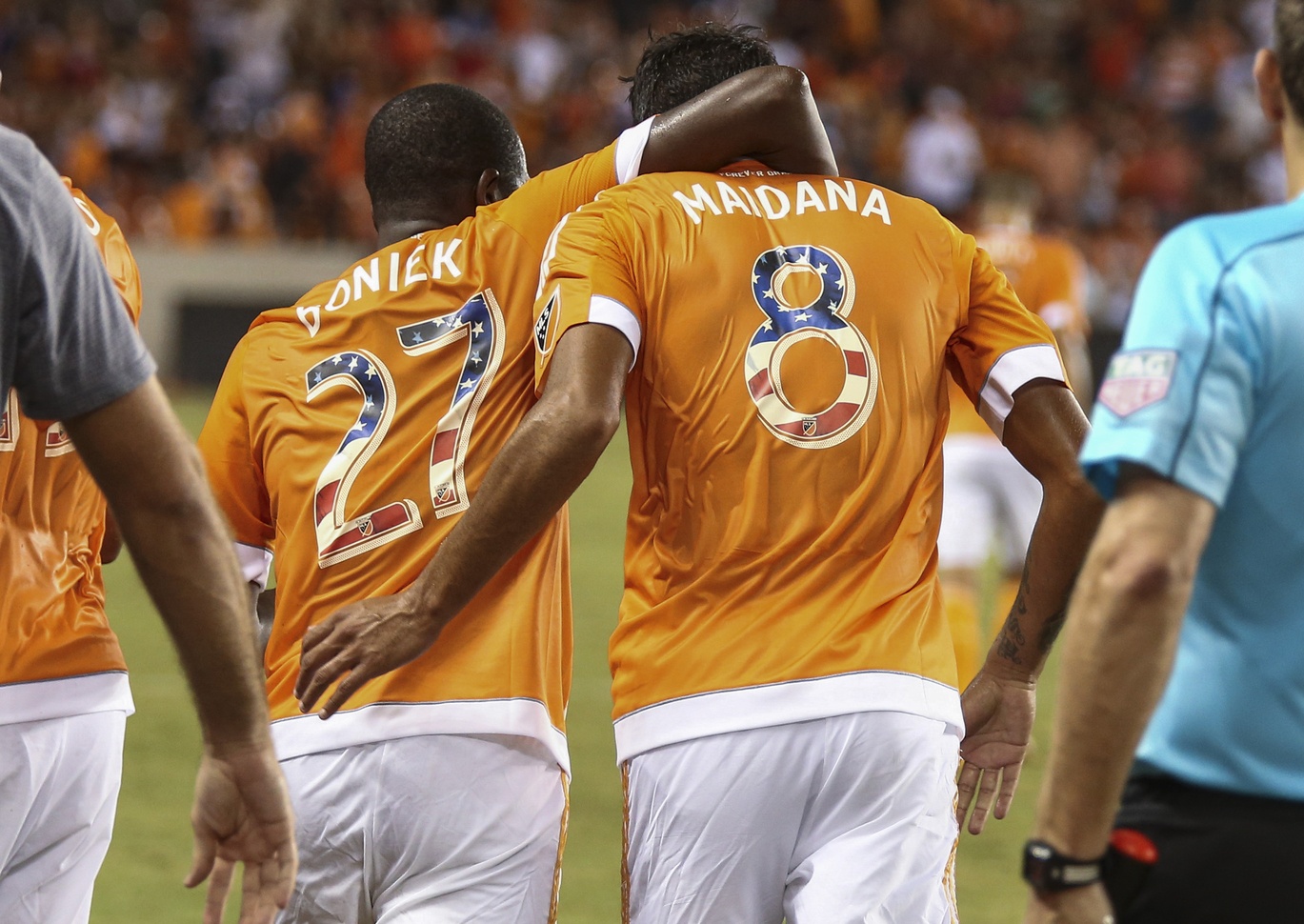 As the final minute of stoppage time ticked off the clock in a 0-0 match, Cristian Maidana stood 20 yards from goal with a chance to vanquish his former team and deliver his current club a sorely-needed victory.
The Colombian playmaker did just that, perfectly placing a free kick into the far top corner, past Andre Blake, to help the Houston Dynamo earn a 1-0 victory at BBCA Compass Stadium on Saturday night.
Maidana's left-footed free kick helped the Dynamo snap a five-match winless streak and hand interim head coach Wade Barrett his first victory since taking over for Owen Coyle, who left the Dynamo shortly before becoming head coach of English club Blackburn.
The Union were down a man late in the match after rookie defender Joshua Yaro drew a highly-questionable second yellow card. Referee Edwin Jurisevic sent off the Union rookie after Dynamo midfielder Mauro Manotas dove following an attempt to dribble past Yaro. Replays showed no real contact on the play, but the Union still wound up having to finish the match a man down.
The Dynamo grabbed the winner in the fifth minute of stoppage time after former Dynamo midfielder Warren Creavalle fouled Oscar Boniek Garcia about 23 yards from goal, just to the right of the penalty arc. Maidana left Blake helpless as his well-struck free kick soared over the Union wall, into the top left corner.
Maidana's goal spoiled an otherwise outstanding match from Blake, who made six saves on the night.
The loss could cost the Union its hold of sole possession of first place in the Eastern Conference. A New York City FC win against the New York Red Bulls would see NYCFC jump into first place, while a Red Bulls victory would move them into a tie for first place with the Union.
The Dynamo now sit seven points clear of the playoff places in the Western Conference and return to action on Friday with a trip to Orlando City. The Union return to Talen Energy Stadium on Saturday with a match against D.C. United.
MAN OF THE MATCH
Houston were attacking all night, and it paid off at the very last kick of the game. Cristian Maidana was the hero of the night, having notched the game-winning goal in the last minute.
MOMENT OF THE MATCH
Cristian Maidana's 95th minute game-winning free kick sent the Dynamo players sprinting for the corner flag to celebrate the win. The Dynamo pressed hard after the red card and found the winner.
MATCH TO FORGET
Josh Yaro's sending off in the 87th minute was a turning point in what previously hadn't been a very exciting match. Yaro had a right to be upset at the call, as it appeared Mauro Manotas may have taken a dive.